Stern John - simple, reserved, deadly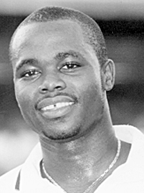 ON THE FIELD he is potent - deadly even. He has what it takes to win games. He has what it takes to make his name. He has the ability to score goals (a skill which most of our national footballers seem to have forgotten while waging war for their country, but miraculously remember when they take off the national colours).
He mesmerises defences, confuffles goalkeepers and leaps above all others as he somehow makes simple the task others find next to impossible. He knows this and is sure of himself. Amidst this confidence, though, there is reserve, simplicity, humility.

He is one of the biggest members of the team, yet one of the youngest. He is destined for stardom. He is Stern John.

From age five, young Stern started playing football. He was sure when he started playing at Alvin Corneil's coaching school that he liked football, that it would be a part of his life. Football was in his blood.

His football career developed as he grew older, playing in various clubs and then for both his high schools, Curepe Junior Secondary and El Dorado Senior Comprehensive.

In his first year at El Dorado, the Blue Thunder, as they were then called, won the East Zone and got to the semi-finals of the Intercol (Inter Collegiate) tournament. The next year, while he was captain of the Blue Thunder, they again won the East Zone but were knocked out of Intercol in the first stage.

Number 11 for the national team worked his way up from both the under 20, where he was put in a defensive midfielder position to anchor the team, and from the under --23 team in which he was restored to his instinctive position, that of striker.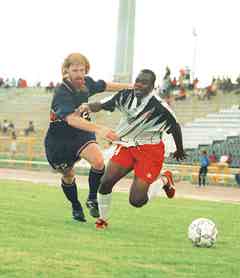 Today at only 20, Stern John is as effective a striker as the best of them.

What is inspiring about Stern is that he has a plan for the future. A plan with a backup.

He is currently taking a semester off of his second year of university at Mercer College, New Jersey. At Mercer, where he is majoring in Computer Graphics, Stern scored 30 goals in approximately 40 matches to help the Vikings to a championship win in 1995. This is part of his plan.

He plans to become a professional. A professional playing in the most prestigious league in the world - the Italian Premiere League. However, in case things do not work out, for whatever reason, he wants to get his degree. No injury can take that from him once he earns it.

His five international goals, including his hattrick against Dominica on the 'road to France' and his 'golden goal' against Martinique in the semi-finals of the Shell Cup tournament, have earned Stern trials at both Motherwell of the Scottish Premiere division and Millwall of the English Second division. Both have indicated interest in signing him but not obtaining a Scottish work permit prevented the finalising of his contract with Motherwell while he was scheduled to go to England in January to enter negotiations with Millwall.

'Super-sub' as he was called while playing for El Dorado, is most well known for his ability to come off 'the bench' or come on as a substitute and score quick goals.

Commenting on the criticism handed down to the foreign based professionals on the national squad, Stern has this to say: "I know that when those fellas come back they are doing their best. There are have things out there that they might have to face which nobody knows about. The people and the media have to be more supportive. I am not mad at them at all. I think they give their all. Even with all this going on they still come back to play. That has to be commitment."

His biggest problem, after the heavy demands made on his time, is the fact that the media and the public are not supportive and that they put down the players.

"Sometimes they (the media) do not know the truth and just write what they hear." He says that the media have to "protect the players."

Deeply hurt by what he sees as a boycott of the TT versus USA home-game, Stern says "Like we fightin' a war against weself yuh know. If dey (the public and the media) have nuttin' to say jus' doh say nuttin.' If they have to criticise let it be constructive, yuh know."

"If you are a true supporter you will support the team in both the good and bad times. Trinidadian supporters are just supporting us in the good times but they aren't there when we need them most," he laments.

For football in Trinidad to improve and get up to standard he feels that preparation must start early and funding has to improve.

Janet Burns, Stern's mother, says she wants her son "to be like Pele."

Quite aware of his responsibilities Stern says, "There are certain things that we cannot do because we are role models. There are a lot of youths looking at us. I used to look up to some of the pros when I was younger. Just like how I would look up to them, youths out there may be looking up to me."

"Keep away from drugs! Engage in something productive and occupy your time. Just keep away from drugs," Stern warn seriously.

By Nirad Tewarie

Return Home