September News
August news
---
Monday September 27th, 1998
Stern John: The top MLS Man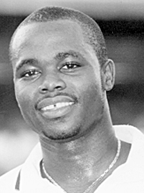 John...wins the race.

For a while in last night's game it looked like he would do it. However, he fell one goal short of tying the MLS single season goal scoring total. Stern John notched his 25th and 26th goals of the season to finish first in MLS goal scoring and overall scoring with 57 points.

John scored his first goal in the tenth minute when he found himself on the end of the high cross. The unmarked John powered a header home to open the scoring for Columbus.

Just five minutes later John received a ball with his back towards the goal. Stern "turned on a dime" and fired a left footed ball past the hapless DC United goalie.

He missed his fourth hat trick of the season and game winning goal in the 82nd minute when he miss-hit a ball that was just cleared off the line. Columbus went on to loose the game 3-2 after a shoot-out.

John and Columbus now face New York in the Eastern semi-final. They will either face DC United or Miami if they get through to the final. DC United is the the favorite to make it to the MLS cup final. However, Soccer America made the comment last month that Stern John seems to be the only man that will be able to stop United.

Rougier makes his return

Tony Rougier made his return to action on Saturday after resting last week due to injury. He came on at the start of the second half but could not propel Hibernian in there encounter with Hamilton. The game ended 0-0 to keep Hibs fourth in the Scottish first division table.

Keeping in Scotland, Marvin Andrews and Raith Rovers could only manage a 2-2 draw with Stranraer. Andrews had a couple of chances of to win the game in the closing minutes but his headers went inches past the left post.

Demmin takes game one
Demmin...one step closer

Craig Demmin and the Rochester Rhinos are one step closer to the A-League finals. They defeated Wendell Regis and Hershey 3-1 to take game one of the best of two series. The series now sifts to the small town in Pennsylvania for game two later on this week.

Demmin and Rochester are favorites to walk away with the A-League title after a impressive season. Demmin signed with Rochester at the beginning of this season after spending last season in Jackson, Mississippi.

In the shooting range...

In Switzerland, Jerren Nixon and FC Zurich defeated FC Luzern 2-0. In Portugal, Leonson Lewis came on in the second half but could do nothing to prevent Sporting Lisbon from walking away with a 3-0 win over Amadorra.

More on the appointment of Oliver Camps later on this week.
---
Sorry for the non update yesterday. I have decided to move the midweek update to Friday to avoid conflict with school.

Friday September 25th, 1998

Can John be beat?

Stern John is destined to win the MLS MVP and the rookie of the year awards. Last night John scored his league leading 24th goal of the season. Despite the goal and one assist last night the Columbus Crew lost 4-3 to Evans Wise and Tampa Bay.

The case for John is strong. He is leading the MLS in goal scoring with 24 items. With 53 points he leads the MLS in scoring and has taken 106 shots on goal. He is tied for the lead in game winning goals and hat tricks.


The playoffs are scheduled to begin on September 30th. Stern John and Columbus are scheduled to take on the New York at home. Mickey Trotman, Brian Haynes and Dallas take on Los Angeles. There playoff games begin October 1st.

A-League playoff winding down.

Wendell Regis and Hershey moved on to the eastern A-League final. They defeated Richmond 3-2 shoot-out win at home and went on to Richmond and beat them 4-2 to take the series 2-0.

Hershey will face Craig Demmin and Rochester. Rochester defeated Montreal in a 3-2 shoot-out on the road. They then came home where they are extremely hard to beat and sent the Frenchmen packing with a 4-1 victory.

In the west, the season is over for Gary Glasgow and New Orleans. They lost to San Diego 2-0 in California and then in a shoot-out at home.

In the shooting range...

Clint Marcelle came off the bench for Barnsley on Wednesday night to help them preserve a 1-1 tie with Reading. Barnsley move on to the next round of the Worthington Cup.

Shaka Hislop and West Ham defeated Northampton 1-0 but still went down 2-1 in aggregate to advance in the Worthington Cup.

Dwight Yorke and Manchester United defeated Liverpool 2-0 on Thursday night.

In the starting lineup...

In Scotland, Tony Rougier is expected to back when Hibernian face Hamilton Academical. Despite requiring seven stitches on Saturday Marvin Andrews will start for Raith Rovers when they face Stranraer.

In England, Shaka Hislop and West Ham will face Southampton on Monday night. Dwight Yorke has this weekend off.

In Switzerland Jerren Nixon and FC Zurich face FC Luzern. In Portugal, Leonson Lewis and Estelle Amadorra face Sporting Lisbon.

In the USA, Stern John has to score three goals to tie the MLS record for goal scoring. He will have to do it against the defense of DC United on Sunday. Evans Wise and Tampa Bay face there Florida rivals Miami on Sunday. On Saturday David Nahkid and New England face New York. Brian Haynes, Mickey Trotman prepare for the playoffs when Dallas face Colorado.
---
Monday September 21st, 1998

John scores again.

Stern John may be headed to Europe in a few months but he is intent on putting his name in the record books. John scored his league leading 23rd goal yesterday in a 2-1 lost to Colorado. That goal put him in the lead for scoring with 50 points. In addition, John's goal total is the second highest in MLS history. He has two more games in order to reach Roy "the butcher of Joe Public" Lassitier's 27 benchmark set in 1996.

The Columbus Crew have locked up second place in the Eastern Conference.

Mickey Trotman, Brian Haynes and Dallas Burn have also claimed the final play-off spot in the MLS West Conference. They accomplished this via a 1-0 win over Kansas City. Mickey had a part to play in the win. After his shot was partially saved by the Kansas goalkeeper, he collected his rebound and squared it to a teammate who buried the ball in the back of the net.

Making a new beginning
Andrews and Marcelle...making a new beginning.

Marvin Andrews surprised many fans on Saturday when he started for Raith Rovers in there encounter with Tony Rougier's Hibernian in Scottish first division action. By all accounts Marvin had a good game despite being taken off for 10 minutes with a head cut. In the 51st minute he had a good header off a free kick on goal that just cleared the bar. Rougier was out of the game due to fitness problems. Hibs won the game 3-1.

Clint Marcelle came on in the 85th minute of Barnsley's game with Crystal Palace. Barnsley won the game 4-0 in front of there home fans at Oakwell. This marks a return to action for Marcelle who resigned with the club earlier this year for two more years.

European report...

Dwight Yorke and Manchester United continue there poor start of the English season when they got beaten 3-0 by league champions Arsenal.

Shaka Hislop made a few good saves in West Ham's 0-0 tie with Nottingham Forest.

Across in Switzerland, Jerren Nixon started for FC Zurich in a 2-0 win over FC Aarau.

In Portugal, Leonson Lewis started for E. Amadorra in there 2-1 win over Académica.
---
Thursday September 16th, 1998
T&T moves up in Fifa

Click above for ranking

Trinidad and Tobago moved up in the latest Fifa world ranking published on Tuesday. They progressed three places to 44th and are now nestled nicely between Thailand and Cote d' Ivoire. They are still ranked number two in the Caribbean and number four in Concacaf behind Mexico(10th), USA(17th) and Jamaica(30th).

Nixon scores in European competition.

Jerren Nixon continued his good run in European competition when he opened the scoring for Zurich in the UEFA cup on Tuesday. Nixon scored in the 35th minute in there first leg encounter with Anorthosis Famagusta (if you can pronounce the name there is $20 in it for you) of Cyprus. Zurich won the game 4-0 at home and have to travel to the small island in two weeks time for the return leg. They should progress into the next round.

Dwight Yorke got his wish on Wednesday night when he started for Manchester United versus Barcelona. Yorke had made his intention clear that he wanted to play at the highest level of European club competition. Playing in the European Champions League Yorke had a few chances to put Manchester United up for good. The game ended in a 3-3 tie. Manchester United find themselves in the same group with Brondby of Denmark and Bayern Munich of Germany.

In the shooting range...

This was a weekend that I circled on the calendar some months ago. It was supposed to be the battle of team mates in Scotland. On one side was Marvin Andrews, the young skillful defender and Raith Rovers. On the other end was Tony Rougier the fast, tricky midfielder and Hibernian.

However, due to an inflamed pelvis Marvin Andrews will not start the game. Andrews suffered the injury while playing for T&T in the Shell/Umbro cup.

Marvin Raeburn is France bound. According to the Weekend Independent, Raeburn is expected to join Auxerre in January. He is expected to be the first Trinidad and Tobago footballer to play in France. Raeburn is not required to go on trial and will benefit from the French system that does not require a specific number of caps to play in the league.

In the starting lineup...

Dwight Yorke and Manchester United will play league champs Arsenal. Shaka Hislop hopes to continue his good run when he starts between the uprights for West Ham when they take on Nottingham Forest.

In Scotland Tony Rougier and Hibs face Raith Rovers.

In Portugal, Leonson Lewis will be looking to add to his total when E.Amadora face Académica. Lewis has one goal this season. He scored in week two versus Setubal.

In the USA, Stern John, Ansil Elcock and Columbus face Colorado. Mickey Trotman, Brian Haynes and Dallas face Kansas City. David Nahkid and New England face off with former teammate Evans Wise and Tampa Bay.
---
Monday September 14th, 1998

Hello folks,
I am back from my trip to Trinidad and everything is back to normal. TTFOL will be updated as usual on Mondays and Thursday.

The women show the way.

When you consider that the team was thrown together at the last minute, had little in the way of sponsors or resources and to a greater extent respect; The Trinidad and Tobago women's team showed more determination, guts and "balls" than there male counterparts in the Women's Concacaf World Cup qualifiers held in Toronto earlier this month. They finished the tournament with a very respectable 1-1-1 record. In fact the women just missed qualifying for the second round of the tournament.

In there first game versus Haiti, Izler Brown put the women in the lead after 45 seconds. Haiti leveled the score six minutes into the second half but T&T went ahead for good in the 72nd minute on a break away by Delia De Silva. Nicole Mitchell the goalkeeper saved a Haitian penalty to preserve the 2-1 win for T&T.

The second game was the killer for T&T. They faced Costa Rica, the team that placed third in the tournament. Costa Rica benefited from a two generous "penalty" decisions inside the first twenty minutes that made the climb too much for the Calypso girls. Vasha Maharaj made the score line 2-1 in the 44th minute. In the second half the ladies came out firing on all cylinders. Trinidad and Tobago dominated the second half. Delia De Silva made some strong runs on the the left wing. However, T&T failed to capitalize on there scoring chances much to the disappointment of the pro T&T crowd. Costa Rica went on to win 3-1 which left T&T with the enormous task of beating Mexico to reach the second round.

In the final game with Mexico the women showed why they will be one of the few bright spots of the year. In a closely fought game Trinidad and Tobago tied Mexico 2-2. With the score 1-0 in favor of the Mexicans, Izler Brown leveled the score in the 31st minute. The score line was 1-1 at the half. Trinidad and Tobago had to fight from a 2-1 deficit after the 68th minute. Delia De Silva scored nine minutes from time to make the final score respectable. The star of the game turned out to be Germain Gordon. Germain a defender by trade, became the emergency goalkeeper after Nicole Mitchell injured her neck in a mid-air collision at the stroke of half time. She made several good saves and looked sharp in the net. However, the tie meant that T&T failed to qualify for the final round. Mexico went on to finish second behind eventual tournament winners Canada.

After the tournament, Fifa Vice President Jack Warner stated that he will dedicate the resources necessary for the starting up of a women's league in Trinidad. The TTFA also extended the contract of Jamal Shabazz as head coach of the women's team for the next four years.

Mr. John takes the lead.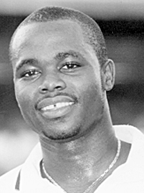 John... the leader of the pack.

"When you are this big they call you Mr." That phrase best describes Stern John. John is now the leading goal scorer in the MLS. John has 20 goals in 22 games and is two clear goals ahead of the nearest competitor. His nine goal blitz in August not only moved the Columbus Crew into the playoffs but made him MLS player of the month.

Additional links: Here is an interview conducted by MLSNET about Stern. Quicktime Video of Stern scoring number twenty.

Stern John's scoring accomplishment has not gone unnoticed by European teams. There is strong speculation that John will leave Columbus at season's end. According to the Weekend Independent in Trinidad John is currently being courted by former Newcastle United manager Kevin Keegan. Keegan currently at Fulham in the English First division. However, two teams have stepped forward in there quest for Stern John. They include English Premiership Charlton Athletic, Scottish Premiership club Celtic and Dutch club side Feyenoord.

John will not have to go on a trial with the English clubs since both Athletic and Celtic have expressed a willingness to sign John on what they have seen on live television and from video footage of his matches. His manager Alvin Corneal stated that Keegan has made arrangements with Eddie Comanie of Charlton for John. However, Corneal will fly to England to finalize the arrangements.

Corneal said that John had all the qualities of Dwight Yorke and would make it in English football. "If anything, I would give Stern the edge because of his aggression." John will stay with the Crew until November when the playoffs ends and then will travel to England. Also seeking the move is his cousin Ansil Elcock. Corneal stated that they will try to work out a package deal for the two. Barring that Elcock will stay in the MLS with a higher salary.

Yorke paying off.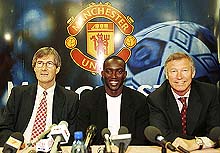 Yorke...all smiles now.
When Dwight Yorke moved to Manchester United the phrase surrounding Alex Fergusion's purchase was a new spin on the US' cable station Art and Entertainment's slogan: "Time well spent." Some may of said it was: "Money well wasted." However, Dwight Yorke is showing why interest was so keen in the Tobago born striker.
Yorke has scored three goals in his last two games with Manchester United. He scored a double versus Charlton Athletic in his home debut for the club on Wednesday night. His first goal was scored when he headed home a curled shot from David Beckham. His second goal was scored when a missed cross fell nicely to Yorke who buried a shot past the goalkeeper.
He scored again on Saturday when a paried shot fell to Yorke's teammate Paul Scholes. Scholes played it back in for Yorke who mis-kicked it into an open net.
Yorke made the newspapers in England earlier in the week for his off the field exploits. You will not see anything related to that reported here in TTFOL. The reason being that what consenting adults do in the privacy of there bedrooms is no concern of mine. It should never be splashed across the front page of a newspaper to increase sales.
I will continue part two of the update on Thursday.