Friday, April 30, 1999
High stakes at Guaracara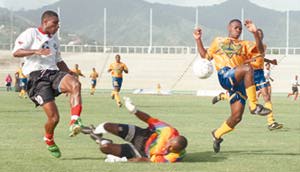 Joe Public striker Irasto Knights (left) and Defence Force duo Clayton Ince (on ground) and Marlon Pierre strike interesting poses during their Craven A Professional Football League encounter at the Hasely Crawford Stadium on Monday.
Photo: ROBERTO CODALLO
By JOSIE-ANN CARRINGTON
WHEN Defence Force travel to Guaracara Park, Pointe-a-Pierre, today to take on their hosts W Connection F.C. in a Craven A Professional Football League (PFL) round six match-up, all those with an interest in the league will be paying attention. That is a surprise since not many people expected this game to be a defining one.
Coming off a less than impressive 2-1 win over Doc's Khelwalaas last Saturday, W Connection will have to shift gears considerably when this evening game kicks off at 6 p.m.
Leading the table with 15 points, the hosts need a win to stave off the challenge from Hutson Charles's army unit, who are just three points behind in second spot with a four-in-five record.
The army's defence was breached in just one game, in their only defeat of the season when they lost 3-2 to Police two and a half weeks ago. Both Ross Russell and Clayton Ince-whichever of the duo stands between the uprights today-will be trying to prevent a repeat by keeping a clean sheet.
The soldiers will rely on the experience of Charles and Kerry Jamerson in the defensive third, as well as Carlos Edwards and Anton Pierre in midfield. Granville Millington and Jason Scotland, two of seven players with three PFL goals so far, have been the main sharpshooters for Defence Force to date, and should not be taken lightly by Derek King, Charlie Wright and the rest of the WCFC defence.
WCFC will be hoping that returning captain Reynold Carrington and playmaker Wesley Webb can take care of the ball in the middle, so that strikers Earl Jean, Titus Elva and Jerome Lee Yaw can make use of any and all scoring opportunities, because they can ill afford to squander any chances to score against their guests.
Too much is riding on it.