October News
September News

---
Friday October 29th, 1999
T&T to play Mexico again.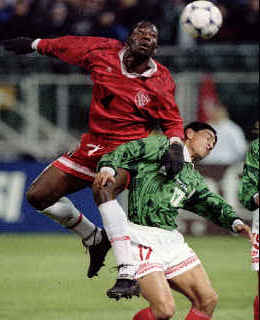 Andrews...gets another shot.

Like the old New York Yankee player Yogi Berra said once: "It seems like Deja Vu all over again." Trinidad and Tobago will face Mexico again in the Gold Cup. For sometime now the technical staff wanted to play Mexico and this time they will at what will seem like a home game to the Mexicans.

The game is scheduled for San Diego on February 13th. For those of you not familiar with US geography, San Diego lies directly across from the Mexican border town of Tijuana (the happiest place in all of Mexico). Two days later the Soca Warriors face Guatemala in Los Angeles. The top two teams advance to the quarter finals.

T&T has a very good shot of getting into the quarter-final and a good chance to advancing to the semi-final. Lets play the game of chances. If T&T finishes second in group C, they will face the winner of group D made up of Costa Rica, Canada and S. Korea. Right now Costa Rica looks the class of the group. On a good day and with conditions right, T&T can beat Costa Rica. A win in the quarter-finals will bring Mexico calling again. Keep your fingers crossed.

With the new schedule coming out, Guatemala canceled it's game scheduled for the 15th of this month. Trinidad and Tobago will instead face Honduras on the 17th. That game should feature several young players and the introduction of defender Ian Cox. It also will mark the return to the squad of German Bundesliga striker Evans Wise.

T&T will face Morocco and Tunisia next year. Also, on the menu is potential games versus Nigeria and Saudi Arabia.

CAMPS FOR THE DEFENCE

By Irving Ward at the Trinidad Express.

IRVING WARD draws Trinidad and Tobago Football Federation chief Oliver Camps on some of the issues surfacing in the sport in the country in recent weeks.

IRVING WARD: Mr Camps, Nigerian 2001 Technical Director Chief Adegboye Onigbinde recently tendered his resignation from the National Technical Committee. What was the reason for his move?

OLLIE CAMPS: Actually, what happened is that he came here basically to handle the 2001 Under-17 team and we asked him to take on additional responsibilities. That is how he came to be on the National Technical Committee. Initially, handling these things was not a problem because, as Under-17 coach, his programme involved mostly screening and skill training of the talent and developing a training programme. But now that they have started to play games, his duties with the team are a lot more time-consuming, hence the reason he has asked to be relieved of his other responsibilities. We agreed.

IW: Is the TTFF satisfied with what Onigbinde has been doing with Team 2001?

OC: Yes, we are satisfied with his progress and the programme he has developed with the team.

IW: In recent times, there have been many young players getting trials and contracts abroad. T&T have also managed to move a couple notches up the Fifa rankings. Can we draw any valid conclusions about T&T football from this?

OC: Well, the standard of football has risen tremendously since 1989. One of the reasons why some of these players are being contracted is that the PFL has produced a lot of good players. Evidence of this is how competitive the fight is between the top four clubs in the PFL. We had Semi-pro football last year and the year before and the decision to go fully professional is already bringing rewards.

IW: T&T has been able to pull off a string of eight consecutive victories and establish a nine-game unbeaten run so far this year, including the stunning 4-3 victory over Colombia. Any particular reaction?

OC: I was very happy about the Columbia victory. What made it even more pleasing is that we did it without two of our top players, (Dwight) Yorke and (Russell) Latapy. But, you know, unless it is a competition match or one of the preliminary round World Cup qualifiers, the victory in itself doesn't mean that much. What is very important is the performance of the team. I want to see continuity in the performance at this high level. But I was very happy for the victory and the excellent performance on that occasion.

IW: Both Latapy and Yorke failed to show up for that game and the TTFF subsequently issued an ultimatum to them concerning their future participation in national team games. Does that mean that the Federation is going to be taking a harder line with them and, for that matter, all foreign-based players in the future?

OC: For quite some time now, our stand has been that we do not want to force any player to come to play any match. We would like them to want to come. For example, all the guys who played against Colombia wanted to come. (Lester) Felicien came and offered his services. That is how we will approach it in the future because when you force a player to play, you'll never get 100 per cent out of him. So, it was disappointing that Yorke and Latapy did not come but, in future, if players want to play they will have to tell us so directly.

IW: In writing?

OC: Well, that is what we have asked Dwight and Russell to do. But those were special circumstances. I don't expect that to become the norm.

IW: Not so long ago, you were criticized by former national skipper David Nakhid who contended that you have not done enough for the sport during your tenure in office. You have never responded. Do you want to do so now?

OC: No. I don't think I want to deal with David Nakhid. He is just one person who has his own view and has said what he has to say. But let me say for the record that I go back since 1970 in local football administration. If you cannot make a judgment on what I've done between then and now there is nothing more I can say.

IW: Some people have been saying that you are not in charge, that you have been letting other people call the shots.

OC: Well, you know who they are referring to. Jack Warner. But you have to bear in mind that I have a very good relationship with the Fifa vice-president who is also president of Concacaf and the CFU. We have a very, very good working relationship which goes way back since he became general secretary of the TTFA which is somewhere in 1975. We both worked together and have the
same kind of vision for the football. We always talk, so that he can even speak for me because of the fact that I have given him authority to do certain things after discussing it. When you see he says something, it is because we have discussed it. I do not think too many people like the idea but once we have a man of that caliber in our midst, we have to take the opportunity to get done the things that will make us improve.

IW: Such as bringing in a foreign coach? We have already talked about Chief Onigbinde but there is still the question of Bertille St Clair's tenure. There was talk that he has been operating without a contract.

OC: People, including Mr Nakhid, have said that he didn't have a contract and we didn't want to give him a contract but that is not true. Bertille has always had his contract. He had his contract perusing it to see whether he was in agreement with it and that contract was signed some time ago. It had nothing to do with his performance. We were just letting him look at it properly to ensure that when he signed it, it was what he wanted.We were not thinking about bringing any foreign coach either and I don't know where that came from.

IW: So is the Federation happy with St Clair's work to date?

OC: The results of the matches are there to show so there is no way you can fault Bertille. He uses what he has and he has been able to do quite well in the circumstances.

IW: What are the plans for the team within the next couple months?

OC: We already have other warm-up games against Guatemala and Honduras and we are working at lining up quite a few more. The team is going to be looking at whether they can sustain the high level they have reached and that is the important thing now. They are working hard at it.We are going to continue improving into the new millennium because we are going to the Gold Cup and then straight into the World Cup preliminaries. We'll be looking again at all those players who are out there-in North America particularly-to bring in as many of them as possible give ourselves the best chance of making it all the way to the World Cup stage.

Yorke, Latapy out of doghouse.

Dwight Yorke and Russell Latapy are finally out of the TTFF doghouse. Earlier this week the British based players made peace with TTFF president Oliver Camps. The two found themselves out in the cold because of there failure to show for last month's encounter with Colombia in Miami.

Speaking to the Trinidad Express Camps stated: "I feel confident enough now to say that both (Russell) Latapy and (Dwight) Yorke are committed to Trinidad and Tobago's World Cup effort. I got both players on their cells and we spoke at length on various issues,'' he said, "At the end of the day, we were able to clear up all the issues and they assured me that they were ready to play their part." Camps continued: "There is no doubt in my mind now that they are prepared to play for Trinidad and Tobago, once they have no conflict with their club activity they will play.''

Saying that he had refrained from acting despite "all the stories that appeared in the press'', Camps explained that he had "left it up to people who were dealing with team to do something''. But, he said, referring to the World Cup and the Gold Cup, "with the time drawing nearer, (... ) I couldn't let it go on.''

Asked whether he had asked them directly about their availability for the February Gold Cup, Camps answered in the negative. "I didn't ask them particularly about the Gold Cup, knowing fully well that they had already committed to it. I think it is safe to say,'' Camps ended, "that once the Gold Cup doesn't clash with their club duties, they will make themselves available for the tournament.'' (Courtesy Irvin Ward).
---
Monday October 18th, 1999
Players must have right attitude says Braithwaite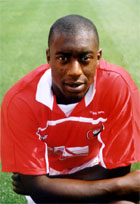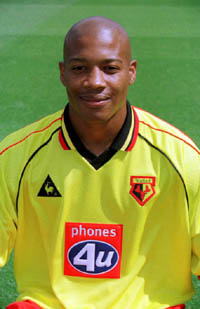 Austin(L) and Hyde(R) to join the national team.

By Shaun Fuentes
National football coach Bertille St Clair goes to England at the end of this month to look at players who are eligible to represent this country's senior team and have expressed a desire to do so.

St Clair is expected to spend just over a week working with coaches from the English Premiership while also looking at a few players who may end up being part of the team for the 2000 Football Confederation Gold Cup and 2002 World Cup qualifiers next year.


Cox

Barnsley defender Kevin Austin, Bournemouth's Ian Cox and Watford's Anthony Micah Hyde are among them. Austin and Cox may also come here to train with the local squad next month.

Braithwaite is looking forward to see how well these players may fit in with the current squad and added that they will be looking at several other T&T players playing overseas, hence the reason for arranging a training camp in North Carolina, United States next month.

"We are looking closely at the players who are eligible and want to play for us because it is important that we have players who want to play for T&T." Braithwaite said that the technical staff will be assessing the resources available to them and working towards putting that into a winning combination.

"We are also looking at their attitude and what they can add to the chemistry of the team. "Some players tend to think of themselves and are only concerned about their own situation at times. "We can do without players like that. Football is a team game," said Braithwaite.

As to the conflict involving Manchester United's striker Dwight Yorke and Hibernian midfield ace Russell Latapy after they failed to attend the friendly against Colombia match last month in Miami, Braithwaite said "The club/country problem is one of the more serious problems in world football. It is a complex matter that is not going to go away overnight.

"The situation is not peculiar to T&T and is certainly not peculiar to Russell and Dwight. "All clubs would be reluctant to release a player especially if it conflicts their schedule." "The player must be willing to play for his country and the club must be willing to release the player. It's a situation that affects particularly countries outside of Europe," said Braithwaite.

He remained quietly confident that Yorke and Latapy will renew ties with the local squad but hopes that can be done some time before the World Cup preliminaries begin. Braithwaite said they do not intend to put together a unit at the last minute as in previous campaigns. Relating that the team which took the field against Costa Rica in the 1998 World Cup qualifying opener had done so together for the first time.

Braithwaite, who was not part of the team during that time said "That's absurd and we certainly don't intend to fall into that trap again." And if it reaches a stage where the "Dream Team" can't come together for the big matches, Braithwaite said "With respect to if the players can't make, there are others waiting to fill in. There's an old saying when man gone, man dey."

T&T tie Panama

Trinidad and Tobago tied Panama 2-2 in a international friendly in Panama City. The game was minus Stern John and Ancil Elcock who were forced to stay behind in Columbus due to club commitments.

On the good side, the tie by T&T keeps them undefeated for the year with eight wins and one tie. The game also featured the debut of young goalie Kelvin Jack. Jack is considered to be one of the best goalies to come out of T&T for sometime. With Jack T&T has remarkable depth at goalkeeper which includes Clayton Ince, Shaka Hislop, Michael McCormie and David Austin.

Speaking after the game national team manager Richard Braithwaite stated that he was extremely pleased that the Under-23 players, in particular Hector Sam, Marlon Rojas, Travis Mulraine, Nigel Pierre, Kerwyn Jemmot and goalkeeper Kelvin Jack were able to hold their own.


"It was really nice to see we could do well without a number of the overseas players. It was an excellent experience for the younger players. We are not complaining but the conditions were pretty rough. While we would have preferred a win, this kind of trip surely did wonders for the team. "

The game was not without some injury Port Vale midfielder Anthony Rougier was forced to withdraw from the action midway through the first half following a blow above his right eye by the Panamanian goalkeeper. After receiving medical treatment, Rougier complained of feeling dizzy and was bleeding profusely. Mulraine replaced him and controlled the midfield well under the circumstances according to Braithwaite. Pierre also received a knock which caused excessive swelling to his left eye. (Courtesy The Trinidad Guardian).

In other national team news, Trinidad and Tobago tied Barbados 2-2 in the return leg of Olympic qualifying. T&T move onto the next round. T&T will face Canada, Guatemala and either Guyana or the Netherlands Antiles. Trinidad and Tobago moved up one place in the Fifa World Rankings. They are now ranked 41st in the world, third in Concacaf behind Mexico and the United States.

T&T to hold camp in the US

This country's senior football team will be holding a one week training camp in North Carolina next month for local born players playing there with a desire to represent the nation.


Speaking on the team's return from Panama where they were held 2-2. manager Richard Braithwaite said this would take place through the efforts of local officials and American-based coach Anton Corneal.


A final date has not been scheduled but arrangements are being made for it to take place midway through November for players campaigning in the American A-League and Colleges competition.


"We are hoping to have it around that time so the College players would be available. "There are quite a few players we are interested in seeing. We will provide meals and accommodation. They will just have see about getting there," said Braithwaite. (Courtesy: Shuan Fuentes at Trinidad Guardian)

Glasgow targeted by Newcastle

Published reports out of Trinidad indicate that national striker Gary Glasgow is currently being pursued by Premiership strugglers Newcastle. The talented Richmond Kickers (A-League) striker was added to United's wanted list after being scouted by one of the team's management staff during his one week trial with Premiership rival club Sheffield Wednesday which ended earlier this week.


Ironically, Glasgow's trial at Wednesday was unsuccessful and he is now trying his luck at First Division club Manchester City.


Confirmation of Glasgow's move came from Richard Fakoory, manager of one of the player's former clubs, Superstar Rangers, and the man responsible for arranging the trial. "Gary (Glasgow) went over to Manchester today (yesterday) and had already had one session with them," Fakoory told the Express.


"He's expected to play in a closed door session with the team later on this week so we'll just have to wait and see what happens, but we feel optimistic that he'll get a contract." Fakoory added that Wednesday felt Glasgow was "six months away" from the level required to make it in the Premiership.


"While Wednesday felt he (Glasgow) was a young rising talent, they didn't think he was quite the type of player they were looking for just now. They therefore referred him and will look at other players. But if they don't get the player they are looking for they may still take him on." Glasgow however, had no intention of sitting around and waiting for Wednesday's call as there were other clubs interested.


The former Malick Secondary player's affairs, (while in England), are being handled by Mike Berry, the man who recently secured a contract for T&T goalkeeper Clayton Ince at First Division club Crewe Alexandra.


Speaking to the Express yesterday Berry seemed stunned by Wednesday's decision. "It surprised me because of Wednesday's current position in the Premiership. They're struggling at the bottom of the table and if you asked me they could very well be in the First Division next season, so the reason they used was rather strange."


Berry added that Glasgow could very well be snapped up by Manchester City as there was now particular interest in Trinidad and Tobago players in light of the recent signing of Ince and Nottingham Forest's declared interest in US-based compatriot Stern John. "Glasgow's a talented player," Berry ended "and I know he'll find a club. He just needs the chance to show his class." (Courtesy Irvin Ward at the Trinidad Express).

Newcastle has also joined several other teams in the chase for Stern John. Along with the north England club,Watford, Everton, Bayern Leverkusen, Kaiserslautern and two unnamed Italian clubs have all shown interest in him.

The team that has the inside track is Nottingham Forrest. Manager David Platt has a £1.5 million bid on the table as soon as the MLS season is over. John is not making it easy for Platt. Last night he scored two goals in the first game of the MLS Eastern division semi final. The goals were all that Columbus needed to defeat Tampa Bay 2-0.

In the regular season John was once again tops in goal scoring. This year he scored 18 goals in 28 games. Last year he scored 26 goals from 27 games.

In other player news, Dwight Yorke scored his eighth goal of the season in a 4-1 win over Watford. Russell Latapy scored in the ninth minute on a penalty. Hibernian tied Motherwell 2-2.
---
Monday October 11th, 1999

Young squad for Panama.

A young squad has been picked to play Panama on Tuesday night. The squad will consist of seven under 23 players. Four players have been forced to pull out of the squad they include: Gary Glasgow and Derek King because of trials (see below). Also, Shaka Hislop and Evans Wise are out because of club commitments.

There are six foreign based players in the squad they include: England based skipper Anthony Rougier (Port Vale), Switzerland based Jerren Nixon (FC Zurich), Scotland based Marvin Andrews (Raith Rovers), Finland based Brent Sancho (Terverit FC) and United States based duo Stern John and Ansil Elcock, both of the Columbus Crew.

The game versus Panama is a re-scheduled encounter because of the Jamaica Football Federation cancellation of it's Caribbean derby match with the Soca Warriors. Here are some unofficial comments from one JFF administrator.

In other team news Trinidad and Tobago defeated Barbados 4-0 in Olympic qualifying. The return encounter is on October 17th in Barbados.

Player moves in the works

Trinidad and Tobago players are looking for big moves to European clubs soon. Last week we reported that Angus Eve signed a contract with Chester in the English third division and of trial offers to Micheal McCormie and Mickey Trotman to Germany.

This week three more players have chance to play elsewhere. Brent Shancho with Finnish first division team Mapo 47 has a chance to play for Dutch club Willem II or a Belgium club from January to March next year on a loan basis.

Sancho a defensive stand-out with St. Johns University last year was also courted by a Seria B club in Italy.

Today comes word that defender Derek King and Gary Glasgow are headed to England for trails. King is headed to English Premiership club Southampton and Glasgow to Sheffield Wednesday.

King has been a mainstay of T&T's defense since his debut versus South Africa in May. Glasgow has recently concluded his second year in the A-league.

The Glasgow move to Wednesday is seen as a way of preserving cost. Manager Danny Wilson believes that it is much cheaper to go on the foreign market than to develop home grown talent.

In other player moves Clint Marcelle has joined English second division squad Scunthorpe United on a month's loan.
---
Monday October 4th, 1999
Panama replaces Jamaica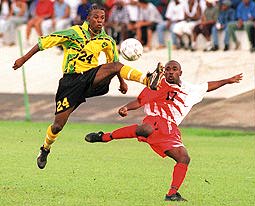 No derby this time.
Talk about a let down. Trinidad and Tobago will play Panama instead of Jamaica on October 12th. The game scheduled for Panama City will feature several foreign based players including Anthony Rougier (Port Vale), Marvin Andrews (Raith Rovers), Jerren Nixon (FC Zurich) Stern John, Ansil Elcock (Columbus Crew), Brent Sancho (Mapo 47) and Angus Eve (Chester City).
The team is minus both Dwight Yorke and Russell Latapy who are still in the TTFF doghouse for going AWOL versus Colombia last month.
After the Panama game T&T will play Paraguay, Bolivia, Guatemala and Honduras. Also in the works is a tour to Morocco and Saudi Arabia. All of the games will be played outside of T&T.
Speaking to Shaun Fuentes of the Trinidad Guardian Fifa Vice President Jack Warner stated: "I do not expect anything. The Trinidad and Tobago team will play with the players who want to play for the country and who are committed and dedicated. We shall succeed with or without those two players," he said. "I think that Jamaica's excuse is laughable to the extreme when you consider they are now seeking and begging to get a team (El Salvador) ranked 92nd in the world to replace T&T."
Eve signs with Chester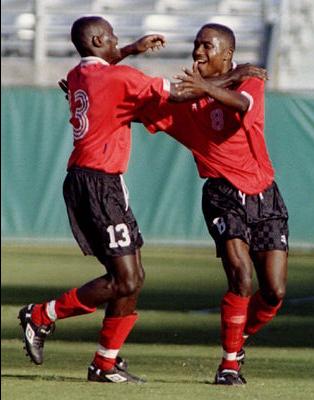 Angus Eve (Right) celebrates with Elcock
Trinidad and Tobago midfielder Angus Eve has signed a contract with English third division team Chester. Eve, who had previous stints in the Netherlands, becomes the fourth T&T senior player to sign a professional contract in Europe this year. He follows Clayton Ince who signed with Crewe, Avery John with Brehemians in Ireland and Brent Sancho in the Finnish first division.
The news of the signing comes on the heals of recent trials by third string T&T goalie Micheal McCormie at Chester and for Mickey Trotman in Germany.

Last week former national captain David Nahkid signed a one year deal with Al Emirates in the United Arab Emirates.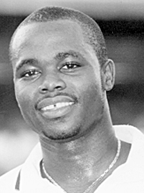 In other possible player moves, it seems to be only a matter of time before Stern John lands in Europe. Reports indicate that Nottingham Forrest is very eager to sign Stern John at the end of his season in the MLS.

Forrest in need of a striker, has asked West Ham to extend there loan of Ian Wright to them until John is released by Columbus. Forest is one of several European teams showing interest the 22-year-old striker including Watford, Everton, Celtic, Bayern Leverkusen and most recently Leicester City.

The asking price for John will be in the region of £1.5 million.

Latapy comes out fighting



Strong words for the TTFF
Russell Latapy has a few choice words for the TTFF. Latapy speaking to the Trinidad Express stated that he had no intention of sending a letter to the Federation regarding his failure to show for the Colombia game last month.
"I spoke with Richard Braithwaite and told him that it would be difficult for me to play on the eighth in Miami, travel back to Scotland on the ninth and play (for Hibernian) in an important game on the 11th."
"I'm man enough to apologize if I do something wrong," he declared. "They should be man enough to
apologize when they mislead people. If the same thing is happening for four or five years, then it's time to act." He when on to say that when he does not want to play for T&T anymore he will come out and say it.
Finally when Latapy was questioned on the effect on T&T of loosing it's top two players he stated "I think we'd be missed as far as our experience is concerned, I think we're a great influence on the team. If we are not involved it makes it just a little bit harder. But having said that," he ended, "I would not write off the team without me and Dwight."