November News
---
Thursday November 30th, 2000
United topples Derby for eight-point Premiership lead
Yorke scores 100
LONDON - Manchester United went eight points clear at the top of the English Premiership Saturday after Teddy Sheringham's strike opened the floodgates in a 3-0 defeat of struggling Derby at Pride Park.
England international Sheringham struck his 15th goal of the season after 61 minutes, Nicky Butt added a second eight minutes later and Trinidadian Dwight Yorke scored his 100th Premiership goal to complete the rout.
United has 36 points from 15 games, but second-placed Arsenal can get to within five points of the reigning champions should it win at Leeds on Sunday.

Date for Costa Rica-Guatemala playoff
NEW YORK (AP) - Costa Rica and Guatemala will meet at the Orange Bowl Jan. 6 in a one-game playoff to determine which nation advances to the regional finals of qualifying for the 2002 World Cup.
If the playoff game is tied after 30 minutes of sudden-death overtime, it will be decided by penalty kicks.

Jamaica keen on meeting T&T
From homeviewtnt.com:
OLIVER CAMPS, President of the Trinidad and Tobago Football Federation (TTFF), revealed that he would have preferred a home game to kick-off the final round of matches in the CONCACAF qualifying competition for the 2002 World Cup.
Camps said, "Everyone would agree that a home start would have been just perfect, but nevertheless we are quite satisfied with the draw and our opening game against Jamaica in Kingston, either February 27 or 28".
He added, "I feel very confident that we will do well in our first game against Jamaica. We are also happy to have drawn to play Mexico at home first."
"While our first two matches are away from home, we would be seeking maximum points and then we have our home matches to win in our efforts to qualify and be among the 32 finalists."
Without giving any monetary figures, Camps noted, "We have a very good incentive programme in place for our players so that they will be committed and focused on one thing - qualifying for the World Cup finals of 2002."
"We have also planned further discussion with the players, with the objective of keeping possible during the final qualifying matches".
Meanwhile, newspapers reports emanating out of Jamaica state that assistant coach, Carl Brown, said he was happy with the draw and their first round match up with Caribbean champions Trinidad and Tobago on home soil.
Brown said, "I believe it suits Jamaica. I am particularly happy about out first game. I had always believed and hoped that we would play TT very early. We are two Caribbean teams and at least we will know how we can assist each other along the way."
The top three teams in the CONCACAF standings after the ten home-and-away matches will advance to the 2002 World Cup in Japan and Korea.
The five known finalists are Trinidad and Tobago, Jamaica, Mexico, United States and Honduras, with Guatemala and Costa Rica in a playoff for sixth spot at the Orange Bowl Stadium, Miami, between December 16-January 6.
The TTFF are formulating plans to play a number of warm-up matches and has accepted an invitation to compete in the Millennium Super Soccer Cup from January 10-25 in India.
The national team, along with 15 other countries including Cameroon, Colombia, Yugoslavia, Chile and Jamaica [Jamaica has withdrawn from tournament], will be competing for a first prize of US$150,000.

Saturday November 25th, 2000
Porterfield goes solo

By IRVING WARD

TRINIDAD and Tobago coach Ian Porterfield has shelved his decision to take a squad of local players on tour to England next month.Instead, he will be going solo.


Porterfield had intended to carry 10 locally-based players to England to link up with their British-based teammates.
Once there, he planned talks about strategy and other areas of concern for the team's forthcoming run in the final round of World Cup qualifying with the entire group.


However, a release from the Trinidad and Tobago Football Federation yesterday revealed that Porterfield had decided against this and will now go by himself to hold talks with the British-based players and their clubs.
The Scotland-born coach is scheduled to leave here December 4.


Speaking on the matter yesterday T&T press officer Shaun Fuentes said the decision was taken because Porterfield and his technical staff were now contemplating a different approach to the final round opener against Jamaica, which will be played on either February 27 or 28.


Fuentes said Porterfield was now likely to start his training programme for the final phase with the locally-based players here January 8 and schedule a couple friendly games prior to the match against the Reggae Boyz.


He said Porterfield still intends to tour England next year with locally-based players, but it would probably be at a more crucial stage in the campaign. Porterfield, meanwhile, was looking forward to meeting the Jamaicans."It's a great first game, they are the big Caribbean rivals and it's very important that we get off to a good start," Porterfield said.


However, while there is a change in his plans, Porterfield said he and his technical staff will take every measure to ensure it does not affect their preparation.


"To be honest we have held several meetings over the past few weeks preparing for this final round and to ensure that no stone is left unturned," he said.


"It is very important that everyone realises the importance of the games next year. I will be leaving for England and will be using this trip to talk to each of the clubs about our plans for next year."

Thursday November 23rd, 2000

T&T coach: Final round very tough

IAN PORTERFIELD, the Trinidad and Tobago football coach said yesterday, the final round of the CONCACAF Zone to determine the three qualifiers for the 2002 World Cup Finals in South Korea/Japan, will be "very tough."


He explained last night he wants all the players together so "we can prepare as a unit."
Porterfield warned the away matches will be very tough.


He stated he plans to play a number of friendlies in the United Kingdom to sharpen up the team. "These matches will be very beneficial to the team," Porterfield explained. T&T topped Group "C" in the preliminary round with 15 points to advance to the final round. Mexico was the runners-up with 12 points.


According to the draw made in Guatemala City on Sunday, T&T will open its programme on February 27, 2001 against Jamaica in Kingston.


The last match on November 10 or 11 against the United States, will bring back memories of 1989, when T&T was beaten 1-0 by the Americans to put paid its chances of qualifying for the finals which were staged in Italy.
Honduras, USA, Jamaica, Mexico and T&T are the teams so far to qualify for the CONCACAF final round.


A third playoff between Costa Rica and Guatemala will determine the final country. The two had the same number of points and a similar goal-difference at the end of the group preliminaries.

We'll take one at a time, says Porterfield

By MARK POUCHET

TRINIDAD and Tobago's first two games in Football Confederation World Cup final qualifying round action are away from home next year. But while coach Ian Porterfield and his senior squad will not have home advantage against Jamaica in their first match on February 27 or 28, the national squad will still be going for victory.


"We have to get off to a good start against them (Jamaica) and take it one game at a time after that," The T&T coach said.


Porterfield was nonchalant about the draw, saying that "you can never know what will come out of the hat".


He also stated that all his team could do now is "just play our game and try and get good results".


Asked if he would have preferred to start his World Cup final round campaign with a team other than the "Reggae Boyz", the Scotland-born Porterfield it didn't really matter.


"When you look at it, we have got to play Jamaica at home then away, Costa Rica at home and away and the same with the rest of the teams, five home and five away so it doesn't matter. But we must get a good start to the program and we'll take the draw as it is."


Porterfield hopes the momentum of his T&T charges semifinal round when they topped Group C can carry forward into their first game in Kingston. The date of this fixture will see the T&T team miss either Carnival Tuesday or Ash Wednesday.


Porterfield said the team had done very well in the last phase, winning five of their six games and he harboured the hope that the squad could "continue from where we left off" and qualify for the World Cup


The draw for the final stage took place in Guatemala City on Sunday. And from this group, the three teams heading the standings after ten home and away matches will advance to the 32-team 2002 World Cup to be co-hosted by Korea and Japan.


The other teams in the final group are USA, Jamaica, Honduras, Mexico and the winner of the Guatemala/Costa Rica playoff match on October 6.


But the T&T coach has yet to decide on his final team for next year's competition. Porterfield will leave with ten local players on December 5 team for England to join the T&T pros there for a two week-training camp.


It will also give the technical director the opportunity to hold discussions with the clubs of the T&T pros in an effort to ensure that they are available for these last ten crucial games.


Trinidad and Tobago's Football Confederation World Cup 10-match Schedule


February 27-28 Jamaica v T&T


March 24-28 Guatemala/Costa Rica v T&T


April 24-25 T&T v Mexico


June 16-17 T&T v Honduras


June 19-20 USA v T&T


June 30-July 4 T&T v Jamaica


September 1-2 T&T v Guatemala/Costa Rica


September 4-5 Mexico v T&T


October 6-7 Honduras v T&T


November 10-11 T&T v USA.

Dwight: It's up to me now

MANCHESTER United striker Dwight Yorke has plans of taking advantage of the injury to teammate Andy Cole to finish as one of the club's leading goalscorers this season.


According to the 29-year-old striker who has netted just three times this season, "The window has opened for me now and it is up to me to make the most of the chance." Yorke told Mirror Sport on Friday that while it will be difficult to match or beat his 29 goals of two seasons ago, he is determined to score as many goals as possible now.


"I have let myself down this season. There have been times when I nearly lost the plot. But I have got my head round the situation and I know I'll be stronger for it.

I have never been through something like this before. I have always been a regular and I think this episode will, in the long run, prove a good thing for me." He added: "It is not in my nature to wish ill on other players. These things happen to us all and someone reaps the benefit.


"At the start of the season I said that my 29-goal total in my first season two years ago was beatable. It is going to take some going to better that now. But there are plenty of goals to be had, plenty of time and in United's side you certainly get chances. If I can get on a run and get the confidence zooming up again then anything is possible.
"I have been working extremely hard over the last four or six weeks. It is all about taking opportunities and it is my time now."


Yorke told the Manchester monthly magazine that he would like to play in Spain if ever he has to leave Old Trafford. But it appears that leaving the Premiership champions is the last thing on his mind at the moment.


"I have never wanted to leave United and I am now probably more determined than when I first came to Old Trafford in 1998," Yorke told The Mirror. United (33 points) are currently five points clear of second placed Arsenal at the top of the table.

Latapy plays the waiting game

National captain Russell Latapy is likely to play out the remainder of the season with Scottish Premier side Hibernian. But come January 1, if the "Little Magician" doesn't put pen to paper, local fans can well expect to be following him at another club.


Hibs boss Alex McLeish has been linked with a move to English side Wolverhampton Wolves and there is speculation that if he leaves, he may well take "Latas" with him. However, with Latapy's contract ending on January 1, Wolves may be willing to wait until the current period is up, in order to get Latapy without having to meet a transfer fee. Hibs are in second spot with 36 points, eight behind leaders Celtic.

Stern goes close

Stern John narrowly missed out on scoring last Tuesday when Nottingham Forest defeated Nottingham County 1-0 to take the Nottinghamshire County Cup. John, who was making a rare appearance in Forest colours because of his injury problems, went close to scoring on at least three occasions only to be denied by 'keeper James Lindley.


John sat on the bench during Forest's 2-1 loss to Wimbledon in First Division action on Saturday. Coach David Platt's team will be hoping to climb the table with victories in home matches against Birmingham City and Sheffield Wednesday. Forest are in 9th position on the table with 30 points, two less than Ian Cox's Burnley.

All Star picks for Rahim, Rojas

National midfielder Brent Rahim was named Big East Conference "Midfielder of the Year" following a ballot by coaches in the United States Colleges Soccer League earlier this month.


The former St Anthony's College player is currently at the University of Connecticut where he is currently involved in NCAA playoff action. Rahim also was named in the Big East All Star team for the second straight year.


Local teammate Darin Lewis also was selected. Former Police and national under 23 player Marlon Rojas was named in the Big East "Rookies of the Year" team. Rojas is currently attached to St John's University. Rahim was recently called to the national team by coach Ian Porterfield but turned the offer down because of commitments with his University. Time will tell when next the talented midfielder wears the national jersey again.
Rougier ankle problems

Defender Anthony Rougier is currently sidelined with an ankle strain. Word out of his English Second Division side Reading, is that the former Hibernian winger has not been able to feature in recent matches because of the problem and is hoping to force his way back into the starting line-up before Christmas.


Rougier was recently out for some weeks because of a similar injury but returned to the side, scoring two goals in one of Reading's matches last month. He will be hoping to be fit for Reading's FA Cup second round match on the road to York City on December 9.


Reading are fifth with 32 points on the standings. T&T's English-born goalkeeper Anthony Warner and Milwall are one spot above Reading with 33 points.

Avery's team chasing title

Avery John's Shelbourne FC are currently sitting in second position on the Irish Premier Division table. The former Presentation College, San Fernando captain, return to his club following T&T's 1-0 win over Panama at the Queen's Park Oval and will now be aiming to maintain a regular starting position at his new club as they go after the top spot with some 18 League matches left in the season.


John signed a two-year contract with Shelbourne last month. He also finished a loan contract with the Boston Bulldogs in the American A-League. He had previously played one season with Bohemians in the Irish League last year.


As it turns out, John's former club are now top of the standings with 24 points, one more than Shelbourne. John will no doubt be looking forward to a clash with his old club on December 8.

Mauge back by new years

English-born midfielder Ronnie Mauge should make a return from injury by early January. Mauge spent last week at the Lilleshall Rehabilitation of injuries centre. Mauge has been out since suffering a broken leg against Mexico in February.


He had one-to-one treatment from physiotherapists and underwent intensive courses of treatment and exercise for seven and a half hours each day last week.
Shaun Fuentes is the communications officer of the Trinidad and Tobago Football Federation

Yorke must prove himself—again

By LASANA LIBURD

A LONG memory, it would seem, is not an asset at defending English Premier League champions Manchester United.


If certain sections of the English media are to believed, Manchester United's record £12.6 million signing Dwight Yorke may be coming to the end of his career at the "Red Devils" due to a slow start to the 2000/2001 season.


Never mind that the Tobagonian striker has struck 52 times since his transfer from Aston Villa in 1998. Yorke was also an integral part of their famous 1999 treble as well as of the back-to-back League titles.


But the talented forward is quickly learning that, at this level, you are only as good as your last goal.


Although United have denied that their record signing could be on his way out—a vote of confidence not to be taken at face value in the often "cut throat" football world—rumours have persisted that the world's richest club are looking to cut their losses while they can still "recoup a sizeable portion of the club's record £12.6m outlay".


History suggests that United coach Sir Alex Ferguson is not quite as willing to dump his key players, though.


Yorke's strike partner Andy Cole—a former record signing himself—did not come close to making the early impact that Yorke did while Ferguson also supported Frenchman Eric Cantona during his 14-month ban from the game.


With Cole and Norwegian striker Olé Gunnar Solskjaer both injured at present, Ferguson is sure to provide Yorke with ample opportunity to prove his critics wrong.


The rest is up to him.


Still it may not be the best time for Yorke to approach his boss for a pay raise.


At present, Yorke is among a host of United stars seeking to re-negotiate their contract with Cole's new £50,000 per week salary being used as a benchmark.


No doubt Yorke would hope to leave some marks on several referee's scoresheets first.

McLeish mum on Latas contract details






Hibernian coach Alex McLeish has refused to comment on the future of Trinidad and Tobago playmaker Russell Latapy at Easter Road.


Latapy and veteran teammate Franck Sauzée—a former French international—are both locked in talks with Hibs management in an effort to negotiate a new deal which could see them end their career at the Scottish club.


Sauzée has already publicly revealed his frustration at the slowness of the boardroom talk but McLeish has opted not to get involved.


Hibernian were on the losing end this weekend as they fell 2-0 to Aberdeen in a surprisingly lethargic showing. Latapy played the entire 90 minutes but failed to make an impact on the game while compatriot Lyndon Andrews was brought on for the final 18 minutes with minimum effect.


Both Latapy and Andrews were excused from T&T's last two international matches against Mexico and Panama to concentrate more fully on their club commitments.

Stern test for Sol Campbell






Star English defender Sol Campbell is sure to have received a stern test last night as he returned from injury to face First Division team Nottingham Forest in a English Premier Reserve League game for Tottenham.


Trinidad and Tobago striker Stern John was expected to be in the starting line-up after a long lay-off through a knee injury. A good performance could see John force his way back into the Forest starting XI for their clash against Tranmere on Saturday as coach David Platt has lost the services of key striker Robbie Blake.


Blake had spent the past three months at Forest on loan from Bradford City but, although Platt made no secret of his admiration of the player, he simply could not afford him.


Campbell, England's highest rated defender, has also been the focal point of much speculation after refusing to re-sign with Tottenham. The powerful stopper has been out of action for the past two months after dislocating his collarbone.


John—who sat out Forest's League defeat against Wimbledon on Saturday—is unlikely to have offered him much sympathy last night.

Shaka keeps clean sheet






The pace was more frenetic but West Ham and Trinidad and Tobago custodian Shaka Hislop again remained unbeaten.


On Saturday, Hislop added to his midweek clean sheet—preserved in international duty for T&T against Panama—with another flawless display as the Hammers edged Leeds United 1-0 away.


Hislop was brought into action after just 64 seconds when he kept out a stinging drive from Leeds midfielder Olivier Darcourt. It set the pace for a busy afternoon for the goalkeeper as his defenders were made to weather a storm of relentless pressure.


They did manage a goal of their own, though, as Nigel Winterburn scored on the stroke of half-time against the run of play.


And Hislop ensured that all three points were accounted for in the 81st minute as he saved well from a low Darcourt curler.


The weekend victory moved the Hammers up to 12th spot in the English Premier League and a couple more similar displays from Hislop may yet see the London team end in a creditable spot.

U-20s resume training today

TRINIDAD and Tobago's under-20 footballers go into full training from today from 3.30p.m. at the Defence Force ground in Chaguaramas. The squad is preparing for the World Under-20 qualifying series to be contested here next March.


Coach Peter Granville's team had been training only once per week over the past two months because of the Secondary Schools Football League and the running of the T&TFF National Youth League.


The squad of around 30 players, including Secondary Schools Football League stars such as Ateba McKnight, Jace Peters, Wendell Joseph (Naparima College), Devon Jorsling (Malick SC), Colin Samuel (Mayaro Composite) and Scott Sealey of St Mary's College, will go into a live-in camp from December 1-17 at the Caribbean Lodge, St Augustine and will train daily at the University of the West Indies grounds.


Following that, the local side will journey to Tobago for a four-day stay where they will play three warm-up matches against a Tobago senior team, a Tobago Under-20 side and a local club team.


After the Christmas break, the squad will go into a weekend camp from January 5-7.


An overseas tour, possibly to Central America, has been lined up for them, from January 13-19, 2001 but their hosts are to be decided in the weeks ahead.


T&T are automatic qualifiers as hosts and will be part of a 4-team group contest, taking place in Trinidad from March 14-18.


The top two teams from the Trinidad group will join two more teams from another group being contested in Canada in advancing to the World Youth Championship in Argentina in July 2001.


The local team will go into camp at the Dr João Havelange Centre of Excellence in Macoya from March 5.

Monday November 20th, 2000

T&T kick off against Jamaica in Kingston

Trinidad and Tobago will kick off the final round of the 2002 Japan/Korea World Cup qualifying competition against Caribbean rivals Jamaica in Kingston on February 27-28.

That was determined following yesterday's draw for the final phase which took place in Guatemala City.

The date for the opening match was shifted from February 13-14 last week because of a change in the UEFA Champions' League/Cup calendar.

That change also meant that coach Ian Porterfield's team will be forced to miss Carnival celebrations in this country.

T&T, winners of the just concluded semi-final round Group C, will play their second encounter of the round away March 24-28 against the winner of the Guatemala versus Costa Rica playoff.

Like the 1990 "Road to Italy" campaign, the local side will end proceedings against the United States in Port of Spain.

This time the match will be played on November 10/11.

The other teams competing in the round-robin home away series are Honduras and Mexico and the winner of the playoff between Guatemala and Costa Rica.

The top three teams on the standings after the ten matches will advance to the 2002 World Cup.





T&T's schedule

27-28 Feb (Tue/Wed) Jamaica v T&T

24-28 March (Sat-Wed) Guatemala/Costa Rica v T&T

24-25 April (Tue/Wed) T&T v Mexico

16-17 June (Sat/Sun) T&T v Honduras

19-20 June (Tue/Wed) USA v T&T

30 June ­ 4 July (Sat-Wed) T&T v Jamaica

1-2 Sept (Sat/Sun) T&T v Guatemala/Costa Rica

4-5 Sept (Tue/Wed) Mexico v T&T

6-7 Oct (Sat/Sun) Honduras v T&T

10-11 Nov 2001 (Sat/Sun) T&T v USA

Cox finds the net

Irving Ward

On a day when several Trinidadians found the going tough in the British leagues, defender Ian Cox raised eyebrows by finding the net yet again yesterday.

The 29-year-old Burnley defender, a future target for T&T coach Ian Porterfield, scored his team's second goal against Birmingham in the First Division.Cox headed home his second goal of the season in the 61st minute following a cross from teammate Micky Mellon. Unfortunately the effort came in a 3-2 loss.

The news was better for Premiership campaigners Dwight Yorke and Shaka Hislop.Yorke's Manchester United opened up a five-point lead atop the 24-team table with a 1-0 win over cross town rivals Manchester City.The lone goal came off the boot of David Beckham after just 95 seconds of play.

But Yorke, enjoying the starting role in the absence of Andy Cole, continued to have bad luck.The 28-year-old striker, lurking near the far post, was set up by nicely teammate Paul Scholes midway through the half. But the T&T star's shot was touched away for a corner by goalkeeper Nicky Weaver. Yorke also had calls for a penalty, after he was brought down by Steve Howey, waved off by the referee and was denied by another brilliant save by Weaver just before the interval.Yorke also set up Scholes with a goal on a platter in the second half only to see his teammate hit the City side netting.

Hislop, who made his T&T World Cup debut in Wednesday's 1-0 win over Panama here at the Queen's Park Oval, meanwhile made a couple brilliant saves to give Hammers a much needed 1-0 victory over Leeds United. Hislop was called into action after just 64 seconds when he had his hand stung by a powerful 25-metre blast from Olivier Dacourt. Nine minutes from the end, he again saved well from a low curler from Dacourt.

But after these results, there was only misery for the other Trinidadians.Stern John watched from the bench as his Nottingham Forest was downed 2-1 by Wimbledon in the First Division.

In the Second Division, defender Kevin Austin - who also made his T&T debut against Panama - and his Brentford teammates were hammered 3-0 by Rotherham.

Carlos Edwards and Hector Sam, who came on as a 68th minute of play, could also not save Wrexham in 1-0 loss to Millwall.Edwards hit the side netting with one of Wrexham's best chances of the game two minutes after the halftime interval.

Former T&T skipper Anthony Rougier was put on at the start of the second half to rejuvenate Reading. He tried his best but it still lost 1-0 to Colchester.

In fact, only injured Ronnie Mauge's Bristol Rovers managed a positive result in the division, a 0-0 tie against Walsall at that.In the Third Division, Clint Marcelle's Hull was also edged out 1-0 by Chesterfield.

And over in Scotland, T&T skipper Russell Latapy's Hibernian lost crucial ground to leaders Celtic after a 2-1 loss to Aberdeen.

Yorke thinks about Spain

Trinidad and Tobago's England-based professional Dwight Yorke is ready to commit himself to Manchester United for the rest of his playing career.

But, if things are not going well there, he may consider a move to Spain.The 28-year-old marksman has been in the back ground at United this season after being relegated to the substitute's bench following a dip in form.Yorke has also had a couple run-ins with United boss Sir Alex Ferguson this season.

The most notable of them came after he arrived back at Old Trafford a day late following T&T's World Cup game against Canada here in September.However, despite his uneasy time in recent months, Yorke told United's official magazine recently that this was now well behind him.

Not only that, the £12.6m man-now enjoying a return to the United starting lineup with Andy Cole out following surgery-says he is ready to commit to United."If United want me to stay here for the rest of my career, I'm prepared to commit myself," Yorke told the magazine.

Still, the former "Strike Squad" player revealed he may be lured to another league if he and United were forced to part ties."I would like to go to Spain, but only if United didn't want me. I wouldn't leave United for any other team."Yorke is now in his third season with United having joined them from Aston Villa at the beginning of the 1998/99 season.

Cole also expressed the desire to stay at United to the magazine."Going abroad is not a burning ambition. I'm very happy in England and I'd like to stay at United for the rest of my career, if I can," he said. He added: "But in football you never know. You could sign a new contract tomorrow and then be sold."

T&T tops Group 'C'

Trinidad and Tobago's slim 1-0 victory over Panama at the Queen's Park Oval on Wednesday, may have been the best performance ever.However, the result helped the men in red, white and black finish atop Group 'C' at the end of the six-match campaign.

This after Mexico were held to a goalless draw by Canada in their final game on the series on Wednesday night.The result, secured off a 19th minute penalty from striker Nigel Pierre meant that T&T ended its campaign with 15 points, two more than the Mexicans.

Both teams will advance to next year's final round of qualifying where the will meet the other qualifiers Jamaica, Honduras and the United States. Costa Rica and Guatemala will determine the final team for the six-team series following a one-match playoff later this month.

The final draw for next year's series will be carried out next week.T&T and Mexico advance to final round of qualifying next year.

Thursday November 16th, 2000

Porterfield focuses on final round

By GREGORY TRUJILLO

TRINIDAD and Tobago coach, Ian Porterfield, will leave no stone unturned to enter the final phase of qualifying in the World Cup, beginning in February, with his best possible squad.

Speaking after yesterday's slim 1-0 win over Panama with a somewhat new-look team, Porterfield said: "Next year we know we are going to have 10 hard games and the core of our team will come from the players that played against Canada. Anything else will be a bonus."

Porterfield said the players he worked with yesterday should be given credit and were fantastic.

He noted though, that the reason why more goals were not scored was because of the lack of experience by some of the players.

"Hopefully we will continue to progress the way we've been progressing," he said.

" We know at that final stage it would be difficult but we need to keep that spirit and that togetherness."

The team, Porterfield revealed, will not come together again until the conclusion of the Professional Football League in two weeks' time.

"The players have had a hard season playing for club and country and, as a result, we wouldn't have any more games until the new year.

"We will go to the UK, not so much to play, but to bring the players back together again and to discuss many topics that need to be discussed concerning our programme next year."

The draw for the final round of competition, which kicks off in February, will take place next week.

T&T, Mexico, Jamaica, Honduras and the United States have qualified for the final round. But Guatemala and Costa Rica are now heading into a play-off after the former beat the latter yesterday 2-1.




No Carnival for T&T footballers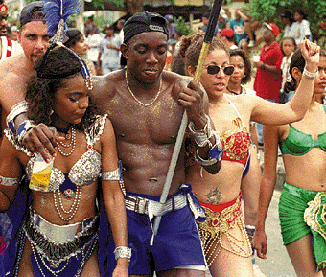 By LASANA LIBURD
A FIXTURE change in next year's Concacaf World Cup qualifying round means that Trinidad and Tobago's first assignment falls either on February 27—Carnival Tuesday—or February 28.

That means members of the Trinidad and Tobago football team would probably have to forego Carnival celebrations in 2001.

The first round of the Concacaf World Cup final group stage was originally scheduled for February 13 or 14, but a shift in the UEFA Champions' League/UEFA Cup calendar has forced Fifa to change its international schedule.

Trinidad and Tobago will join five other Concacaf nations in the final round including Mexico, Honduras, Jamaica. The draw to decide the fixtures for the final round of competition will be held on November 19.

The World Cup qualifiers apart, Trinidad and Tobago are scheduled to participate in next January's Millennium Super Soccer Cup alongside teams like Olympic champions Cameroon, Colombia, Chile, Hong Kong, Hong Kong, Indonesia, Iraq, Jordan, Jamaica, New Zealand, Qatar, Uruguay, Yugoslavia, Bahrain and hosts India.

First prize for the tournament is US$150,000 with US$100,000 and US$50,000 for second and third place respectively. There will also be a Fair Play trophy accompanied by US$25,000.

The Millennium Super Soccer Cup will divide the participating 16 teams into groups of four with the top two teams progressing from each group.
Panama to face cool, composed Lawrence
DEFENDER Dennis Lawrence believes his experience in England over the past few weeks has made him a better player. And today, he intends to help this country to a convincing victory over Panama at the Queen's Park Oval.

Lawrence said after a training session on Sunday he will be signing a possible three-year contract with English Second Division side Wrexham, as soon as the British Department of Employment grants him a work permit.

Lawrence also spent two weeks on trial with Newcastle United, brushing shoulders with the likes of Alan Shearer and Peruvian striker Nolberto Solano.

"It's totally different across there because of the climate. The football is played at a faster rate compared to how we play here and there is a more direct approach to the game.

"Everyone is always in a positive frame of mind and that has rubbed off on me. I learned a lot. I understand my role on the field better now and I feel I am a more composed player than I was before," Lawrence said.
"It was a great experience for me."

Ahead of today's game against Panama, Lawrence noted that the team is missing a lot of the foreign-based players.
"But, it's a chance for the local ones to step in and show what they can do. There is a very positive vibe in the camp and once we put our heads down, I am sure we will get a good result," he said.
Big day for Shaka
Another solid showing by Shaka Hislop helped West Ham United to their second victory at home for the English Premiership season on Saturday.

Hislop made at least three good saves in the first half, and followed that up with another fine display in the second half of West Ham's 4-1 win over Manchester City.

He also had a good look at Costa Rican striker Paolo Wanchope ahead of next year's World Cup qualifiers.
The win pushed the "Hammers" to 13th spot, with 15 points from 13 matches. Hislop will make his World Cup debut for T&T against Panama today from 3.30 pm at the Queen's Park Oval. Hislop last represented T&T in a 2-3 loss to Honduras last year.

His leg injury, prior to the start of the Gold Cup in February, forced him out of action for some months and he has only just started getting back to his usual form. His debut against Jamaica in March 1999 was a memorable occasion and today is sure to be another big day for the towering 'keeper.

In related news, Third Division side Hull City have signed local midfielder Clint Marcelle for another month. Club boss Brian Little said last week that Marcelle was the best option for the time being.
He will remain as partner of Jamaican Theodore Whitmore in City's attack. "In Clint and Theo, we have two very mobile players. Theo has that extra bit of calmness in front of goal which is very important to us.

"Marcelle's play for us has been very good and I'm more than pleased with him. He's bright, he's lively and he creates things. If he had Theo's calmness in front of goal, he'd score a lot - but that will come," Little said.
Stern's nightmare in Nottingham
Stern John has described the last few months of his career as a nightmare. Because of a series of injuries, the 24-year-old player made just 27 appearances for English First Division club Nottingham Forest, scoring four goals since moving there last season.

John is coming off a knee injury which had him out since T&T's 4-0 win over Canada in September. He will be hoping to convince manager David Platt that he is good enough to get off the bench in upcoming matches.
Speaking in Nottingham last week, John said, "It's been an absolute nightmare since I came here, because of the injuries.

"The past few months have been really tough to cope with mentally. "My knee is feeling much better now. I still have to pack ice on it after training, but I hope to be back in the side within two weeks."

The former Columbus Crew striker also damaged a cruciate ligament injury in January, which sidelined him for almost four months. He then played seven matches for Forest before his most recent pull-up. Former Forest striker Gary Birtles recently said in his weekly column in the Nottingham Evening Post that John will have a difficult time making it back into the Forest team this season.

"For me, Stern John is still feeling the after-effects of his summer season in American soccer.
"Your body knows when it has had enough. John will face a difficult task forcing his way back into the side," Birtles wrote.
Dwight - United stronger now
Dwight Yorke will be in search of his first European Champions' League goal when Manchester United face Panathinaikos at Old Trafford on Tuesday. The "Red Devils" open their semi-final campaign at home and then travel to face Stum Graz on December 6 and Spain's Valencia after the Christmas break.

Yorke can expect to be a regular in the United starting line-up, with Andy Cole ruled out for two months.
Yorke, who turned 29 earlier this month, narrowly missed out on scoring in Saturday's 2-1 win over Middlesbrough with at least three close chances, including an effort which grazed the crossbar. Teddy Sheringham scored United's first, on a rebound from Yorke's attempt.

The Tobago-born player believes United have a firm grip on the Premiership lead. "It's that time of the season again when we tend to pick up on things and get things right. From the League point of view, we have gotten stronger and better.

"Our home record in the competition (Champions' League) is fantastic. If we play to our capabilities, and the fans get behind us, I don't see any reason why we can't get the result we're looking for on the night," Yorke said.
Yorke will be hoping to hit the target in Saturday's derby against Manchester City at Maine Road.
Wrexham duo to rush back
Hector Sam and Carlos Edwards will be hurrying back to England after today's World Cup qualifier against Panama in order to represent their club, Wrexham, in Saturday's FA Cup encounter against Rotherham United.
Edwards, a former midfielder with Defence Force, and Sam, an ex-CL Financial San Juan Jabloteh striker, both got calls from national coach Ian Porterfield for today's game.

Sam made a second-half appearance in a previous qualifier against Mexico, but Edwards remained in England.
Edwards said earlier this month that while it's disappointing to miss a club match, turning down a call for World Cup action is out of the question. "We are pleased to be involved with our country at international level.

"Hector and myself can get a flight back to London later on Wednesday night. We will then have an extra day to get ourselves over the jet lag and ready to face Rotherham in the FA Cup," Edwards said.
Tough day for 'Latas'
Kilmarnock's defence kept a close eye on Russell Latapy throughout Saturday's Scottish Premier League, as Hibernian struggled and had to settle for a 1-1 draw.

"The visitors covering play was so prodigious, and the space between their midfield and defence so disciplinedly narrow, that Russell Latapy and John O'Neil could not pass their way into the game.

"Latapy was forced to hang on the right touchline and disconsolately wait for possession," the Sunday Times stated.
Latapy is currently in contract talks with Hibs management, who want him to sign an extended long-term deal.
Hibs fans and reporters following the team believe that Latapy and a couple other players must stay on, if Hibs are to have any success in the League.

"Three key players - (Franc) Sauzee, Latapy and (Nick) Colgan - need to be signed up by the end of the season, or else the heart of his team might be ripped from under the feet of Alex McLeish," stated a Sunday editorial on the Hibs Web site. Hibs are second with 36 points on the table, five behind Celtic.
Sancho waits for chance
Former Charleston Battery defender Brent Sancho will be hoping to get some time on the pitch against Panama at the Queen's Park Oval today. The former Finnish-based defender has not appeared for T&T in World Cup qualifying action since the early stages of the campaign.

He was recalled last month when T&T lost 0-7 to Mexico, but did not play. He has been lining up with Joe Public for the past few weeks and was called up by coach Ian Porterfield for today's game.

"It's always a thrill to be selected on a national team. This is a chance for me to prove myself worthy of a pick for the matches in next year's final round. The atmosphere is great in the camp and I'm just glad to be back among things again." Sancho said after training on Sunday.
He has attracted interest from clubs in Ireland, Belgium, Holland and the United States, and expects to head out of the country early next year.
Shaun Fuentes is the communications officer of the Trinidad and Tobago Football Federation
Wednesday November 15th, 2000
T&T goes all out for win vs Panama
By IRVING WARD
STAND-IN-TRINIDAD and Tobago skipper Angus Eve and his new-look squad will be going all out for victory today when they tackle Panama in the final game of their Concacaf Zone 2002 World Cup semi-final round qualifying series at Queen's Park Oval, Port-of-Spain, from 3.30 pm.

Eve, who will again lead the team in designated captain Russell Latapy's absence, has promised the fans a 100 per cent effort from his team.

This despite the fact that T&T has long secured a berth in next year's final round of the qualifying series.
There has been widespread speculation that the team will not push hard during today's game. But Eve has brushed those fears aside.

"While some people may be saying this match is of academic interest, this match means a lot because we want to keep our place on the FIFA chart," Eve said going into the match.

"And we cannot take any match lightly because we intend to make a statement." Eve also said he hoped the fans would turn out to see what could potentially be the team's last match here for several months.

The Government has done its part to support the cause by allowing public servants desirous of viewing the match time off from 1.30 pm today.

T&T coach Ian Porterfield will also be keenly focussed on today's events particularly with a couple players pressing for places in next year's final squad. One player in particular, England-based defender Kevin Austin, will don the red, white and black for the first time in his career.

The Barnsley defender, along with West Ham goalkeeper Shaka Hislop, has taken up coach Porterfield's invitation to join the team with the intention of cementing a place in the final squad for next year's drive to Japan and Korea.
But the pair are not the only ones with this desire.

Germany-based midfielder Evans Wise (SSV Ulm), who can alleviate Porterfield's problems on the left flank; England-based Carlos Edwards and Hector Sam - both of Wrexham - and United States-based defenders Craig Demmin (Rochester Rhinos), Brent Sancho (Charleston Battery) and Avery John (Boston Bulldogs), will also be trying to impress.

T&T stopped Panama, who arrived here on Monday night, 6-0 in the first encounter at the same venue. But Porterfield is of the impression that the visitors had simply lost to a more powerful and more determined T&T team, which had featured its best XI, back then.

"I don't think Panama are as bad as people made them out in all honesty, I think it was the way we approached that game," Porterfield said. "But there's no easy game and most certainly we shouldn't take the game lightly."

In fact, only four of the players who started in the first game, Eve, Dennis Lawrence, Stokely Mason and Reynold Carrington, may figure in today's starting XI.

However, pointing out that the "big test" was next year, Porterfield said the most important thing now was for the players, given a chance to press for positions in a final squad which could number 30, to do just that.

Possible starting XI: Shaka Hislop, Kevin Austin, Dennis Lawrence, Avery John, Craig Demmin, Stokely Mason, Reynold Carrington, Angus Eve, Evans Wise, Hector Sam, Nigel Pierre.



T&T set to put on show
By LASANA LIBURD
Sports Desk
FOR the Trinidad and Tobago football team, four years have proven to be a long time.

In 1996, Trinidad and Tobago were very hopeful of securing a berth in the 1998 World Cup but those hopes were quashed by a stream of poor performances. That campaign ended with T&T earning just one point out of a possible 18.

When the hosts take on Panama at the Queen's Park Oval from 3.30 p.m. today in the final match of the semifinal Concacaf World Cup qualifying round, it is the visitors who will be wondering about the sense of it all.

Panama cannot progress to the next stage of competition as Trinidad and Tobago and Mexico have already booked the two available group spots.
The guests—who gave up their right to play today's game in Panama after negotiations with Fifa vice-president Jack Warner—arrived in Trinidad yesterday and trained at the Oval in the evening.
They are without their star striker Julio Dely Valdés of Spanish La Liga club Málaga but full of memories of the Oval where they were routed 6-0 by T&T on August 16.

Stand-in national captain Angus Eve stopped short of hinting at a recurrence of that lopsided scoreline but did say that the local squad was set on giving a good showing.

"No one wants to lose in international football," said Eve after yesterday's training at St Anthony's College. "We know that Panama are going to be playing to win and we are not going to underestimate them."

Despite pouring rain and a few huge puddles on the field, the mood in the training session was upbeat .
West Ham custodian Shaka Hislop, for one, was not put off by the conditions at all. His spontaneous body surfing through the water puddles provoked regular peals of laughter from his teammates.
Hislop will make his World Cup debut today in what is likely to be slippery conditions that can test the ball-handling capabilities of the most experienced gloveman.
While Hislop is a certain starter, coach Ian Porterfield continued his practice of keeping team information very close to his chest. The TV6 crew viewing the session learned this the hard way as they were ordered to turn the camera off while the team rehearsed its set pieces.

Manager Neville Chance told the Express that it was the intention of the technical staff to continue to protect "vital team information". A member of the "Strike Squad" 1989 technical team as well, he explained that the present management was making a conscious effort not to fall to the hype that, in his opinion, destroyed T&T's 1990 World Cup dreams.

This squad, said Chance, will do whatever it takes to go the distance.

Against a Panamanian team that has conceded 15 goals in five matches at this level, the hosts will get another chance to show off their pedigree today.

The likes of Dwight Yorke, Russell Latapy and Stern John will not be donning the national strip at the Oval so it is up to Nigel Pierre, Hector Sam, Evans Wise, Eve and company to keep national enthusiasm bubbling over.

And to show, in no uncertain terms, how far T&T have come after the fiasco of 1996.
Teammates come to Bomber's aid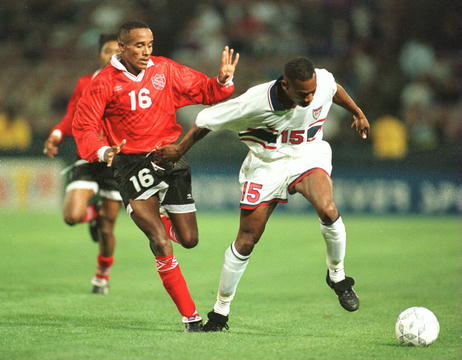 FORMER national team defender Richard Theodore should have his final operation this month, thanks to the intervention of his former teammates.

Theodore almost lost his life in 1997 when he fell off a tree during St Peter's Day celebrations in Carenage and went into a coma. A standout at national youth level when he represented Trinidad and Tobago in the 1991 World Youth Cup, Theodore suffered massive head injuries and has had his progress severely hampered by financial difficulties.


A full recovery is a distinct possibility now, though, as the national football team has pooled together to successfully raise the $20,000 needed to insert a plate in his head.


National team stand-in captain Angus Eve was instrumental in instigating the fund for "Bomber" which began informally in the players' dressing room after their World Cup home qualifier against Canada.

"The players begun pooling together money since the last home game," said Eve yesterday. "We are glad to have come up with the money for the operation and we are asking the public to come out and donate for the therapy, etc, that he would need after."


Eve is a close friend and neighbour of Theodore with whom he teamed up at Defence Force as well as on numerous national teams.


The final operation for Theodore will be performed later this month in Trinidad by a surgeon from the United States.

Absentees limit Porterfield's options

By LASANA LIBURD

THERE will be at least seven changes in the Trinidad and Tobago football team starting line-up to face Panama on Wednesday afternoon's 2002 World Cup qualifying game at the Queen's Park Oval.

From the 18 players selected for tomorrow's game, only four—Dennis Lawrence, Reynold Carrington, Stokely Mason and stand-in captain Angus Eve—played when both teams met at the Oval on August 16. That game ended in a resounding 6-0 victory for the hosts.

Tomorrow's return game is of strictly academic importance though as T&T and Mexico have already sewn up the two top group slots and advanced to the Concacaf final qualifying round next year.

At a media conference at the Queen's Park Oval yesterday, coach Ian Porterfield preferred to focus on the bright side of the omissions story. He pointed to the opportunities created for several promising youths or fringe players.

Trinidad and Tobago Football Federation (TTFF) president Oliver Camps reiterated that, as far as any national player goes, "if the coach wants him, we will get him".


But the declarations of the Scotland-born coach suggested that the team he fields tomorrow will in fact be determined by the reluctance of several foreign club managers to release their players for national duty.


Wrexham FC striker Hector Sam is likely to be a big beneficiary and should start up front possibly alongside his former Under-23 teammate Nigel Pierre, back from trials at English Premier League club West Ham.


Sam had been initially earmarked as a "player for the future" by former coach Bertille St Clair but his ten national caps so far—under both coaches—have yielded no goals. On his World Cup debut against the Dominican Republic in April, Sam was paired with the more experienced Arnold Dwarika but still struggled to find the spark.


Eve apart, Sam will not have the comfort of having a player with 30-plus caps alongside him this time around.


Trinidad and Tobago's more seasoned attackers such as Manchester United's Dwight Yorke, FC Zurich's Jerren Nixon and team captain Hibernian FC Russell Latapy have all taken the day off to appease their club managers. Nottingham Forest's Stern John and Dwarika, who campaigns locally with Joe Public, are both injured.


Porterfield will also be without three-quarters of his usual defence as Reading's Anthony Rougier and Marvin Andrews likewise excused themselves from duty while Columbus Crew wingback Ansil Elcock is on automatic suspension.


Regular first-string goalkeeper Clayton Ince joined the team in training yesterday but he is not back for duty and is, at present, finalising a loan agreement with Scottish Premier League team Dundee. His absence brings to nine the number of key players missing from tomorrow's game.


But the hardest blow to Porterfield's plans came from Burnley defender Ian Cox—a player who has never worn national colours under him.


"Up to a few days ago he was coming," said Porterfield yesterday. "But his manager told him that because this game isn't important he shouldn't play. We sent a letter to Fifa informing them of the situation and from what I understand Cox then said that he did not want to play for Trinidad in this game."


A British national with local parentage, Cox only received his Trinidad and Tobago passport "a few months ago" and was referred to by Porterfield as a "great asset" who is able to perform well in a variety of positions in defence or midfield.


But, while Cox continues to miss out, T&T will welcome back West Ham goalkeeper Shaka Hislop who should make his competitive international debut tomorrow. Hislop, SSV Ulm left winger Evans Wise and Rochester Rhinos' stopper Craig Demmin will all be returning to international action after lengthy lay-offs.


Brentford defender Kevin Austin—like Cox, a British citizen of T&T parentage—should also make his debut at the Queen's Park Oval.


Despite the absentees, Porterfield is hoping for a strong performance against Panama in what he revealed should be T&T's last international game of the year.


"Our last three games here, we won 3-0, 6-0 and 4-0," said Porterfield. "I hope we can continue in that vein at the Oval. And that the boys can give us something to build on for next year."





Time off for football fans

TRINIDAD and Tobago football fans will be able to see their national team tackle Panama for a reduced fee of $50 tomorrow. And public servants will be allowed to leave work early if they propose to witness the game.


For the previous two World Cup qualifiers played at this venue, fans were asked to pay $60, $100 and $150 depending on where they wanted sit.


Tomorrow's reduced fee, though, will allow patrons into any sections of the Queen's Park Oval venue barring the upper tiers of the Jeffrey Stollmeyer, Errol Dos Santos and First Citizens Bank stands as well as the Members' pavilion.


Trinidad and Tobago have already qualified for the final group stage of the Concacaf World Cup qualifiers while Panama have long since been eliminated.


Football Company of Trinidad and Tobago (FCoTT) CEO Rawle Jeffrey also revealed several other bonuses available for supporters during yesterday's media conference at the Queen's Park Oval. A purchase of ten tickets, for instance, will be rewarded by a gift of two free tickets by any of FCoTT's ticket suppliers.


Patrons who buy advance tickets will also be afforded the opportunity to purchase T&T replica jerseys for $100—$95 less than the store value—as well as the chance to win Liberty pre-paid cellular phones, two season tickets for T&T's World Cup qualifying home games next year, Carib hampers and gift vouchers for Kenny's Sport Centre.


To qualify for these prizes, though, the advance ticket purchaser will be required to complete an information form from which the FCoTT hope to construct a database on supporters of the national team.


As in T&T's last mid-week World Cup qualifier against Canada, public servants will again be allowed to leave work at 1.30 p.m. to attend the match following arrangements with their heads of department.

—LL

Shaka hungry for action

By IRVING WARD
ENGLAND-based professional Shaka Hislop is hungry to return to action for Trinidad and Tobago. And tomorrow, when he dons national colours in the final World Cup semi-final round qualifier against Panama at the Queen's Park Oval, Hislop intends to let the world know that he is back.
Furthermore, he feels confident that T&T will be part of the 2002 World Cup in Japan and Korea. "I took a professional gamble in being here for a special reason," Hislop said yesterday at a press conference at the Oval.

"I believe, hand in hand, that we will qualify (for the World Cup) and I'm here to give my two cents worth."
He added: "With a little bit of luck, we'll get there. I'm confident of it. If I wasn't, rest assured, I wouldn't be here."
Hislop is one of two players who will be making his debut in the World Cup series under coach Ian Porterfield tomorrow.

The other is England-born defender Kevin Austin. The 27-year-old Barnsley defender, now on loan at Brentford, qualifies to play because his mother is a Trinidadian. And Austin, who was denied the chance to join the team earlier because of an Achilles injury, also cannot wait to take the field for his first assignment. "Obviously, this is my first time playing for Trinidad and Tobago," Cox said. "I'm really proud, to be honest, to be part of it all. And I just hope everything goes successfully for me."

However, while Austin has been oblivious to all of the background work behind tomorrow's game, of academic interest with T&T having already qualified for next year's final round of qualifying, Hislop is not. The six-foot seven inches goalie had been slated to begin the preparation campaign for T&T at the Gold Cup in Los Angeles in February. However, he broke his leg in Premiership action for the Hammers the day before he was to join the team.

And although Hislop was back in action a couple months ago, coach Porterfield allowed him time to rehabilitate the injury sufficiently. The leg is still not 100 per cent, according to Hislop. However, the injury has healed significantly enough to allow him to gain his physical fitness to the point it needs to be. But, he added that the more games he gets under his belt now, the better. So, naturally, Hislop is raring to go. But Hislop is also fully aware of the significance of tomorrow's game in the context of the whole picture.

"We are already through to the second round, so as far as that's concerned, it's quite academic. But to qualify for the World Cup and to get to the next round is not gonna be able 11 players, its certainly not gonna be about individuals," Hislop said. "Its gonna be about a team, 22 or 30 players who'll obviously be chosen at the coach's discretion. And this (tomorrow's game) gives us all an opportunity to stake a claim to be on the starting XI when he decides to chose." Apart from Austin and Hislop, several other players will be trying to leave an impression on Porterfield.

They include Germany-based Evans Wise (SSV Ulm), recalled after returning from injury as well, United States-based defenders Craig Demmin (Rochester Rhinos), Brent Sancho (Charleston Battery), Avery John (Boston Bulldogs) and England-based duo Hector Sam and Carlos Edwards.

Sancho and John had been part of the squad during the early rounds of the qualifying series but subsequently lost their places. Demmin made his debut under Porterfield in T&T's 7-0 loss to Mexico last month. "Again all of us do have a very important part to play and its important that we gain the experience and we ensure that we're there to be counted," Hislop said.


Sunday November 13th, 2000

Victories for Yorke and Hislop

PREMIERSHIP crusaders Dwight Yorke, Shaka Hislop and Division One man Ian Cox were in winners' row yesterday on a day when luck was not with many of their Trinidadian counterparts playing in Britain.

Yorke's Manchester United edged out Middlesbrough 2-1 to take sole leadership of the Premiership while Hislop's West Ham crushed Manchester City 4-1. Cox's Burnley also shut out Sheffield United 2-0.

In Scotland T&T skipper Russell Latapy's Hibernian played to a 1-1 with Kilmarnock in the Premier Division. There were also draws for midfielder Ronnie Mauge's Bristol Rovers in the English Division Two and defender Marvin Andrews' Living-ston in the Scottish Second Division. But after this, you had to look far to see the positives for the other Trinidadians.


Yorke, given a chance to start with Andy Cole out while awaiting surgery, had several chances for United.
The 28-year-old marksman tested 'Borough keeper Mark Schwarzer early on in the first half with a powerful shot which was tipped over the crossbar from a left-side cross from skipper Roy Keane. Moments later, Keane again found Yorke inside the penalty area with a fine cross. But, under pressure from a defender, Yorke put his shot overbar. United's goal came in the second half from Nicky Butt (62nd) and substitute Teddy Sheringham, who slotted in the winner after a defender deflected a shot from Yorke just outside the six-metre box. Hislop meanwhile had little work to do as the Hammers victory.


In the First Division, Cox had the luxury of being able to give up a late penalty after Burnley took a 2-0 lead.
The 29-year-old stopper brought down Paul Devlin in the penalty box in the last minute of play. But Sheffield kicker Laurent D'Jaffo put his shot wide. In Division Two, former T&T skipper Anthony Rougier played for the second half, but could do little as Reading lost 1-0 to Colchester United. Wrexham, with Carlos Edwards and Hector Sam ­ who came on in the 68th minute - also lost 1-0 to Millwall. Mauge's Rovers held Walsall to a 0-0 tie while Kevin Austin's Brentford was hammered 3-0 by Rotherham. Clint Marcelle's Hull was also downed 1-0 by Colchester in Division Three.


In Scotland, Latapy's Hibernian had a 1-0 lead up until the 86th minute when Kilmarnock's Paul Wright snatched a late equaliser. A victory would have sent Hibs to the top with leaders Celtic play- ing today. Andrews' Livingston also drew 2-2 with Airdrie. However, Andrews did not play. Hislop, Austin, Edwards and Sam are expected to arrive here today for T&T's World Cup clash against Panama on Wednesday at the Queen's Park Oval.

Pierre comes for Panama game

By MARK POUCHET

NIGEL Pierre, just back from his trial with English Premiership Club West Ham United, is one of two new names in the T&T squad that will face Panama in their last Football Confederation World Cup semifinal match. That game will kick off at 4 p.m. on Wednesday at the Queen's Park Oval.


Panama are scheduled to arrive on Monday night for the encounter.


The other player will be Adrian Narine of Joe Public Football Club.

Narine has been used as a striker for his PFL club in recent matches.

The venue of the game which was originally scheduled for Panama was changed after Fifa vice-president Jack Warner convinced officials in that country to concede home advantage since they had no chance of qualifying for the next round. The Panamanians will face a different T&T line-up from the one that whipped them 6-0 at the Oval back in August.


Manchester United's Dwight Yorke and Hibernian's Russell Latapy have been excused for this game along with Marvin Andrews, now with Livingston, and Clayton Ince, who is on a three-month loan stint with Scottish club Dundee.


Ansil Elcock will also be out of action for the Panama game. But he is serving an automatic suspension following his red card in the Mexico City game where T&T suffered a humiliating 7-0 defeat. Their absence gives coach Ian Porterfield the opportunity to look at other players.


Among them will be Shaka Hislop of West Ham, Germany-based Evans Wise, Otis Seaton of CL Financial San Juan Jabloteh, Jason Scotland of Defence Force and Kevin Austin of English Second Division team Brentford.


And in an effort to draw the crowds to the Panama/T&T game next week, the TTFF has offered incentives to supporters.


Fans who purchase ten tickets in advance will receive two free. Also with the purchase of the ticket, T&T supporters will be able to purchase the T&T senior team replica jerseys for TT$100.

And persons buying their tickets before the game will be given data forms that will give them the chance to win various prizes during the half-time break.


Lucky persons could win TSTT Liberty cell phones, two season tickets to all local Football Confederation World Cup final qualifying matches next year, Carib hampers and vouchers for Kenny Sports stores. Before the qualifying game, there will be a CFU Congress at Crowne Plaza from 10 a.m.

Friday November 11th, 2000

Shaka to play versus Panama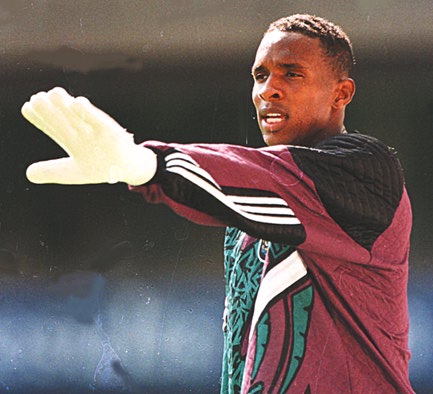 ENGLAND-based goalkeeper Shaka Hislop will make a return to the Trinidad and Tobago lineup next Wednesday. The 31-year-old West Ham goalkeeper is one of eight foreign-based professionals who will line up against Panama in the final game of the 2002 World Cup semi-final round series.

Hislop, who is expected in on Sunday, will be joined in the squad by Germany-based Evans Wise (SSV Ulm), England-based Hector Sam, Carlos Edwards (both of Wrexham), Kevin Austin (Brentford) and United States-based Brent Sancho (Charleston Battery), Avery John (Boston Bulldogs) and Craig Demmin (Rochester Rhinos). Hislop last played for T&T in a friendly against Jamaica last year. This was in fact his first game at this level, he having stayed away previously while contemplating his future. The talented custodian has dual citizenship and could have played for either England or T&T until he decided to commit to his parents' homeland.

Wise meanwhile donned his boots for T&T during the Football Confederation Gold Cup in Los Angeles earlier this year. Austin, born in England of T&T parentage, has never donned the red, white and black. But he, Hislop and Wise have never played under T&T coach Ian Porterfield. Porterfield has expressed a desire to look at new players during Wednesday's game, the team having already secured a place in the final round.

This as he seeks to beef up his squad for the final phase of competition next year. The Scotland-born coach has also drafted locally-based players Otis Seaton (CL Financial San Juan Jabloteh) and Jason Scotland (Defence Force) into the side. T&T squad: Shaka Hislop, Ross Russell, Avery John, Craig Demmin, Brent Sancho, Kevin Austin, Dennis Lawrence, Evans Wise, Stokely Mason, Reynold Carrington, Angus Eve, Otis Seaton, Dale Saunders, Carlos Edwards, Jason Scotland, Rolston James, Hector Sam.
Wednesday November 8th, 2000

Lawrence free to join Wrexham

By LASANA LIBURD

IF English Second Division team Wrexham FC want Trinidad and Tobago Defence Force defender Dennis Lawrence, then they can have him.

Yesterday, Defence Force team manager Major Brian Paul, told the Express that, contrary to other reports, the Army will in no way jeopardise a move for Lawrence or any other player by making extravagant financial demands.

Paul rubbished an earlier report in the Trinidad Guardian that Wrexham had been asked to fork out £100,000—TT$1,000,000—for the six-foot-seven stopper and said instead that the Army has not placed any price tag on Lawrence's head. They have no intention of doing so either.

"We are not looking at putting any price on Lawrence," said Paul. "In fact, I was very surprised at a valuation of $1 million that I saw in the Guardian recently. As far as I am concerned they (Wrexham) must make a proposal and then we will make a counter proposal.

"Money is not the issue, it is getting Dennis Lawrence to go to England. Even if we have to give him a free contract and negotiate a sell-on clause or something for him then we will do it," he stressed. "It is very difficult to get a Trinidad and Tobago player a foreign contract and if we run down money he may lose out."

Lawrence has spent the past six weeks on trials in England with stints at English Premier League club Newcastle United as well as First Division team Bolton Wanderers and Wrexham. However, according to a report from his agent Mike Berry, Lawrence is keen to join the mid-table Second Division outfit.

Wrexham are just as keen to have him—for the right price.

"I have no objection to anyone coming to Wrexham to strengthen the team provided we can afford it," said club chairman Pryce Griffiths. "There's a long way to get yet before this becomes a deal."

Should Wrexham sign the 26-year-old player, he would join compatriots Hector Sam and his former Defence Force teammate Carlos Edwards who both became Wrexham players earlier this year.

The Lawrence move may be Paul's last official duty as Defence Force manager.

After being involved with the Army's football team for the last four consecutive campaigns, Paul has announced that he will relinquish his post at the end of the 2001 season to concentrate on "other matters".

From as early as today, Defence Force public relations officer Lt Kester Weekes will take over most of Paul's managerial responsibilities.

Defence Force are the defending Professional Football League (PFL) champions. However, they opted out of participating in the 2000 Concacaf Club Championships owing to "financial constraints".

At present, both Joe Public and W Connection are representing Trinidad and Tobago in the Caribbean Zone of the tournament with the eventual winner going on to play the champions of North and Central American football.

The 2000 Concacaf Club Champion team earns the right to represent the region in the 2001 World Club Championship.

Hammers warned for Pierre play

By LASANA LIBURD

A tip-off that Trinidad and Tobago and Joe Public striker Nigel Pierre is, at present, training with English Premier League outfit West Ham has prompted a stern warning from First Division team Bristol Rovers.

Rovers, who twice had work permit applications for the talented forward turned down by the English Department of Employment, insist that Pierre is their man and have warned West Ham to play fair.

"Our most recent application for a permit for Nigel to play in this country was turned down," said Rovers spokesman Ralph Ellis, "which means we cannot apply again until next season. If West Ham or any other Premiership club pull some strings to get the permit issued they could actually be doing us a favour as he is our player."

Pierre has been on trial at West Ham for the past fortnight.

Although no transfer fee has ever changed hands between Rovers and Joe Public, Pierre allegedly signed a registration form which the club believe means he cannot move anywhere else without their say-so.

Pierre actually played for Rovers last season, but had to return to Trinidad when the Department of Employment ruled he had not made sufficient international appearances to qualify for a work permit.

Rovers appealed against the decision but that was not successful and their manager Ian Holloway vowed to keep tabs on the situation and get his man in the end.

Under Department of Employment rules, Rovers cannot apply for a work permit for Pierre before the 2001 season.

Be that as it may, Rovers insist, Pierre is going nowhere.

Latapy still providing magic

WHEREVER there is magic at the Easter Road club ground, it seems, there is Trinidad and Tobago midfielder Russell Latapy.

On Saturday, Hibernian forward David Zitelli made his peers in the Scottish Premier League sit up and notice with a superb overhead kick in the club's 2-1 win over Dundee United after a neat Latapy feed.

As Zitelli revealed after to the Scottish press, the combination between him and "the Little Magician" which led to the spectacular winner was not by accident.

"It was great to score with the overhead kick," said Zitelli. "As it's something I try in training every day alongside Russell Latapy, but they don't always work out."

Latapy had a shocker for the Hibs fans as well.

More than one commentator, according to a Scottish website, dropped their jaw at the sight of the diminutive playmaker tackling for the ball as deep as 30 yards from his own goal.

At present, Hibernian are in second place, just three points adrift of leaders Celtic.

Austin tempts the Bees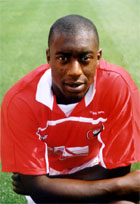 ENGLISH second division outfit Brentford are considering making a loan agreement for Trinidad and Tobago defender Kevin Austin permanent after a succession of good performances by him.
Austin, who is on a month loan from First Division club Barnsley, has so impressed Brentford with his pace and marking ability that their coach Wally Downes has enquired about the possibility of keeping the player.
On Saturday, Austin again distinguished himself in their 1-1 draw against Cambridge United.
It would cost the Bees at least £200,000—TT$2,000,000—to get their man though.
Austin, who is of Trinidad and Tobago parentage, has not so far represented Trinidad and Tobago but this may change by the end of this month.
Austin has already been invited by national coach Ian Porterfield to make his debut in the World Cup qualifier against Panama scheduled for November 15.
DENNIS LAWRENCE...interested in joining Wrexham


Lawrence awaits the Army
THE ball, according to Wrexham chairman Pryce Griffiths, is in the court of the Trinidad and Tobago Defence Force.
National defender Dennis Lawrence headed back to Trinidad on Monday knowing that his future at English Second Division club Wrexham could turn on the valuation placed on him by his present employers, Defence Force.
"I have no objection to anyone coming to Wrexham to strengthen the team—provided we can afford it," said Wrexham chairman Pryce Griffiths. "There's a long way to get yet before this becomes a deal."
The six-foot-seven defender has spent the past few weeks in England where he enjoyed stints at English Premier League club Newcastle United as well as First Division team Bolton Wanderers and Wrexham.
However his agent Mike Berry said that Lawrence was more interested in joining mid-table Wrexham where he would link up with compatriots Carlos Edwards and Hector Sam.




Yorke's blight continues
Dwight Yorke's lean streak in the English Premier League continued on the weekend when he failed to score in Manchester United's 2-1 away win at Coventry City. Yorke, who featured in Saturday's game as a substitute, is likely to again start on the bench today when the "Red Devils" face Dynamo Kiev in a crucial European Champion's League group match.
Yorke has scored just one goal in the English Premier League this season and would consider himself desperately unlucky to have struck the post on Saturday after his shot left the opposing goalkeeper a mere spectator.
It is the second straight weekend that Yorke has been denied by the woodwork while the club's starting strike pair, Andy Cole and Teddy Sheringham, have continued their free-scoring run.
Sheringham is, at present, England's joint leading goalscorer with 11 goals.




West Ham faces fight for Pierre

ENGLISH Premiership club West Ham may have a fight on itshands if it intends to sign on Trinidad and Tobago striker Nigel Pierre.
Pierre is currently on trial at the London-based club, where his compatriot Shaka Hislop currently plies his trade.
And word is that he may be close to being signed by Hammers boss, Harry Redknapp.
However, Second Division outfit Bristol Rovers - whose attempts to sign Pierre earlier this year failed after its application for a work permit was denied by the English Department of Employment - is now preparing to battle West Ham for the right to get the young marksman.
According to Rovers, it should have first right to sign Pierre, he having signed a Rovers registration form when it attempted to sign him.
No money actually changed hands between Rovers and Pierre's local club, Joe Public, when that deal was initiated.
But Rovers boss Ian Holloway feels the fact that it has Pierre's registration means he cannot move anywhere else without its approval.
Speaking on the issue from England, Rovers spokesman Ralph Ellis said: "Our most recent application for a permit for Nigel to play in this country was turned down, which means we cannot apply again until next season."
And while it cannot get him this season, Rovers apparently intends to try again. But if the Hammers do get through with a permit, then it may be to Rovers' benefit, Ellis said.
"If West Ham or any other Premiership club pull some strings to get the permit issued they could actually be doing us a favour as he is our player."
Pierre had actually played for Rovers last season, but had to return to T&T when it was ruled he did not meet the requirements to qualify for a work permit.
Tuesday November 7th, 2000
Evans Wise back for Panama clash
TRINIDAD and Tobago's Germany-based midfielder, Evans Wise, has officially begun the influx of foreign-based players for next week's final 2002 semi-final round World Cup qualifier against Panama.

Wise arrived here on the weekend and is expected to join the squad for the November 15 encounter on Saturday, when T&T coach Ian Porterfield will begin preparations for the game. United States-based defender Avery John (Boston Bulldogs) is also expected in tomorrow.

However, Porterfield is yet to confirm the availability of several other foreign-based players including Shaka Hislop (West Ham), Kevin Austin (Brentford) and Brent Rahim (University of Connecticut), all of whom have seen little or no action under him. Two players, Ian Cox of Burnley and Scotland-based Marvin Andrews (Livingston) have asked to be excused from the game due to club commitments.

Speaking to the Guardian yesterday, T&T team administrator Neville Chance said Porterfield expects to confirm his final squad by tomorrow. Porterfield has already indicated his intention to use the game to blood new players as he seeks to "beef up" the side for next year's final round of qualification.
Friday November 3rd, 2000
West Ham look at Pierre
Stories by IAN PRESCOTT
TRINIDAD and Tobago national striker Nigel Pierre is making the umpteenpt attempt to secure a professional football contract in England and is now in his second week of a trial at Premier League West Ham United.
Pierre hopes to join Trinidad and Tobago teammate Neil Shaka Hislop who has been the Hammers custodian for the past two seasons.
Joe Public manager Richard Abraham confirmed that Pierre was in England.
"Nigel has been there for the past week," says Abraham who also disclosed that the trial was arranged by the player's agent.
Abraham did not have direct contact but had some reports on his charge.
"I have been told that Shaka has said that he is training with the squad." Abraham reported.
Pierre has made several attempts to play football in England but has been turned down several times due to work-permit problems.
Pierre has had unsuccessful tries with Wrexham and twice with Bristol Rovers.
The most recent came when an appeal by Bristol Rovers was rejected by the British Home Office. Pierre had in fact begun playing with Bristol Rovers after being offered a contract but his permit was revoked by the English who questioned the information supplied about Pierre's appearances for the Trinidad and Tobago national
football team. Rovers appealed the decision which was upheld by the Home Office.
This obviously had Abraham peeved at the decision since Pierre has been having regular runs with the national team this year..
"I don't understand how they could reject him (Pierre); he has played more matches for the national team than both Hector Sam and Carlos Edwards.
The players who Abraham referred to are both playing their first season of English football at Wrexham where they signed contracts valued at 65,000 pounds each.
If Pierre does attract the interest of the Hammers he may not be considered until next season.
Word out of England is that the Hammers are looking for a striker and have also given a trial to Norwegian ace Ragnvald Soma. The young Bryne star has been invited over by Harry Redknapp to train with the Hammers squad so he can take a closer look at a player he has had watched no fewer than five times by scouts. However, Belgian side Anderlecht are also showing an interest in the youngster and have also invited him to train with their club next week.

Trinidad and Tobago's British-based professionals failed to produce any goal scoring magic yesterday as action continued in the English and Scottish Leagues.
In fact, on a day when it seemed most of them had to settle for either a share of the points of a loss, only Dwight Yorke and Clint Marcelle could truly be pleased with their work.
Yorke came on in the final 20 minutes of Manchester United's 2-1 Premiership victory over Coventry.
But he gave the Coventry defence hell and had a shot, which he beat keeper Chris Kirkland all ends up with, bang off the upright and rebound safely away in the game's dying stages.
Marcelle meanwhile set up Hull's second goal for Jamaican Theodore Whitmore in a 2-0 win over Darlington in the Second Division.
The news was also good for Stern John, whose Nottingham Forest beat Preston 3-1 in the First Division.
John meanwhile made a successful return to the field following an injury lay off in a 2-2 reserve game draw against Chelsea.
Ian Cox's Burnley also played to a 1-1 draw with West Brom.
In the Second Division, injured midfielder Ronnie Mauge's Bristol Rovers edged out Oxford United 1-0.
But Anthony Rougier, Carlos Edwards and Hector Sam tasted defeat.
Rougier, given a start after his two-goal effort last weekend on his return from injury, could not help Reading's cause in a 2-1 loss to Walsall.
Wrexham also lost 2-1 to Stoke City with Edwards playing the full 90 minutes and Sam coming on in the final 20 minutes.
In Scotland, defender Marvin Andrews' Livingston drew 1-1 with Ayr in the First Division.
Cox out of Panama match
TRINIDAD and Tobago coach Ian Porterfield may not get his wish to see England-based professional Ian Cox in action before the start of next year's final round of qualifying for the 2002 World Cup. Cox is one of several players Porterfield was hoping to have available for T&T's final game of the semi-final qualifying series against Panama on November 15.

The Burnley defender has played one game for T&T, in February, against Morocco. But the 29-year-old Cox, born in England to Trinidadian parents, is considered to be such a talented player that he will be a fine acquisition for Porterfield, who has sought to improve his defence since taking over the side earlier this year.
However, an England source said yesterday Cox was being pressured to stay on with his club as it pressed for a promotion to the premiership.

" Ian wants to play for Trinidad and Tobago," the source, who spoke on condition of anonymity, added.
" But he's being heavily pressured by Burnley management to remain there to help them in their drive for promotion. This is his bread-and-butter, and when you look at it, can you really blame him if he accedes to their wishes?"
Burnley is currently sixth on the First Division table with 28 points.

Cox, who has cemented his place in the defence since joining the club in a £500,000 move from Bournemouth last season, is considered to be a key figure in the drive to gain promotion. Apart from Cox, Porterfield also wanted to look at Shaka Hislop (West Ham); Kevin Austin (Barnsley); US-based duo Craig Demmin (Rochester Rhinos); Brent Rahim (University of Connecticut); and Germany-based Evans Wise.

Porterfield was hoping to see these players, who have seen either little or no action under his tenure, with the view of "beefing up" his final squad for next year's final round action. Contacted yesterday, TTFF communications officer, Shuan Fuentes, could shed no light on the matter as he revealed they were yet to get confirmation from the players invited for the match.
Dwight to launch website
DWIGHT Yorke will soon be launching his personal Internet Web site. The 28-year-old Manchester United striker said last month during SoccerEx 2000 at Old Trafford that he hopes to be online possibly before the end of the year and that will give fans a better insight as to what is taking place in his career.

"I am starting to get interested in the internet, just like a lot of other players," Yorke said. "I hope to use my site to let the fans see the real news and the truth behind stories, not just what has been in the papers."

The former Aston Villa marksman is at present attached to the Nike organisation, having agreed to a sponsorship deal with them. He is featured on their Web site. Yorke has scored two goals this season and is hoping to add to his tally as United continue their quest for European Champions' League glory. United need to defeat Ukraine's Dynamo Kiev at Old Trafford today if they are to advance to the second phase of the competition.

"It would be a disaster for us if we don't qualify, but we have to be positive," he told the Manchester Evening News.
"Our away form is worrying but it's our home form that counts now and that is good. We've always said that it's the home form that gets you through in this competition and that is what it boils down to now." He added: "It wouldn't be exciting and it wouldn't be Manchester United if we didn't take it to the wire. It'll be a full house at Old Trafford and together with the crowd, we'll make it hard for Kiev." United are currently atop the Premiership table with 24 points ahead of Arsenal.
Hislop confident
Goalkeeper Shaka Hislop is confident that West Ham United will begin to achieve results to see them move out of relegation danger in the English Premiership. The "Hammers" are currently in 15th spot with 11 points.

Last week Hislop denied that there was an unrest at the club. "There isn't any from where I'm sitting," he told reporters. "We're all pulling together, we're in this fight for the long haul. It's not about individuals, it's about the team and everyone understands and accepts that. "There is a lot of talk and speculation and while we're down there, we will have to deal with it. But once we pick ourselves up and the results turn around it will all go quiet."

Pointing out that the Hammers had found themselves "up against it", Hislop said they also had the quality to bounce back "slowly but surely". "Our only real focus is getting out of the bottom three. We have a good enough squad to finish at least in the top half of the table - I'd be very disappointed if we finish in the bottom half," said Hislop, who could possibly make a return to the T&T line-up for the World Cup qualifier against Panama on November 15.
Austin joins Brentford
Trinidad and Tobago's English-born defender Kevin Austin has joined English Second Division side Brentford on a month's loan from Barnsley.

The Hackney-born player is coming off an Achilles tendon injury and will be allowed to stay at Brentford for a month in order to boost his match fitness after a 12-month lay off. Austin may also be called up for by T&T coach Ian Porterfield for the forthcoming World cup qualifier against Panama. Another English-born player, Ronnie Mauge, is in light training and hopes to return to the Bristol Rovers' line-up within the next few weeks.
Andrews thrilled
Scotland-based midfielder Lyndon "Chubby" Andrews was thrilled about being on the pitch alongside countryman Russell Latapy during Hibernian's 6-2 victory over Hearts last month.

The former W Connection player made a 34th minute appearance after teammate Mathias Jack went off through injury."Chubby" has not had much first team playing time since he signed a three-year deal with the club earlier this year. "Usually before a game there are butterflies but I honestly didn't feel nervous at all, which was quite surprising," Andrews said about the experience. "But I've been playing international football for a couple of years. I have good experience at a high level and I felt confident in my ability."

He added: "I'd been looking forward to the opportunity for a long time, the fact that I hadn't played at Easter Road had been at the back of my mind and I knew that when the opportunity arose I had to make the most of it."
Hibs are currently second on the standings behind Celtic and Andrews admitted that he didn't expect the club to be doing so well. "We've made a very good start to the season. We are playing good football but we must keep our feet on the ground."
Lawrence permit in three weeks
Dennis Lawrence's English-based agent Mike Berry believes it will take about three weeks before the lanky defender gets his work permit to begin playing in England. This, off course, is if he signs with Second Division side Wrexham.

The Defence Force player was on trial at that club for the past two weeks and is reportedly keen on joining local teammates Hector Sam and Carlos Edwards. "If the Wrexham deal goes through he'll then begin his discharge from the Army and I reckon we'll get a work permit in two or three weeks because he meets all the criteria," Berry said. "I'm hoping he'll sign because it would be a good deal all round. Dennis wants to play for Wrexham and he would be a great signing for the club.

"Other clubs want him but Dennis genuinely wants to play for Wrexham. Obviously, the fact Carlos Edwards is at Wrexham is a big factor, but Dennis has enjoyed his time at the club." Lawrence also told the Wrexham Daily Mail: "I feel more comfortable at Wrexham. There's a nice family atmosphere, everybody is very friendly and it would be easier for me with Carlos and Hector already settled in."
Editor's note: Shaun Fuentes is the communications officer of the TTFF
Yorke's name for Bacolet Stadium
By MARK POUCHET
Sports Desk
The stadium being built in Bacolet, Tobago for the World Under-17 Football championships next year will be named the Dwight Yorke Stadium.
Minister of Sport and Youth Affairs Manohar Ramsaran made the announcement yesterday at the official opening of the Fifa Goal Project Development Office at the Centre of Excellence.
That stadium is one of four that are currently under construction.
Two others have also been given names that have been approved by Cabinet.
The Couva stadium will now be known as the Ato Boldon Complex with a secondary school adjacent to it for students with "an aptitude in sports", Ramsaran said.
And the Malabar stadium will be named after former West Indies and Trinidad and Tobago cricketer Larry Gomes.
The title for the fourth stadium in Marabella will be revealed next week, Ramsaran announced.
Earlier, Fifa GOAL Project Director Jürg Nepfer disclosed that the 100 million swiss franc world project will be headed in this region by Concacaf development officer, Keith Look Loy.
Nepfer added the funds will be distributed, in the first instance, to 100 of the Fifa affiliate member countries based on the specific needs of each.
Nepfer and a team of Fifa officials had visited Belize and Nicaragua, two of the first countries that will receive help in the region.
Others will be Panama, Antigua and Barbuda, Bahamas, Monsterrat and Haiti.
In praising the vision of the GOAL project-conceived by Fifa president Joseph Blatter- Fifa vice-president Jack Warner said it was an extension of the vision shared by former president of the world football body, João Havelange, who made the funding available for the construction of the Centre of Excellence.
"I had a dream," he paused " and he (Havelange) had the funding."
Underplaying the Under-17s
IT NOW seems inevitable that the Under -17 World Youth Tournament to be held in Trinidad and Tobago will be pushed back to late next year. Hearing Walter Gagg, the FIFA representative, speak after his inspection of the four stadia being built and the renovation works at the Hasely Crawford Stadium, there can be little doubt.
FIFA vice-president Jack Warner gave the impression that the tournament was supposed to be played here around March/April next year. But the stadia are due to be completed, hopefully, in April, so it seems that there will be more time available to the team's technical staff.
The focus over the last few months has been on the senior team's participation in and eventual qualification for the second round of World Cup qualifiers; very little was seen of the U-17 team. But now that the senior team has qualified, eyes are slowly turning to the preparation of the U-17s.
Their preparations would have been hampered by the participation of all or most of the players in the Secondary Schools League. But that competition is almost complete now so Chief Oginbinde's worries seem over. With luck, he would have had a look at a host of new players and not just those currently in the squad.
That might mean that some players not in the squad at present could find their way into the team when the tournament comes around. Too often have we seen players with ability being overlooked simply because they were not in their best form at the time the squad was initially selected.
I was impressed with what I saw on display in one of the better games I have seen in this year's SSFL. It was the first clash between St Mary's and Malick and both teams attempted to play proper football for 90 minutes.
The foundation of the country's football is these youngsters and they must not only depend on their coaches to assist them, but they must work on their own if they are to become proficient in the game. If harnessed properly, we might well be producing more Yorkes, Latapys, Nakhids and Hislops.
The U-17s have not been performing well in recent tournaments. I read in the newspapers about a month ago that the team had returned from a successful month-long tour. I do not know what "successful" meant, as I did not see in that report whether games were played and what were the results, or if they were just in a camp practising.
I did, however, learn that they lost a game against a Haitian youth team by a 4-1 margin, but this was somehow not brought to the public's notice. I am hoping, however, to see a lot more about the team and its preparation. These youngsters and others of their age group are the ones we have to depend on to carry our football forward after the stars of today have left the scene.
Dwight's bad luck continues
MANCHESTER United star striker Dwight Yorke spent another weekend on the back burner as his team trounced Southampton 5-0 at home on Saturday.


Yorke did get a taste of action as "Red Devils" coach Sir Alex Ferguson gave his record signing a run in the final 15 minutes of the game. And the quarter of an hour was not without some measure of success, although it did not take a form that the T&T striker would relish.


Late in the piece, Yorke grazed the crossbar with a shot and forced a fine save from opposing custodian Paul Jones.


But it was his replacement in the starting line-up, Teddy Sheringham, who stole the plaudits and the match ball with a hattrick in a 10-minute goal burst. Two more goals from his former striking partner Andrew Cole consigned Yorke to his current place as 12th man.


A 2002 World Cup qualifying home game against Panama on November 15—a rest day in the English Premier League—may be just the right "picker upper" for Yorke.


Yorke has managed just two items in 12 Manchester outings this season—including a reserve match game—compared to five goals for Trinidad and Tobago in six World Cup appearances.


Still Yorke may get a chance to win back his form in the less illustrious Worthington Cup. Both he and fellow out-of-favour striker Ole Gunnar Solskjaer were likely to play in last night's Cup game against First Division team Watford.
---
Rougier's Reading Lesson
ANTHONY ROUGIER gave his Reading teammates a lesson in perseverance on Saturday in the match against city rivals Oxford United. The former Trinidad and Tobago skipper came off the bench to overturn a one-goal deficit with just 16 minutes left in regulation time.


After a near two-month lay-off due to an ankle ligament injury, Rougier made his first appearance for Reading on the weekend and scored two close-range goals in their 4-3 win.


"There was not any doubt in the back of our minds that we were going to lose that game," said Rougier. "We are about fighting to the last minute. We work too hard in training to go out and lose games too easily and we are not about to do that.


"Teams are going to have to work very hard to beat us."


Rougier, a born-again Christian, walked away with the Man-of-the-Match award for his efforts and is already assured of a place in the Trinidad and Tobago line-up for their upcoming World Cup qualifier against Panama on November 15.
---
Latas still teasing at Hibs
MIDFIELD dynamo Russell Latapy is a difficult man to pin down in the Scottish Premier League at the moment.


In a rough away match against stragglers Dundee United, "the Little Magician" helped seal the three points up for grabs for Hibernian with a mazy run and assist to substitute Tom McManus who scored the game's lone item.


"Latas" is proving to be just as elusive in matters off the field as well.


Yet again, Latapy hinted that he would like to see out his career at Easter Road without putting his pen to paper and concluding the ongoing contract negotiations.


There is speculation in the Scottish media that Latapy is holding out to see what is offered to teammate and former French international, Franck Sauzée, before making any final decision. Hibernian are at present trying to tempt Sauzée into extending his contract for another two years.
---
Marcelle not Hulling his weight
ENGLISH Third Division mid-table outfit Hull City are fast becoming renowned for their ineffectiveness in front of goal.


In their 14 games played this season, Hull have managed just 16 goals—only table-proppers Exeter have scored less with 13—while conceding just as many.


Former Trinidad and Tobago attacker Clint Marcelle did his coach and teammates no favours on Saturday as he muffed the limited chances that did come his way in their 0-0 draw to York City.


On a waterlogged field, Marcelle never got going and was constantly thwarted by either the flag of the assistant referee or his own inability to cope with the conditions.


The game's best chance went Marcelle's way when teammate Steve Harper picked him out unmarked with a low right-side cross in the 52nd minute. But, with time and space, Marcelle opted to meet the low cross with a diving header and failed to get any momentum on the ball when it seemed that a side-footed finish would more appropriate.


While Marcelle struggled, his teammate and Jamaican international Theodore Whitmore continued to earn praise for his "customary ingenuity" and came out of the affair with his reputation intact.


The news for Whitmore was not all good this weekend though as First Division side Nottingham Forest dismissed rumours that they had their eye on the talented playmaker.


Forest are likely to have found current T&T striker Stern John to be a more natural goalscorer than the aging Marcelle—when fit that is.


At present, John is confined to the sidelines at Forest owing to a knee ligament injury and he has managed just three international appearances this year.
---
Austin busy as a Bee
TRINIDAD and Tobago coach Ian Porterfield will be pleased to learn that defender Kevin Austin is fit and raring to go ahead of the November 15 World Cup qualifier against Panama.


Austin—who is of Trinidad and Tobago parentage—has never represented the country before but his name has been repeatedly linked to the T&T squad ever since he was spotted by former national coach Bertille St Clair last year while he was campaigning with English First Division team Barnsley.


It was not Barnsley but Second Division mid-table outfit Brentford who benefitted from his efforts on Saturday in their 2-1 win over Walsall.


Austin joined the "Bees" on Friday in a one-month loan deal and Brentford coach Ron Noades was rich in the praise of his new—albeit temporary—defender.


"He did well because he has that little bit of extra pace that Scott Marshall doesn't and against Walsall we needed that," said Noades.
Fifa office opens tomorrow
The Trinidad and Tobago Fifa Development Office will be officially opened tomorrow at the João Havelange Centre of Excellence Indoor Facility in Macoya, Tunapuna. Starting time is 9.45 a.m..


Prime Minister Basdeo Panday will be a special guest at the opening ceremony.


Monitoring the Fifa GOAL project will be one of the responsibilities of the Development Office. The GOAL project's pilot project will involve 11 national associations, including two in the Caribbean region—Antigua/Barbuda and Bahamas, where training and development facilities will be constructed.


Concacaf's other Development Office will be established in Guatemala.