November News
October News

---
Wednesday November 25th, 1998

Nixon behind 8 ball.

Jerren Nixon and FC Zurich find themselves behind the 8 ball in there return leg with AS Roma in two weeks. Zurich lost 1-0 on a controversial injury time penalty by Francesco Totti. Totti, who earlier this week admitted that he dived to earn a penalty in Seria A competition, converted from the spot. A bad call from the referee denied Zurich a chance to come away with a draw. The return leg is scheduled for December 8th at home.

Jerren Nixon and Zurich return to domestic action on Saturday when they play FC Lugano.


Trini duo in Hibernian win.

Russell Latapy and Tony Rougier powered Hibernian to a 4-1 win over St. Mirren on Tuesday. The encounter was a make up game that failed to take place last week due to a chemical spill on the highway. With the win Hibernian moves into top spot alongside Ayr United in the Scottish first division.

Hibernian is helping the Russell Latapy foundation raise funds for under privilege children in Trinidad. Read all about it. Latapy and Rougier are back in action this weekend when they take on Airdrie.

In the shooting range...

Here is something for all of you to ponder this weekend. Is Shaka Hislop going to play for Trinidad and Tobago? A few weeks ago the Globe and Mail here in Canada reported that Hislop was pondering whether to play for Trinidad or Canada. Two weeks ago while national head coach Bertile St. Clair was in England Hislop handed him his upcoming schedule to arrange games. Finally, ESPN has stated outright that he is or will be playing for Trinidad.

In the starting lineup...

Dwight Yorke and Manchester United play Leeds United on Saturday. Shaka Hislop and West Ham take on Tottenham Hotspurs.

I will be in New York City this weekend visiting family for thanksgiving. The next update will be up Monday night.
---
Monday November 23rd, 1998
Nixon puts away two.


Nixon...ready for Roma

Send a message to Rome: "Jerren Nixon is coming!" Nixon who has not been having a great season so far in Switzerland, put away two goals in a 2-1 win for FC Zurich over Young Boys.

Young Boys opened the scoring in the 73rd minute and looked certain to pull off the win. That was until Nixon went nuts. Goals in the 82nd and 85th minutes pushed Zurich into third place with just one point separating them from cross town rivals Grasshoppers for second place.

Nixon and Zurich face a tougher challenge when they travel to Rome's Stadio Olympico to face Italian giants Roma in UEFA cup action on Tuesday. This is there most difficult challenge to date after getting pass Glasgow Celtic in the previous round.

Yorke and Man U drop game.

Talk about the wrong time to loose one. With league leaders Aston Villa loosing to Liverpool Manchester United had a great chance to move further up the Premiership table. However, they dropped a 3-1 decision to Sheffield Wednesday. Wednesday will-to-win was evident when they went ahead 1-0 after the 14th minute.

However, Yorke together with strike partner Andy Cole leveled the score in the 29th minute. Wednesday sealed the game with two goals in the second half.

The lost is of concern to Alex Fergusion the Manchester United manager. The "Red Devils" will face Spanish giants Barcelona at the Neu Camp in European Champions League on Wednesday. A win should seal a quarter final appearance for United as they lead Group D. They will be scoreboard watching as Bayern Munich will face Brody in the other encounter.

In the shooting range....

Shaka Hislop and West Ham continue there march up the Premiership table. Hislop had to make only one good save in there encounter with Derby County. West Ham won the game 2-0. They moved into sixth place.

In the English first division action Clint Marcelle and Barnsley defeated league leaders Sunderland 3-2. Marcelle came on in the 18th minute.

In Scotland, Russell Latapy was sent off for his second bookable offense when Hibernian tied Hamilton 2-2. With the result Hibernian loose ground to Ayr United in the race for promotion. However, Hibernian have one game in hand to make up ground. They are scheduled to play tomorrow versus St. Mirren to recover the game that was postponed last week.

Finally a little housekeeping. Look for a site update on Wednesday as there will be no end of week update on Friday.
---
Friday November 20th, 1998
T&T drops in ranking.



Click above for ranking

Trinidad and Tobago has dropped in the latest Fifa World Rankings. They are now ranked 49th falling two places from last month's rankings. The Calypso Boys are still number four in Concacaf behind Mexico(10th), USA (22nd) and Jamaica (33rd). The drop is attributed to the Gulf Cup and the movement in the lower rungs in the rankings.

In the starting lineup...

Dwight Yorke and Manchester United face Sheffield Wednesday. Shaka Hislop and West Ham take on Deon Burton and Derby County.

In Scotland, Russell Latapy, Tony Rougier and Hibernian face Hamilton.

Marvin Andrews and Raith Rovers will look to get out there rot when they face Stranraer.

Jerren Nixon and FC Zurich will prepare for there UEFA cup encounter with Roma of Italy next week when they face Young Boys tonight.
---
Monday November 16th, 1998
All Stars tie S. Korea.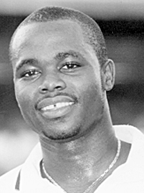 John...first to score

The Caribbean All Stars are coming back home with there heads held high. They tied South Korea 1-1 in there second and final game on Saturday night. Stern John scored in the 46th minute to put the All Stars up for the first time in the series.

The celebrations were short lived as the Koreans came back to tie just minutes after John's strike. Keeping the score line clean was Jamaica's Arron Lawrence, probably the best goalie in the Caribbean. He kept the All Stars in the game with some quick thinking and good saves under a barrage of shots in the first half.

Yorke puts away another


Yorke...number 10

"At £12 million, Dwight Yorke is looking like a bargain." That was the comment from the Sky Sports commentator watching Dwight Yorke's performance versus Blackburn Rovers. Manchester Untied defeated Rovers 3-2 at home to keep pressure on league leaders Aston Villa.

Two of United's goals had Yorke's name written on them. Yorke out muscled a Rovers player just inside of their half and released English International Paul Scholes to open the scoring in the 32nd minute. In the 43rd minute Yorke scored his tenth goal of the season and his eighth goal in league competition on a brillant strike past the hapless goalkeeper.

Manchester United were leading 3-0 after the 58th minute when they almost salvaged a draw from the jaws of victory. They allowed Rovers back in the game with some weak defending and relaxed play in the midfield. Rovers came back with two goals in the 65th and 74th minute of play. However, that was not enough to defeat United as they moved into second place in the Premiership.

In other action Shaka Hislop and West Ham defeated Leicester City 3-2.

In the shooting range...

There was no game between Hibernian and St. Mirren on Saturday. A chemical spill on the M8 highway caused the St. Mirren bus to be stuck for two hours. It was decided that it would have been unfair to the St. Mirren players to play the game after the long wait on the bus. The game is rescheduled for the 24th of November.

Leonson Lewis and Estrelle Amadorra tied Vitoria Guimaraes 1-1 on Saturday.

In Switzerland, Jerren Nixon and FC Zurich tied Lussane Sports 3-3.
---
Friday November 13th, 1998
Just a little housekeeping. I have included a new article in Russell Latapy's segment. Also, the Secondary school section has been updated.

All Stars fall 2-0

The Caribbean All Stars fell 2-0 to South Korea in Seoul yesterday. The game was marred by some poor referee decisions much in the favor of the home team.

The All Stars lead by David Nahkid came out after the home team. However, it was the Korean to score early. That score did not set the All Stars back. Stern John and Irasto Knights caused serious problems for the Koreans. However, poor referee decisions took there toll on the squad. The Koreans later went ahead 2-0 just before the break to seal the win for the home team. The second half was uneventful

The second and final game is set for Saturday night.

In the starting lineup...

Dwight Yorke and Manchester United take on Blackburn Rovers. Shaka Hislop and West Ham faces Leicester City.

In Scotland, Russell Latapy, Tony Rougier and Hibernian face St Mirren. Marvin Andrews and Raith Rovers face Falkirck.

In Portugal, Leonson Lewis and Amadorra play Guimarães.

In Switzerland, Jerren Nixon and FC Zurich play Lausanne Sports.
---
Monday November 9th, 1998
Happy Birthday Alec

Yorke and Man U faulter

Talk about coming back down to Earth. Dwight Yorke and Manchester United gave a lackluster performance versus struggling Newcastle on Sunday.

After scoring 26 goals in eight matches and off a 5-0 win during midweek European competition, Yorke and Man U could find no answers to Newcastle. Yorke had some chances to extend his goal scoring streak but found his chances smothered or not falling right for him.

The lost was costly to United as they lost ground to league leaders Aston Villa who won there encounter with Spurs on Saturday. Aston Villa have 25 points to United's 21. However, Manchester have one game in hand.

In other Premiership action, Shaka Hislop and West Ham tied Chelsea 1-1.

Trini derby falls to Hibernian.

When Marvin Andrews ran onto the field in the 57th minute it was complete. It marked the first time that all three Trinidad and Tobago players in Scotland were on the field at the same time.

In the end it was Russell Latapy and Tony Rougier with the smiles and Marvin Andrews shaking his head after Hibernian completed a 3-1 win over Raith Rovers.

The win leaves Hibernian still on top of the Scottish first division, two points clear off Ayr and Airdrie. Raith are second from last and in serious relegation trouble.

In the shooting range...

In Switzerland, Jerren Nixon and FC Zurich are hot. Fresh off there victory over Glasgow Celtic in UEFA cup action last week, they defeated there cross town rivals Grasshoppers 2-1.
---
Friday November 6th, 1998
Sorry for the non update on Monday. I am currently experiencing a problem with my hard drive once again. I am hoping to have the problem fixed next week.
John wants out.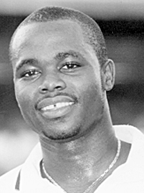 Stern...fed up.

For a couple of Trinidad and Tobago players it is not going to be hard to say good-bye. Both Stern John and Ansil Elcock want out of the MLS for different reasons.

Stern John wants to leave the Columbus Crew because of the treatment he received on and off the field. This includes being on the end of racial abuse by a former US national player during a game with New York. John was angry that the incident was ignored by the MLS.

What Columbus wants to do is sign John for a small fee then turn around and sell him to a European team for a higher fee.

Ansil Elcock is also upset at the Crew management. Elcock is looking for more money to ply his trade. Ansil who is ranked in the top ten defenders in the MLS by Soccer America, has a beef with management over the fact that he has played almost every game for Columbus but still makes less money than a player who only appeared in half of Columbus' games all season. That player make US$ 80,000 more than Elcock.

Elcock and John are looking towards Europe. Elcock is waiting for a call from a Swedish team and John cant leave his phone on the hook for the fear of going insane from the constant ringing.

John and Elcock made there final appearance of the season for Columbus in a 2-1 lost to Chicago. John scored the only item for Columbus on a 20 yard bullet.

Latapy impressive again

Russell Latapy continues to impress at Hibernian. Latapy made his debut before the home fans at Easter Road and did not disappointment. Once again he failed to make a wrong pass and constantly caused problems for the Clydebank defense. Hibernian won the game 2-1 to continue there unbeaten run at seven games.

After the game Russell gave a interview to the Hibernian web site. You can listen to it by clicking here.

I have created a special section on Russell Latapy and all the articles that have come out in the Scottish newspapers about him that has been made available via Erinweb.

This weekend is the Scottish edition of the Trini derby. It will pit Latapy, Rougier and Hibernian versus Marvin Andrews and Raith Rovers.

Yorke continues onslaught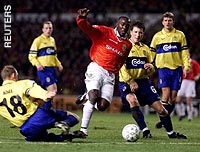 Yorke in action versus Brondy.

Every country has one. Every country has a sports team that dominates a particular sport and fans have a love-hate relationship with them. On this side of the Atlantic there is the New York Yankees in baseball and the Denver Broncos in American football. Across the "pond" it is Manchester United.

Dwight Yorke and Manchester United continued there good form of late with a 5-0 beating of Brondy of Denmark in Champions League action on Wednesday. Yorke scored in the 61st minute to further silence critics who thought that he could not score in European competition.

The win propelled Man U to the top of group D with eight points one ahead of Bayern Munich. United have two games left in Champions League competition versus Munich at home and Barcelona at the Nau Camp.

The victory in Europe comes after a 4-1 win last weekend in the Premiership versus Everton with Yorke finding the back of the net for the sixth time this season.

Nixon and Zurich advance

It was not supposed to be this easy. However, Jerren Nixon and FC Zurich advanced to the third round of the UEFA cup. They defeated Scottish giants Glasgow Celtic 4-1 on the strength of a four goal barrage in the second half. Nixon came on with twelve minutes to go in the game. Zurich's next oppenents will be Italian club Roma.

In the shooting range...

Talk about showing off in your face. Shaka Hislop sent a clear message to the management of the Newcastle football club last weekend by shuting out his former club. West Ham won the game 3-0.

David Nahkid and Evans Wise were placed on waivers by there repective clubs in the MLS.

In the starting lineup...

Dwight Yorke and Manchester United will face Newcastle. Shaka Hislop and West Ham will face Chelsea.

Clint Marcelle and Barnsley faces Bury.

In Switzerland, Jerren Nixon and FC Zurich faces Grasshoppers in the Zurich derby.

In Portugal, Leonson Lewis and Amadora faces Marítimo.