May News
April News
---
Monday May 31st, 1999
Rougier named Captain.


Rougier...taking over.
Tony Rougier has been named national team captain. Late last week it seemed that there was no one to take over the job. Former captain Russell Latapy made himself unavailable for the tournament and David Nahkid no longer plays international football. That left T&T with a captaincy void. It was left to the team management to place the captain's arm band around Rougier's arm.
Six foreign based players will represent Trinidad and Tobago. They include, Tony Rougier (Port Vale), Marvin Andrews (Raith Rovers), Stern John and Ansil Elcock (Columbus Crew), Mickey Trotman (Miami Fusion) and Peter Prosper (Al Ansar).
The tournament winner will automatically qualify for the Gold Cup next year. If Jamaica wins again and a team other than Trinidad is runner up, then Jamaica would be joined in the Gold Cup finals by the runner up with the best record; the second best runner up going into the playoff pool along with the third placed team with the best record.
If Trinidad is the winner and Jamaica the runner up, then the two best third placed teams would enter the Gold Cup and the runners up, or third-placed team(s) with the best record, depending on who finishes second this year, would go to the playoffs.
Canada and El Salvador (as the fourth placed team in the 1999 UNCAF Nations' Cup tournament), have already secured a spot in the playoff group.
Jamaica will enter the tournament as favorites. They are coming off a European tour to England, Sweden and Norway. Trinidad for there part are trying to find a international opponent before the tournament starts on Thursday.
Yorke and ManU reach the top.


Yorke...triple crown winner.

What a season for Dwight Yorke and Manchester United. Last Saturday they defeated Newcastle United in the FA Cup final 2-1. Then on Wednesday they completed the impossible.

With seconds into extra time in the European Cup final and Manchester United down 1-0, Terry Sheringham sent a shot past the Bayern Munich goalie to tie the game 1-1. Then less than a minute later ManU went ahead for good with a rocket by Norwegian Ole Gunnar Solskjaer.

The win vaulted the team to second in the European rankings right behind Munich. Yorke's next engagement will be with the World XI team.

In the shooting range...

The Pan Am games schedule has been announced. This year's games will be held in Winnipeg, Manitoba.

Stern John scored in the shoot-out period to push Columbus to a 2-1 win over Los Angeles. Mickey Trotman and Miami defeated Tampa Bay 2-1.
---
Tuesday May 18th, 1999

T&T to face Jamaica in Cup opener.

Talk about big openings, Trinidad and Tobago will face Caribbean champions Jamaica in the opening game of the Caribbean Cup in two weeks.

National team manager Richard Braithwaite stated last week that Jamaica will be going into the tournament as favorites. Jamaica will be coming off two international matches in Europe versus Sweden and Norway. Trinidad and Tobago for there part will head to South America just before the tournament to face a unnamed team. T&T has called up several international players for the Caribbean Cup. They include, Tony Rougier, Marvin Andrews, Shaka Hislop, Russell Latapy, Jerren Nixon, Mickey Trotman and Stern John.

Same song, old dance

Richard Braithwaite also made a call for sponsors for the senior team. T&T is seeking to raise TT$1.2 million for football programs this year. He said winning the Caribbean Cup will go a long way to attaining that goal.

It seems like a broken record. The TTFF always walking cap in hand begging anyone that would listen. The TTFF is nothing more than a make work program for old drinking pals and back scratchers. The TTFF had/has the opportunity to arrange more games with international teams that would not cost them one cent. What fans here in North America would have seen is T&T playing right here in there back yards instead of in T&T. All courtesy of one dedicated T&T football fan.

Unfortunately, one individual stands in the way of that goal and uses the federation as his own personal tool box. That same individual put in charge members of his own family that promoted the Caribbean Cup final last that resulted in 10,000 fans showing up for the final in a 25,000 seat stadium. You have to start asking yourself how can this continue. In the comings weeks you will have the opportunity to make that change. Stay tuned folks this aint over yet.

Yorke and ManU win premiership.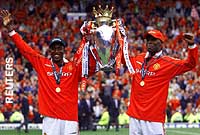 Yorke celebrates with Andy Cole.

One down, two to go. Dwight Yorke and Manchester United are two games away from one of the greatest feats in English football. Yesterday was just part one of a unprecedented triple crown for ManU. They defeated Tottenham Hotspurs 2-1 to win the English Premiership by one point over Arsenal. On Saturday Manchester United will play Newcastle United in the FA Cup final and later this month will play Bayern Munich in the European Cup final.

Yorke had a dream season in league play. He finished tied for first in goal scoring with 18 items. While it was not his best goal total, his partnership with Andy Cole made ManU nearly unbeatable this season.

Dwarika & Eve on trials.

Arnold Dwarika and Angus Eve are currently on trials in the US. They are trying out with the Kansas City Wizards of the MLS. Should they be successful they will join, Stern John, Ancil Elcock and Brian Haynes playing in the MLS and the seventh and eighth T&T nationals ever to play in the league.

Dwarika is going into the trials with European experience. Two years ago he played for East Fife in the Scottish first division. Dwarika was described once as being the best value of money in Scotland because of his exceptional skill. Following injury he found himself back in T&T playing with Joe Public where he was named captain of the squad. Dwarika has recently found himself back in the national squad after being in Bertile St. Clairs' dog house due to problems with his discipline.

Irasto Knights is also on trials this time with Rochester in the A-League.

In the shooting range...

Stern John scored his third goal of the season for Columbus in a 2-0 win over New England. It marked a successful opening of the MLS and USA's first and only football only stadium. John scored in the 59th minute on a powerful header. He also assisted in the opening score by providing a pass to Jeff Cunningham in the 10th minute.

Jerren Nixon and FC Zurich continue there climb up the Swiss first division table. They defeated FC Basel 2-1 to win there fourth game in a row. Last week Nixon scored in a 4-0 win over Servette. Zurich are now in fourth place with four points separating them from first placed Grasshoppers. This weekend will go a long way in determing the league winner as FC Zurich plays Grasshoppers in the local derby.

Over in Portugal, Leonson Lewis scored his fourth goal of the season in a 1-1 tie with Salgueiros.
---
Monday May 10th, 1999

T&T defeats South Africa

Trinidad and Tobago defeated South Africa 2-0 in a international friendly in Port of Spain on Thursday. Game Report.

Yorke puts ManU on top.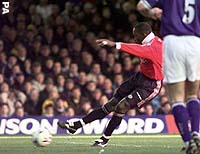 Yorke...scoring when it counts.
Dwight Yorke scored what may be his most important goal in a few weeks on Sunday afternoon. With the score tied 0-0 in a uninspiring game Yorke sneaked behind the defense in the 45th minute to score the game's only goal.
The goal was Yorke's 18th league strike and his 29th score overall. The goal by Yorke moved Manchester United into a tie with Arsenal for the top position in the English Premiership. However, ManU has one game in hand. They will play Blackburn Rovers on Wednesday before they enter this weekend's final league game versus Tottenham. Arsenal plays Aston Villa on Saturday's season finale.
Latapy end's dream season.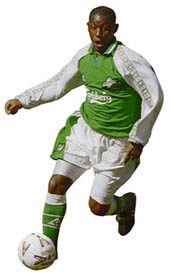 Latapy...Wow!
What a season for Russell Latapy. He may not have the scoring prowless of Dwight Yorke or Stern John but his touches in the field of play propelled Hibernian to the top of the Scottish First division.
Latapy and Hibs completed there dream season with a 2-1 win over Falkirk. This put them light years ahead of any competition. Hibs won the first division championship with a amazing 89 points, 23 points ahead of second placed Falkirk. They also had a goal difference of 51 goals.
Now the premiership beckons. Lets hope Latapy can repeat the same type of performances against the likes of Rangers and Celtic.

---
Sorry for the non update on Friday. I have been out with the flu bug.
Monday May 3rd, 1999
No dream team for South Africa


Stern John...one of the few.

When Trinidad and Tobago takes the field this week versus South Africa they will be minus a few international stars. Several international players have made there intentions clear that they will not be available for the clash with the Bafana Bafana. The list includes, Dwight Yorke, Shaka Hislop, Tony Rougier, Marvin Andrews and Russell Latapy all due to club commitments. A cloud of doubt hangs over the availabilty of Jerren Nixon and Clint Marcelle.

The game will feature a collection of US based players with Stern John and Mickey Trotman resuming there lethal partnership. Trotman who was released from Dallas two weeks ago was snapped up by the Miami Fusion. Also in the squad will be utility play Ansil Elcock of the Columbus Crew and the return of Craig Demmin to the senior level after a three year absence.

South Africa come into this game after a 1-1 tie with Denmark last week. It will not be the same squad that faced Denmark. Missing from the squad will be several overseas professionals. Most of those who played against Denmark have club commitments. The South Africa squad:

Goalkeepers: Brian Baloyi (Kaizer Chiefs), John Tlale (Sundowns)

Defenders: Michael Manzini, Themba Mnguni
(Sundowns), Matthew Booth (Spurs), Fabian McCarthy
(Celtic), Papi Khomane (Orlando Pirates), Clyde
Mahlangu (SuperSport)

Midfielders: Jerome McCarthy (Santos), Junaid Hartley
(Stars), Doctor Khumalo (Chiefs), Joel Masilela
(Sundowns), Papi Mbele (Professionals), Thabo
Mngomeni (Pirates), Godfrey Sapula (Cosmos), Alfred
Phiri (Genclerbirligi, Turkey)

Strikers: Pollen Ndlanya, Siyabonga Nomvete (Chiefs),
Daniel Mudau (Sundowns), McDonald Mukansi
(Paralimni, Cyprus)

In the shooting range...

In the Premiership, Dwight Yorke and Manchester United jumped to the top of the table with a 2-1 victory over Aston Villa. They now have a three point lead over Arsenal.

It was one of those days in which Shaka Hislop should have stayed in bed. West Ham got shelled 5-1 with three of there players getting red cards.

In the first division neither Tony Rougier nor Clint Marcelle were in there line ups for there respective clubs.

Over in Scotland, Russell Latapy, the Scottish First division player of the year, had the day off when Hibernian defeated Stranraer 4-0. Marvin Andrews came on as a sub in Raith Rover's game versus St. Mirren.