May News

April News
---

Thursday May 28th, 1998

Camps says no to Yorke's idea.

Trinidad and Tobago Football Association President Oliver Camps is cold to idea propsed by Dwight Yorke. Last week Yorke asked the TTFA to schedule international games around the English Premiership break so he will be available for them. However, in a Trinidad Express interview Camps poured cold water on the idea.

"Trying to arrange things around one player is going to upset the entire programme," Camps told the Express "If it was only one player that you had to think in terms of then you might be able to organise certain aspects of your programme to facilitate that. But when you have a number of foreign pros you certainly cannot schedule your programme to suit each one."

Stating that it was the head coach's right to choose the foriegn based players, Camps said it was up to the players to respond to the invitations sent. Camps went on to say that the TTFA cannot accomodate just one person but all it's players.

Remember the arguements made last year when we were bounced out of the World Cup. Our team were a bunch of individuals that could not mesh. There cannot be a problem with arranging international games during the English break. Norway with most of it's players in England arrange there games when the break takes place. The schedule for the English Premiership comes out soon. Finding out when the break will take place and arranging two or three internationals months in advance is not a difficult process. With Yorke, Hislop, Ince, Marcelle, Rougier, Andrews and soon to be (if you read much into rumors) Nahkid and Latapy, all playing in the British Isles, arranging friendlies around the breaks when most of your best players are available is a good idea. In addition, most if not all our US based players will be available since thier season ends in October.

Yorke replaces Dwarika on Caribbean All-Stars

Dwight Yorke will be replacing Arnold Dwarika on the Caribbean All-Star team that will play Jamaica on Sunday. Yorke will join Clayton Ince, Sherwyn Jullien, Ansil Elcock, David Nahkid and Jerren Nixon. The game is billed as a good luck send off to Jamaica and will take place at Giant's Stadium in New York.

Dwarika was unable to make as he is headed to Lebenon on a two week trial with Al Ansar. Al Ansar is the former team of national captain David Nahkid. If the trial is successful he will join Peter Prosper and Welsey Webb at the club for next season. This will be Dwarika's second international proffessional contract. Webb, has had playing stints in Indonesia and Portugal. Prosper was the 1996 Lebenese player of the year.

Hislop moving to other teams.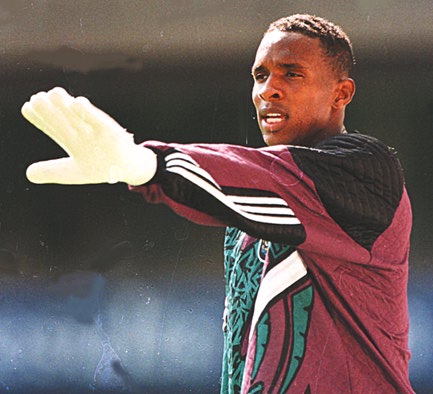 Hislop...going to a new club.

Does it rain in the rainy season? Isn't Amoco Renegades the best steelband in Trinidad? There are little doubts about these things and there is no doubt that Shaka Hislop will be playing for another team when next season rolls around. Shaka Hislop's position at Newcastle was thrown into disarray when he and management could not agree to terms on a new contract that expires on June 30th.

Two teams have step forward in the race to acquire Hislop. English Premiership club side West Ham and First division club Wolverhampton Wolves are interested in putting the former St. Mary's College standout between the uprights for next season.

West Ham are interested in aquiring Hislop on a free transfer. The Hammers are about to loose there number one goalie in French international Lama to another team. Should Hislop join West Ham he will have to battle fellow Concacaf rival in Canadian Craig Forrest for the starting job.

At Wolverhampton, Hislop will rejoin his former Reading manager Kevin McGhee.

It will be interesting to see what the clauses in his contract will state. His contract with Newcastle stated that he could not play for Trinidad and Tobago. T&T dodged a bullet in March when Hislop was called up to English B team but didnot start. Had he started T&T would never see him in a national uniform.

In the starting lineup....

Several national team members will be in New York for the All-Star game. Evans Wise and New England will take on New York at home on Sunday. Brian Haynes will be looking to score his second goal in a row this weekend when he teams up with fellow national Mickey Trotman. They and Dallas will face Miami.

Over in the A-league, Avery John and the gang at Raliegh take on Hershey. It will be a battle of the defenders when Shawn Boney of Conneticiut takes on Craig Demmin of Rochester. Terry St. Louis of Toronto will face the US Pro-40 team. Lester Felician and Gary Glasgow and the rest of the Trini gang will look to improve there record on Sunday when they face Minnesota.
---
Monday May 25th, 1998
Yorke speaks his mind.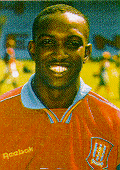 Yorke...laws down to law.

Dwight Yorke may not be on a competitive field of play but he is firing shots at everything in site. Yorke, back in Trinidad for a vacation, spoke to the Trinidad media about playing for Trinidad and Tobago and his views on the game. In the Trinidad Express Yorke said that seeing Jamaica qualify for the World Cup hurts him. Yorke said: "It's a massive blow to see them qualify for the World Cup...It's sad to see that Jamaica, who (...) are a team that we beat on a regular basis, have
come from nowhere and got to where they are and we're here still scratching our heads wondering
why we're not there." Yorke said that Trinidad and Tobago has gone backwards since they came within onepoint of qualifying for the 1990 World Cup.

Yorke said that T&T can qualify for the World Cup "if the preparations are right." However, in the same light he said that it will be difficult if the current football administration continued on it's present path. (I wonder where we have heard that before). He said that: "... I don't think you can just turn up and play qualifying games like we have done in the past and expect to get to the World Cup. These things take time and need to be planned properly." Finally he said that it doesnot matter who the head coach is. While he has respect for Bertile St. Clair he said that his situation with the TTFA will remain the same despite the head coach.

Yorke laid down his rules for when it comes to playing for T&T. Yorke mentioned that he will not play for Trinidad and Tobago in the Shell/Umbro cup. He said that T&T has the talent to win the tournament without him. He also said that he will make himself available for future World Cup qualifiers and not for international friendlies that conflict with his club schedule. He mentioned that the English F.A leaves weekends available for international friendlies. This is when Yorke will be available. His idea of playing during the weekend breaks is seconded by Clint Marcelle. Marcelle told TTFOL that he wants to play for his country but would like international friendlies scheduled around the weekend breaks in the English Premeirship.

Yorke's words ring true when he talks about the administration. The question that comes to mind is where is the accountablity? In a country where football is taken seriously instead of a social event for politicians, the top members in the football administration would have found themselves in front of a government commitee to see why the same person is still the head of an administration after three failed World Cup bids. Moreover, why the same head administrator has now alienated two of T&T's best footballers. Without a satisfactory answer the head would have found a pink slip in his office the next day. In qualifying for the World Cup you need four things to reach the finals. You need a good coach, good players, a well organized administration and money. Unfortunately, for T&T they lack a strong administration and money.

Yorke getting a pay increase
Yorke...show me the money!!!!!
While Yorke is in Trinidad and Tobago his attention will be still in England. Aston Villa is about to renegotiate his contract that he signed last year in order to keep him. According to reports Aston Villa management are prepared to break the bank for Yorke. They are prepared to offer him a five year contract to over lap the one that Yorke agreed to last season. That deal would have expired in two years. There are also reports that Yorke will get a increase in salary to £21,000 a week salary. In addition to the increase in salary, John Gregory Aston Villa's manager, has slaped a transfer fee of £15,000,000 on Yorke to deter clubs from acquiring him. Clubs in the running include Manchester United.
Marcelle resigns with Barnsley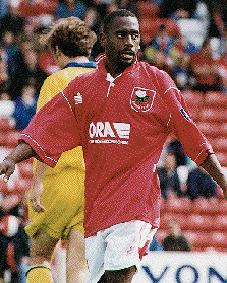 Marcelle...back for two more years.
Despite attacking interest from clubs in Holland and France, Clint Marcelle is staying put right in England. He has signed a two year deal with Barnsley. Marcelle has been a fan favorite at Oakwell since he signed with them in August of 1996. He was instrumental in Barnsley's promotion into the Englsih Premiership in the 1996/1997 season when he scored eight goals in 31 games. However, last year was a poor one for both Marcelle and Barnsley as they were sent back down to the English First division after just one season in the English top flight. There was speculation that he would leave the club under the Bosman ruling. The Bosman ruling (simular to the Curtis Flood decesion in baseball to those of you on this side of the Atlantic) allows a player to go to any club in Europe on a free transfer at the end of his contract. Previously, the player remained the property of the club even after his contract was over. Marcelle has shown his willingness to play for T&T in the Shell/Umbro cup in July.
Nahkid to move to Hotspurs?
Nahkid...Moving to England?
(Photo: Trinidad Express)
David Nahkid is being offered a £150,000 contract for the 1998/1999 season by North London based club Tottenham Hotspurs. According to reports in the Independent Nahkid is seriously considering the move back to Europe. The deal is being offered by Nahkid's former manager at Zurich Grasshoppers now the head at Hotspurs. Nahkid's role would be in the center-midfield. Nahkid said: "There has not been talk, as yet, on transfer fee or any sort of salary...normally one of the more important things for me is the signing-on bonus and that was established." He continued by saying that things must be a little more concrete in order for him to make a decesion. No timetable has been set by Nahkid. He is due in England for a fitness test at the end of May.
T&T climbs in Fifa ranking again

Trinidad and Tobago has moved up one spot in the latest Fifa World Rankings. They are currently ranked 48th in the world. The movement is attributed to the performance of World Cup qualifier Cameroon. T&T is still ranked number two in the Caribbean and number four in Concacaf behind Mexico(4th), USA (11th) and Jamaica (30th).

Nixon season comes to an end.
Nixon...playing in Europe next year.

Jerren Nixon and FC Zurich's season has come to an end. This makes Nixon the last T&T national to play in Europe this season. Nixon and Zurich lost to FC Sion 3-2 but they still maintain a UEFA cup place for next season by finishing fourth in the Swiss table. This is the first time that Nixon will be playing in European competition in his career.

Haynes scores in Dallas lost

Brian Haynes scored his first goal of the season for the Dallas Burn in the MLS, but still lost 4-1 to Los Angeles. Haynes scored in the 63rd minute. Mickey Trotman, not in St. Kitts with T&T, came on in the 72nd minute.

In other MLS action David Nahkid and Evans Wise started for New England but came up against a stone wall in Ansil Elcock and the Columbus Crew. New England lost to Columbus 2-0.

A-League report

Starting off in my home town of Toronto where Terry St. Louis played havoc with the Worcester defense all afternoon. His deep runs into the Worcester defense caused him to be hacked down twice in the penalty box earning two of Toronto's four goals. Toronto won the game 4-1 for there second win of the season.

On Friday night Craig Demmin and Rochester beat Worester 3-0. Also on Friday night, Gary Glasgow maintained his scoring run by putting in two goals in New Orlean's 3-2 win over El Paso. On Sunday, the same crew lost to Albuquerque 2-1. Glasgow is coming off a two goal performance last weekend.

In other action Shawn Boney and Connecticut lost to Long Island 3-1.

What do you think of Yorke's comments? Leave a measage.

---
Thursday 21st May, 1998
Trinidad and Tobago leave for St. Kitts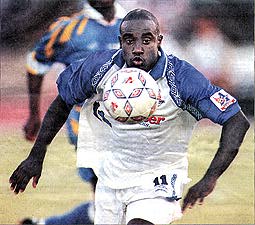 Trotman...back in the squad.

Trinidad and Tobago will travel to St. Kitts and Nevis today to take part in a invitational tournament. The squad includes Mickey Trotman (New Orleans) and once again posses several young players. Richard Braithwaite team manager, pointed out in a Trinidad Express interview that the squad is alot younger than the one that played Chivas last month. This is in keeping with St. Clair's policy of rebuilding from the ground up. T&T will play Oldham Athletic on Saturday and versus the host on May 26th.

Squad:
Clayton Ince, Michael McComie, Shurland David, Sherwyn Julien, Keyeno Thomas, Atiba
Charles, Lyndon Andrews, Kerwyn Jemmott, Stokely Mason, Marvin Gordon, Rodney Dennis, Mickey Trotman, Irasto Knights, Dexter Boucher, Dale Saunders, Errol McFarlane, Nigel Pierre, Anton Pierre.

St. Clair wants wins.

National team head coach Bertile St. Clair wants wins. Speaking to TTFOL he said that the team that he has right now is a good one and is impressed by the young players. He said however, that the team has to start winning. He pointed out that the game versus Saudi Arabia was a good one and players that impressed him included Tony Rougier of Hibernian and Joe Public stand out Irasto Knights. Since St. Clair has taken over T&T's record has been spoty at best. They have won the Caribbean title and had a good record in the Gold Cup. This year T&T has two wins and five losses.

Yorke returns home, Latapy to England.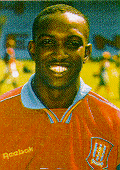 Yorke and Latapy different directions.

Dwight Yorke is scheduled to return to Trinidad today for a much needed rest and relaxation period after a tough season in England. Yorke, who scored 16 goals this season is scheduled to play in a international sevens tournament this weekend. It is not known whether Yorke will play in the Shell tournament scheduled for August. Yorke has not represented T&T since the USA game in the 1996 World Cup qualifiers.

Latapy is scheduled to leave Portugal on Friday to go to England. He will be engaged in transfer talks with clubs in the English Premier League. Three clubs in the running for Latapy include league champions Arsenal, newly promoted Middlesboro and Leeds United. Boavista is not going to let Latapy go without a fight. According to his manager, Boavista is prepared to match any offer that Latapy should get from the clubs in England.

In the starting lineup...

Trinidad and Tobago plays Oldham Athlectic on Saturday in St. Kitts. Over in the USA, David Nahkid and Evans Wise of New England will face Ansil Elcock and the Columbus Crew. You can hear all the action by going to MLSNET broadcast network at 7:30pm on Friday. Brian Haynes and Dallas face Los Angeles on Saturday at 10:30pm. You can also hear the action at the MLSNET broadcast network. In A-league action Craig Demmin and Rochester face Worester at home on Friday. On Friday Lester Felician, Gary Glasgow and the gang at New Orleans face El Paso and on Saturday they face Albuquerque. Shawn Boney and Conneticuit face Long Island. Terry St. Louis and Toronto face Worester at home.

---
Monday 18th May, 1998
Yorke and Nahkid invited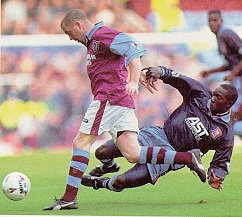 Yorke and Nahkid...invited to play in farewell.
Dwight Yorke and David Nahkid have been invited to play for the Caribbean All-Stars in New York on May 31st. An invitation was extended the two to join fellow Trinidad and Tobago players Arnold Dwarika, Ansil Elcock, Clayton Ince, Jerren Nixon and Sherwyn Jullien. The game schduled for Giant's Stadium is billed as a farewell and good luck to Jamaica in there World Cup campaign. The squad will be captained by national striker Jerren Nixon. Yorke is expected in T&T later this week to compete in an international seven-aside tournament.
Russell to bid farewell to Portugal.

Latapy...Last game in Portugal?

The last game of the 1997-1998 season in Portugal has come to an end and with it maybe Russell Latapy's stint in that country. Latapy and Boavista lost to Campomaiorense 2-1 on Sunday. They finish in sixth place with 55 points. The true question is which European club will win the "Russell Latapy Sweepstakes." The winning club gets a top class midfielder with tons of European experiance. Clubs in the running for Latapy's services include: Arsenal, Leeds United and Middlesboro in England, two French clubs and one Portuguise club. Boavista may not be out of the works for Latapy. He is expected to sit down with management to discuss the re-tooling of his contract. Boavista is expected to match any offer extended to him from English clubs. Russell is headed to England later this week to make arrangements for his transfer from Boavista.

In other Portuguise action Leonson Lewis completed his season with a 0-0 with his old club Académica. Lewis is in the final year of his contract and may be looking to move on to another club.


MLS report

In weekend action, the Columbus Crew could have used Stern John versus the powerpacked lineup of Los Angeles. John, out for two to four weeks with an injured elbow had to sit and watch the game. The Crew lost to the Galaxy 4-2.

Brian Haynes came on in the 57th minute for Dallas in a 2-1 win over Colorado.

David Nahkid started for New England and Evans Wise came on in the 6th minute in the Reveloution's game with Kansas City. However, they lost 3-1 to fall to four wins and five loses on the season.

A-League report

Marvin Raeburn scored in Raliegh's 2-1 win over Worcester. He dribled past two defenders and put a shoulder high shot past the hapless goalie for the go ahead goal.

In the battle of T&T two towering defenders, Craig Demmin and the Rochester defeated Shawn Boney and the Conneticiut Wolves 2-0. On Sunday, the Wolves completed a 5-4 shootout win over the US-Pro 40 team.

Lester Felician scored in New Orlean's 6-5 overtime win over Albuquerque. Felician scored with just four minutes from regulation time to send the game into extra time.

Terry St. Louis and Toronto managed there first win of the season. They beat Atlanta 1-0.
---
Thursday 14th May, 1998
Yorke gets UEFA cup place.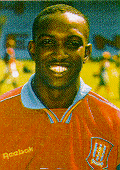 Yorke...goes to Europe
Dwight Yorke and Aston Villa will be playing in the UEFA cup next season. That comes courtesy of Chelsea's 1-0 Cup-Winners-Cup victory over Stuttgart. Villa finished seventh in the table and won twelve of there last thirteen games of the season. They are looking good to continue there good form in late August when the season resumes. They also have an extra £3.5 million this week due to the sale of Savo Milosevic. All in all it is safe to assume that Villa will be one of the most watched teams in England next season.
Latapy set to leave Boavista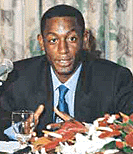 Latapy...to talk to other teams

Russell Latapy has his ticket booked and may have a realtors card and a map of the Motor way system in his pocket for his trip to England next week. Latapy seems destined to leave Boavista at the end of the season. He will begin talks with three English teams in league champions Arsenal, Leeds United and Middlesboro once his season concludes this weekend. Latapy and Boavista will play Campomaiorense. Latapy is coming off a fantastic week in which he setup all of Boavista's three goals in a 3-0 win last Sunday. Failing to secure a contract in England he will look towards French clubs that have shown interest in him. The asking price for Latapy by Boavista is in the range of £7,000,000.

In the shooting range....

In Portugal, Leonson Lewis and Chaves face Acadamedic. A win by Chaves will help them stay out of relegation. Over in Swizterland, Jerren Nixon and FC Zurich face FC Luzern in a bid to secure a UEFA place. In the USA, David Nahkid and Evans Wise look to rebound from a 3-2 lost earlier in the week to DC United. Nahkid made his return to action after two weeks on the injury list. They will face Kansas City on Saturday at 7:30pm. You can hear the game by going to the MLSNET radio network at 7:30pm. Ansil Elcock and Columbus face Los Angeles at home. You can see the game courtesty KMEX in the Stadium or listen to it via the MLSNET radio network.

---
Monday 11th May, 1998
T&T drop game to Saudi Arabia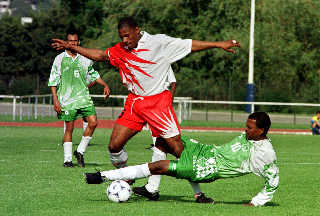 Stand in national captain Rougier in action.

A young rebuilding Trinidad and Tobago took on World Cup Qualifiers Saudi Arabia in Cannes, France. It was a good effort by the squad who constantly threatened the Saudi Arabia defense. Despite the effort T&T lost 2-1. Trinidad and Tobago will now travel to St. Kitts to compete in the Bolton tournament.

Yorke's strike brings Villa closer to UEFA cup
Yorke...penalty is number 16

Dwight Yorke's penalty in the 36th minute help propel Villa within a UEFA cup place next season. They beat league champions Arsenal 1-0. Villa has to wait for a Chelsea win in the Cup Winners Cup on Wednesday to see whether or not they will qualify for next season. A win by Chelsea will help Villa qualify. If Chelsea looses they will be given a UEFA place as consolation.

Yorke was awarded a penalty after a Arsenal defender put his arm around his neck in the area while he was challeging for the ball. His chip penalty be England's top goalie for the only score of the game. It left Yorke with 16 goals for the season and ninety-nine goals in his career. He has to wait for next season for 100. The season restarts in August.

Latapy continues to sell himself

Latapy...one more week to go.

With just one more week left in the Portuguise season, Russell Latapy is turning it up a notch. He had an outstanding game yesterday by seting up all of Boavista's goals in a 3-0 win over Leca. Russell played the full ninety minutes and has one more game left this season. After next week's game he will travel to England to hold discussions with teams interested in him. According to reports Middlesbourough, Leeds United and Arsenal have shown interest in him.

John out for four weeks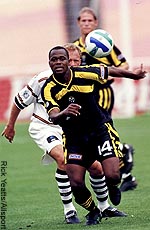 John...out with injury.

Just when he was about to get hot national team forward Stern John has to rest due to injury. He sustained a dislocated elbow in the Crew's lost to Miami on Saturday. John was pulled off at the half and will miss the next 2-4 weeks.

Warner re-elected to Concacaf top post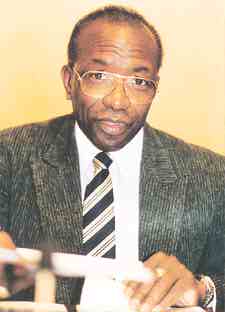 Warner...re-elected

Jack Warner has been re-elected as Concacaf's President at this year's congress in Antigua. Warner was the only one nominated for the post and has dramatically raised the level of Concacaf's status in the eight years since he has been at the head of the governing body. Speaking to Soccer America he said: "It is important that we do not rest on the achievements of the last 8 years but, more importantly, use them as a launching pad for worthier accomplishments."

---
T&T travel to France

A young Trinidad and Tobago will travel to France for the first and only time this year to face Saudi Arabia on Saturday. Trinidad and Tobago will be without key members in Russell Latapy, David Nahkid and Dwight Yorke. The team does include several foreign based players in Clint Marcelle (Barnsley), Jerren Nixon (FC Zurich), Clayton Ince (Reading?), Marvin Andrews (Raith Rovers), Tony Rougier (Hibernian), Ansil Elcock and Stern John (Columbus Crew).

The T&T team: Clayton Ince (Wrexham, England), Michael McCommie, Shurland David,
Stokely Mason, Lyndon Andrews (Joe Public), Sherwyn Julien (United Petrotrin), Keyeno Thomas (Pt Fortin CC), Marvin Andrews (Raith Rovers, Scotland), Ansil Elcock, Stern John (Columbus Crew, USA), Kerwyn Jemmott (Queen's Park), Anthony Rogier (Hibernian, Scotland), Clint Marcelle (Barnsley, England), Jerren Nixon (FC Zurich, Switzerland), Marvin Gordon, Dale Saunders (CL Financial San Juan Jabloteh), Rodney Dennis, Irasto Knights (Courts Caledonia AIA).

The young squad is part of Bertile St. Clair's plan of exposing young local players to international games to gain experience. To many T&T football fans it was about time T&T played harder competition than Caribbean teams. This year T&T have played the Central American big five in Honduras, Costa Rica, El Salvador, Guatemala and Mexico. There record has been less than impressive. They have won only one game, versus Honduras in the Gold Cup. However, the loses to Costa Rica, Guatemala and El Salvador cannot be judged as fair. After the arrival in the country, T&T would play a local club team the night before, have a hard practice in the morning and the full international at night.

Saudi Arabia bring allot to the table. They are a skillful team and making there second ever appearance in the World Cup. In there last appearance in USA 94, they moved on to the second round of the tournament. They are coming off a 0-0 tie with Jamaica on Monday in a game they dominated. The Saudi's are not a easy squad to beat. They are a little suspect in the back but are pretty good in the midfield. A win or a good showing by T&T will do well for team morale.

MLS snubs Stern John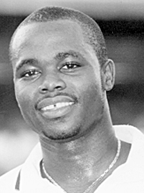 John...where is his name?

The MLS may regret this decision. Strange but true, Stern John is not among those listed for the MLS All Star game in July. John's name was noticeably absent from the MLS ballots designed to pick starting members of the World team. Only one T&T player has made the ballot, that being David Nahkid of New England. John is in second place on his team in scoring with four goals in seven games. You can view the MLS online ballot and place your vote for the starting lineups.


In the starting lineup....

Trinidad and Tobago face Saudi Arabia in Nice on Saturday. Dwight Yorke and Aston Villa face league champions Arsenal on Sunday. You can hear all the action my going to the stadium at 9:30 am. Over in Portugal Russell Latapy and Boavista face Leca and Leonson Lewis and Chaves face Setubal. Over in the USA David Nahkid is probable for New England's game with Tampa Bay. You can see the game via our link to KMEX by going to the stadium at 3:00pm on Sunday afternoon.


---
Under-17 Coach predicting big things.
Chief Adegboye Onigbinde, technical director of the Under-17 national team believes that Trinidad and Tobago will surprise many teams when they host the World tournament in 2001. Speaking at a media conference on Thursday, he stated that: "...the sky was the limit (for Trinidad and Tobago)...My ambition is to come in here and stun the whole world. I am here to do my best to put in all the experience and all the knowledge I have gained over the years, being aware that I also have a reputation to protect." At the conference was Minister for Sport and Youth Affairs Pamela Nicholson who stated that the government will be paying his entire three year salary. She said that: "The actions we are taking this year... (are) ... another example of the leadership role that we have undertaken to promote excellence in sport."
Latapy helps out in Boavista win.

Latapy...scores third of season.
Russell Latapy is a wanted man throughout England, Portugal France. He improved his networth on Sunday by scoring his third goal of the season and seting up another in Boavista's 4-0 win over Amardora. The win moves Boavista right into European competition contention for next year. However, the likelyhood of Latapy playing with Boavista next year gets slimmer by the day. Apart from Arsenal and Leeds United wanting his services next year, newly promoted Middlesborough have tossed there hats in the ring for Latas. Before going to France as a spokeman for Master Card he will be having dicussions with various teams to see where he will be playing next year.
Relegation for Rougier and Marcelle

Rougier & Marcelle...disappointment
Don't expect Anthony Rougier and Clint Marcelle to be in good company these days. Both men suffered the disappointment and humiliation of relegation on Saturday afternoon. Marcelle and Barnsley suffered a 1-0 lost to Leicester City and ended there first and only season in the English Premiership.
Rougier and Hibernian lost to Dundee United 2-1 to push them into the Scottish First division. This is the second time in two years that Rougier has found himself on a loosing team.
It remains to be seen wheather or not both men will remain at the same clubs. Marcelle most likely will head elsewhere in Europe after recieving interest from English, Dutch and French teams. His contract is up at season's end. Rougier has one more year on his contract with Hibernian. He would be able to leave Hibs on a transfer.
Yorke scores in Villa win.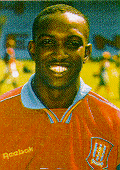 Yorke...keeps scoring
Dwight Yorke scored his 11th league goal and his 15th overall of the season for Aston Villa to revive there hopes for a European place next season. Yorke opened the scoring for Villa after recieving a past from his fellow teammate. The 3-1 win over Sheffield Wednesday moves them within four points of a UEFA cup place. However, they need some help from the higher teams. Those teams have to loose and Arsenal has to win the FA Cup for Villa to gain a place.
Nixon scores in Zurich tie
Nixon...regaining his scoring touch.

Jerren Nixon regained his scoring touch on Sunday when he scored the tieing goal for Zurich in there match with Lausanne Sports. Nixon scored in the 79th minute after coming on in the 66th minute. The tie gives Zurich some breathing room in third place. Zurich has just three weeks left on the season. They face Swiss giants and cross town rivals Grasshopper on Friday and FC Luzern and FC Sion in subsequent weeks. They are looking good for a UEFA cup place next season.

Ince leaves Wrexham.

Clayton Ince's spell at Wrexham in England has come to a dissapointing end. Ince became a victim of
the Department of Employment rule that prevented Wrexham from signing him to a contract. Wrexham currently has two goalkeepers on there squad and the Department requires that Wrexham transfer them in order for the club to sign Ince. It is not known where Ince will end up. He is currently preparing for T&T's game with Saudi Arabia on the 8th. Wrexham will still keep in contact with Ince and will recall him if they transfer there goalies.

Finally, some of you have e-mail me regarding the Free Kick discussion group. The folks at Server.Com have informed me that the site will be up and running by the end the week. Aparently hackers broke into the site and started to erase data from the files last Monday. On Wednesday the site manager shut down the site and moved to another server by Friday morning. So for now we have to sit back and wait.