News
---
Thursday March 26th, 1998
Rumors fly about Yorke's movement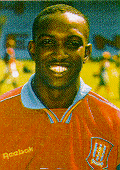 Yorke...looking to move?

In the last few days rumors of Dwight Yorke's transfer at the end of the season have been swirling around. Most of the rumors surround the fact that Villa were knocked out of the UEFA cup last week by Athletico Madrid and Yorke's desire to play in European competition next season. The lost leaves Yorke without a European place if he remains at Villa. Clubs interested in Yorke include Manchester United and Arsenal. It has been reported that the London based Arsenal, has valued Yorke at £10,000,000. The transfer deadline is at month's end. Compounding Yorke's desire to move on is the team's mediocre performance and the resignation of manager Brian Little this season. The lost of Yorke will be devastating to Villa. Yorke is primarily there bread and butter man. One of the things that will keep Yorke at Villa would be the bringing in of Russell Latapy at season's end. Last season Villa wanted Latapy to run there midfield. However, his current club in Portugal decided to keep him for one more year. It is yet to be seen if the current Villa manger views Latapy in the same light as the previous manager did.

Changes coming.

The next edition of the Gold Cup will expand from the current twelve teams to sixteen. Concacaf in order to raise more awareness about there main tournament has decided to invite Colombia, Japan and South Korea to the tournament to be held in the USA in the year 2000. Brazil which has been invited to the last two tournaments will also join the party. The Caribbean teams will be picked from the winner and runner's up of the Shell/Umbro tournament in 1998 and 1999. The runner's up in both years will play against the team placing fourth in the Central American championships and Canada to complete the Gold Cup teams.

What is of more concern is the inviting of Colombia. There invitation signals a continuing move by Concacaf to merge with the CSF. CSF is the South American governing body. The main idea is to create a Pan American football body that will rival UEFA. While the prospect of seeing T&T play Chile in Port of Spain is a good one. The fact of the matter is that teams in Concacaf are definitely not as strong as those in South America. South American teams like Bolivia, Peru and Uruguay are licking there chops at the increasing of World Cup spots from six to nine. A World Cup spot is worth a minimum US$750,000. That will be good money to those countires seeking to create and expand programs. There is only one Concacaf team that can compete with South American teams that being Mexico. The USA has it's problems. While they beat Brazil at home last month, if they took there show on the road to Buenos Aires it would be a completely different story. After those two teams there is no team that can compete with South American teams. A fine example is what happened to Costa Rica this year in the Copa America. There full strength team got there tails knocked around. With regard to the currently inform Jamaica, while the tie with Brazil looks good and was well deserved, it came against a team that German manager Berti Vogts described as: "Brazil on vacation."

Concacaf has always had there "flavor of the World Cup." That being the team that jumps up and makes it to the World Cup only to disappear for the next World Cup campaigns. In 1990 it was Costa Rica. This year it is Jamaica. In 2002 it might be T&T. However, if the merger goes through, T&T and the rest of Concacaf can kiss good-bye all there dreams of ever playing in the World Cup. The merger is not going to happen over night but at the current pace look out! T&T will be playing in Bolivia for there World Cup lives sometime in the next century.

In the starting lineup...

Dwight Yorke and Aston Villa will be looking to reach the treasured 42 point mark this weekend when they will play Everton. Clint Marcelle and Barnsley will want to continue there march up the Premiership table when they face Liverpool at home. You can hear all the action by going to the Stadium at 9:30 am on Saturday. Over in Scotland, Anthony Rougier and Hibernian want to continue there winning ways when they face Aberdeen. Marvin Andrews and Raith Rovers face Patrick Thistle. In Portugal, Russell Latapy and Boavista face Benfica. Leonson Lewis and Chaves will face Maritimo. In Switzerland, Jerren Nixon and FC Zurich face FC St. Gallen. Across the atlantic, Stern John and Ansil Elcock and the Columbus Crew will face there fellow T&T counterparts in Mickey Trotman and Brian Haynes from Dallas. Evans Wise and David Nahkid go into action for the first time this season when they face MLS champions DC United.


---
Monday March 23rd, 1998
Rougier and Hibernian continue fight

Rougier...fight to stay up.

Don't let anyone say that Tony Rougier and Hibernian have given up the fight. Yesterday Hibs faced fellow relegation bound club Motherwell in a tense, fast paced battle in which the boys from Easter Road won 1-0. Rougier had the first shot in the game, a bullet of a shot from 20 yards. Rougier had a chance to make the game 2-0 when he was sent clean through on a ball from a team mate. His shot just went inches wide of the far post. The win for Hibs moves them up to 23 points on the season with just seven points separating them from staying up in the Scottish Premier division.

Andrews fight for promotion almost over

Marvin Andrews fight to gain promotion into the Scottish Premier League has suffered a major setback. They drew 0-0 with Ayr United to push them to third and some 12 points out of promotion. If this had been any other season prior to this year, it would not have made a difference. However, with the advent of the Super league next year, only one team will gain promotion from the First division. Andrews played the entire game for Raith.

Latapy helps out in Boavista win
Latapy...helping out Boavista

Russell Latapy is back in Portugal. Latapy came on in the final 19 minutes of Boavista's game with Belenenses on Sunday. Boavista dispatched with there opponents 4-0 to move within four points of a European spot. Boavista are currently in a log jam with three teams on 40 points with only goal difference separating them. It is safe to say that the likelihood of Latapy remaining in Portugal for next season is slim. Latapy is looking to make the move to England at season's end. A few weeks ago he was in England talking to teams interested in him. Two clubs that have shown interest in him are Leeds United and Aston Villa.

Elcock helps out in Crew win.
Elcock...good start to season.

Ansil Elcock and the Columbus Crew opened there MLS season with a convincing 2-1 win over the Tampa Bay Mutiny on Saturday night. Elcock was instrumental in the second goal when he was brought down by a Tampa defender after a good run down the left flank and towards the penalty area. The Crew's McBride took the ball and laid it off to another striker who promptly dispatched it past the hapless Tampa goalie. Stern John came on for Elcock who may have suffered a separated shoulder. His impact was promptly felt by having three shots on goal and sending one of his team mates through one on one with the Tampa Bay goal keeper on a well laid ball.

In the shooting range...

Brain Haynes and Dallas Burn opened there season with a 3-2 shoot out win over Colorado. Mickey Trotman did not start. David Nahkid and Evans Wise begin there season next week. Jerren Nixon and F.C Zurich won there encounter with Lausanne Sports 2-1. Finally, he is coming next month!

---
Thursday March 19th, 1998
T&T remains static

Click above for rankings
Trinidad and Tobago remained in the same spot in the latest Fifa world rankings. They are still ranked 51st in the world nestled nicely between the Irish Republic (50th) and Greece (52nd). Trinidad and Tobago are still ranked second in the Caribbean and fifth in Concacaf behind Mexico (4th), USA (16th), Jamaica (33rd) and Costa Rica (49th).
Yorke and Villa out of UEFA Cup.
Yorke...Out of cup.

Despite wining there return encounter with Athletico Madrid 2-1, Dwight Yorke and Aston Villa were still bounced out of the UEFA cup. Villa and Madrid were tied 2-2 on aggregate after Madrid won the first leg 1-0 a few weeks back. However, Madrid advanced on the aways goal rule. Yorke hit a shot that the Madrid goal keeper did well parry away. He then headed the ball from an Ian Taylor cross onto the cross bar. This leaves T&T with no players in European competition next year.

Thomas puts Zodiac on hold.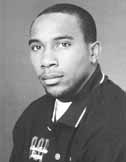 Thomas...Hold my spot.

Sheldon Thomas has told the Orange County Zodiac management to hold onto to his spot. Thomas the 18th pick in the first round of the A-league draft this year, wants to pursue other options. Speculation is that he may be trying out with a MLS club and could be picked up as a discovery player. This is the same rule that Mickey Trotman was signed under last week with the Dallas Burn. Thomas was a All-American at Call-State Fullerton and a former St. Benedict College standout.

In the shooting range...

Marvin Andrews and Raith Rovers did a number on Hamilton on Tuesday night. They defeated them 4-1 to move into second place in the Scottish First division. On Monday, I reported that by moving into second place they will have a promotion spot. However a Scottish friend of mine reminded me that under new league rules only one team will be promoted. Raith sits ten points behind Dundee and need some help from other teams to advance. Clayton Ince is playing a waiting game at Wrexham. He is waiting for the club to transfer either one of two international players which would free up space for the club to sign the young goalie. Across the Atlantic Stern John is expected to join the Columbus Crew today after spending a couple weeks in T&T. He may not start the Crew's first game scheduled for Saturday.

In the starting lineup...

Both Dwight Yorke and Clint Marcelle have this weekend off. In Scotland, Anthony Rougier and Hibernian face fellow relegation bound club Motherwell in a fight to stay up in the Scottish Premier division. Marvin Andrews and Raith Rovers face Ayr United in the fight for promotion. Across in the USA, the third season of the MLS kicks into high gear. Stern John and Ansil Elcock begin play with the Columbus Crew when they travel to Tampa Bay. Mickey Trotman and Brian Haynes will be looking to start in Dallas' game with Colorado.
---
Monday March 15th, 1998
Rougier's goal extends lifeline to Hibernian

Rougier...extends life of Hibs.

Anthony Rougier's last minute penalty extended the lifeline of Hibernian on Saturday. Rougier goal forced a 1-1 tie with St. Johnstone. The goal was Rougier's second of the season. Hibernian fought hard to gain the tie and will have to fight even harder to remain in the Scottish Premiership. Hibernian sits last on the table with 20 points and 11 points separating them from the safety zone. Rougier provided some sparkling offense during the game. His shot was saved by the St. Johnstone goal keeper after a poor back past. Four minutes after the restart Rougier again was causing trouble. He weaved his way past two defenders and provided a cross that just eluded a teammate. However, in desperation to seek an equalizer he lunged at the St. Johnstone keeper with little attempt to win the ball and was subsequently cautioned.

Raith pins hopes on Andrews.

Andrews...hope rest on him.

Marvin Andrews made his second start for Raith Rovers on Saturday. Raith won their encounter with Scottish Cup semi-finalist Falkrick 1-0. Andrews had a good game, showing composure in knocking away a dangerous ball headed to a Falkrick striker. The win moved them within two points of second placed Falkrick and a chance to gain promotion. Raith management seems to have placed there promotion hopes on the shoulders of key Raith players including Andrews. Here is a section written about Andrews by the Scottish Football web site:

ANDREWS CAN BE KEY FIGURE FOR RAITH

It is a shame for Raith Rovers that they have had to wait until so late in the
season for the debut of the imposing Marvin Andrews. For as time rapidly runs
out on their team's bid to reach the Premier League, Rovers fans saw someone
on Saturday whose will to win could have made a difference to their flagging title
challenge.

But events have conspired against the club and Andrews, who first caught the
eye last autumn but couldn't obtain a work permit until recently. Then the
Trinidad and Tobago international was called up for his country for the Gold Cup
tournament in California. He flew back a couple of weeks ago, but his first
appearance for Rovers was put back further by a nasty infection in his leg.

As Andrews explained, "It was an abscess on my thigh which made my leg
swell up to 10 inches more than its usual size. I needed an operation to cut it
open and clean out the infection." The surgery left a hole in the limb which had
to be protected by strapping during the 1-1 draw with Airdrie at Stark's Park. But
his ailment didn't prevent him putting in an accomplished display at the heart of
the defence, which had boss Jimmy Nicholl enthusing, "He has the attitude and
determination to win the ball that we need."

Like most imports to our game, Andrews found the pace fast but the one aspect
of life in Scotland that will take the most getting used to is the weather. He even
found America's Golden State a bit dreich, never mind Kirkcaldy. "I have never
experienced this kind of weather in my life before," said Andrews, on what was
one of Fife's more temperate days of late. California was a little bit cold for my
liking but this is something else. I'm used to the hot sun."

Andrews is only 22 but remarkably has already collected 47 caps for his
country. And, if he can cope with our climate, will be a fine addition to a Raith
squad which, unfortunately, looks like spending next season in Division One

Marcelle less Barnsley continues good run

Clint Marcelle sat on the bench on Saturday but must have been a happy man to see the resurgent Barnsley win again. They defeated Southampton in a 4-3 barn burner. That win tied them with Tottenham on 31 points with only goal difference keeping Barnsley in the bottom three relegation spots. Barnsley needs a few more wins and some help from other teams to keep up in the English Premier division. Over at Villa Park, Aston Villa continued there good run when they defeated Crystal Palace 3-1. Villa was without Dwight Yorke who was sitting out the game due to a suspension for yellow card infractions.

In the shooting range...

Jerren Nixon started for FC Zurich for the third time this season. He was unable to help his club as they lost the Zurich derby to cross town rivals Grasshoppers 0-2.
---
Thursday March 12th, 1998
Trotman signs with Dallas Burn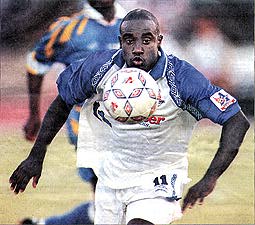 Trotman...becomes number six.

Mickey Trotman has signed with the Dallas Burn of the MLS. He was signed as their first discovery player. Trotman now becomes the sixth Trinidad and Tobago player in the MLS and the third signed in the last three weeks. Last season he played up front with Stern John at the New Orleans Gamblers where he was the team's second leading scorer.

Trotman is the product of the national youth system, playing for the national U-17, U-19, U20, and U-20 teams. He was also a two time All-American at the University of Mobile. This from Soccer America: "I think that people will be surprised by his ability," said Dallas coach Dave Dir. "For a first-year player, he should be able to make a big contribution. He's a proven goal scorer and we look for good things from him." Trotman is happy at joining the Burn he said: "Since Major League Soccer was formed, it has been my dream to make it there...My dream is being fulfilled."

Trotman will join fellow Trinidad international Brian Haynes at Dallas.

Nixon to stay at Zurich.
Nixon to stay at FC Zurich

FC Zurich club officials have denied the claim that national striker will not be going to Wimbleton. Last week in the Rumorville I reported that Jerren Nixon was on trials with Wimbleton. That rumor came out of the Jamaica Gleaner. However, team management said that he will not move to the troubled London based club. They continued by stating that it is their plans to keep Nixon in Switzerland and that no other clubs have shown interest in him.

Second Trini derby falls flat.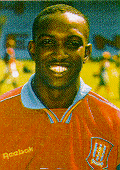 Trini derby? Not exactly.

The second ever Trini derby fell flat again. Clint Marcelle did not start for Barnsley against Dwight Yorke's Aston Villa. Barnsley won the game 1-0 to move further off the bottom of the table of the English Premiership. A goal in the 17th minute by Ward proved to be all the scoring that Barnsley needed to win the game. Villa had many chances to tie and win the game but poor finishing by their midfielders gave Barnsley the three points and the extra breathing room they need. For Villa's part there main concern is to reach the 42 point mark. That is the mark where experts agree that a team will have to attain to stay in the Premier league. They currently have 36 points.

In the starting lineup...

Dwight Yorke and Aston Villa will be looking to bounce back from the Barnsley lost when they face strugglers Crystal Palace. Clint Marcelle and Barnsley will face Southampton. You can hear the Premier league action by going to the Stadium at 9:30am on Saturday. Over in Scotland, Anthony Rougier and Hibernian face St. Johnstone. Marvin Andrews and Raith Rovers will face Scottish Cup semi finalist Falkrick.

What do you think of the Trotman signing? Leave a message.
---
Monday March 8th, 1998
Howdy folks, This has been a quiet weekend for Trinidad and Tobago players.

Marvin Andrews finally starts.
Andrews in action in Trinidad.
Marvin Andrews finally has his first cap under his belt. He started for Raith Rovers on Saturday afternoon in a 1-1 tie with Airdire. According to reports he had a good game and proved to be worth the wait for the Fife based club. However, he did not escape being booked by the referee. This from the Raith Rover's homepage: "Our new marvellous defender, Marvin Andrews, had a couple of good chances to score that were saved well by Airdrie's 'keeper Martin. Firstly, a cross from the left by Stein saw Marvin charge into the box and poke the ball goalwards, but it was scrambled away." You can hear Marvin's post game comments if you have real audio. If you need the software you can go to the stadium. The tie keeps Raith in the running for a promotion into the Scottish Premier division.
Marcelle and Barnsley out of F.A. Cup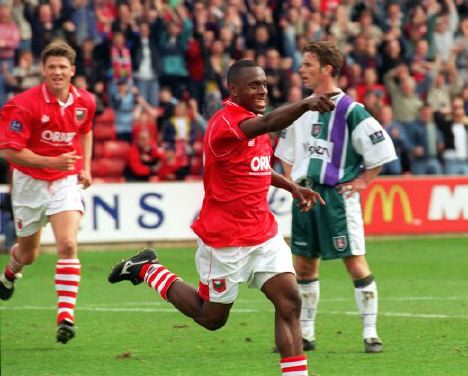 Marcelle no more celebration in the FA Cup
Clint Marcelle and Barnsley is out of the F.A Cup. They lost to Newcastle 1-3. The lost means that Barnsley will not be playing in Europe next season and can now concentrate fully on remaining in the the English top flight. Marcelle started but was replaced in the 55th minute. Barnsley was simply out played by the North England club. On the other side Shaka Hislop played his usual role of back up to Newcastle's number one goalkeeper.
Yorke and Villa move up.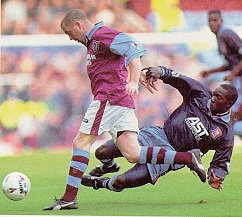 Yorke moving up the table.
Dwight Yorke and Aston Villa continue to make progress up the English Premier League table. They completed a 1-0 win over Chelsea. Yorke working up front with Joachim ran at the heart of the Chelsea defense often confusing them with there pace. Joachim scored Villa's goal in the 51st minute. The win moves Villa into 13th position and out of relegation danger.

Latapy on borrowed time at Boavista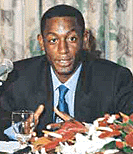 Latapy...making moves.
There are strong rumors concerning the future of Russell Latapy at Boavista. According to his local business manager, Russell has been in contact with two clubs concerning a possible move to the English top flight. The first club interested in him is Leeds United. A few weeks back Russell was in England regarding a move to Leeds United. Leeds is currently in seventh position in the English Premier division and are currently battling for a European position. Also in the running for Latapy's services is Aston Villa who have shown interest in Latapy as early as last season. They were willing to pay £6,000,000 in transfer fees for the midfielder. A move to Aston Villa will be a Trini dream come through as he will work with his friend and compatriot Dwight Yorke. There partnership dates back since 1989 when they played together on the "Strike Squad." Should Latapy move on to England he will become the fourth Trinidad and Tobago player in the league. The transfer deadline is March 26th.
What do you think of Latapy's pending move? Leave a message.
---
Thursday March 5th, 1998
Howdy Folks, This has been a busy midweek on and off the field for Trinidad and Tobago Football.

St. Clair to outline plan to TTFA.
St. Clair (center) with national team.

Head Coach Bertile St. Clair has circled Monday to outline his plan for the Trinidad and Tobago Football team over the next two years. He is expected to meet with the TTFA's top brass to get the go ahead for ideas he has to elevate the T&T to the higher levels of Concacaf.

High on the agenda will the outlining of a plan that would see him come to the USA twice a month to hold two to three day encampments with Trinidad and Tobago players based in the United States. Citing that the TTFA spent thousands of dollars to send a group of locals to Brazil during the last World Cup qualifiers to upgrade there skills with only two of them being picked to start, he believes that the camps will be of more value to the players in the United States.

Speaking about the Mexico game, St. Clair chalked the lost up to inexperience. He said that it was a question of a inexperienced under 23 squad going up against a experienced thirty something squad of Mexico. He said that Mexico used there experience to beat T&T and that was the key. He also said that defensive blunders hurt Trinidad and Tobago. One remedy he says is the incorporation into the squad of more experienced players. With Ansil Elcock and Marvin Andrews currently playing professionally, he believes that they will gain the experience necessary to play with those in Concacaf. Two defenders he likes are Dwyane Demmin and Avery John. He believes that those two have the skills to become strong national defenders.

Speaking about newspaper reports stating that he dropped Arnold Dwarika and Terry St. Louis from the national team because of there hairstyles, he says that is totally untrue. He said that he dropped them because of their poor attitude. He said that he must maintain discipline in his squad. He recalled that just before the Jamaica game in T&T, a certain player was used to starting. However, when that player did not start the game, the player refused to show up for training. St. Clair promptly dropped him from the squad. He also said that some overseas players were not prepared to work hard and he has no use for them. He continued by saying that on his squad everyone is treated equally regardless to the amount of money they make.

In the last two weeks St. Clair has lost, Clayton Ince, Marvin Andrews, Ansil Elcock, Stern John and Gary Glasgow to international teams. Speaking about that he says there is both negative and positive aspects to loosing them on the practice squad. While they would no longer be able to practice with the squad they would gain the experience to compete with the tougher teams in Concacaf. Also, he can use the overseas players as an incentive to locally based players.

Speaking about the T&T team in general he says with the talent the team has and with hard work, T&T will be able to challenge any team in Concacaf. He said that Trinidad and Tobago is currently one year away from that goal. After Monday's meeting he will know if the TTFA will give him the mandate for the next four years. St. Clair's contract ends in May. During that time he will prepare teams for the CFU under 23 tournament as well as the under 20 tournament. He will then fuse both teams together into a new young team. Should the TTFA not extend his contract St. Clair says that he has his bread buttered already.

Ince returns to England

National senior goalie Clayton Ince is returning to England to take up an offer with Wrexham. Ince is currently awaiting a British work permit from the authorities. He does not need a work permit if he is going to be there on a loan. However, he would need a work permit in order to break into the starting lineup. Wrexham seems interested in holding on to the young goalkeeper. Wrexham has four goalies on there squad but have placed two of them on the transfer list. Ince's trial was made possible by the support of BWIA and Carib beer.


Raeburn and Others move to A-league

Marvin Raeburn has become the latest Trinidad and Tobago player to gain a contract in the U.S. He has signed on the dotted line with the Raleigh Flyers. The Flyers are coached by former national team captain Alvin Corneal. The Flyers already have Avery John on the team. Another person destined for the A-league is national under 23 striker Gary Glasgow. He is currently on trial with the New Orleans Storm previously the Gamblers. The Storm is currently looking for someone to replace Stern John who was the team's leading scorer and currently with the Columbus Crew in the MLS. Should Glasgow join he will be join compatriots Mickey Trotman and Glenn Benjamin. Trotman was recently on trial with the Dallas Burn in the MLS. Peter Lewis and Alvin Boisson are returning this year to the Charleston Battery. Lewis has been a member of the Battery since 1996 and Boisson since 1997. Boisson is in the final year of a two year contract with the Battery

Dwarika and St. Louis get national callup.

Arnold Dwarika and Terry St. Louis have been called up to the national squad. The national squad will resume training Thursday. Dwarika and St. Louis were dropped due to problems of discipline. Also included in the squad is Marco Elcock a secondary school stand out and cousin of Ansil Elcock. The national squad: Clayton Ince, Ross Russel, Anthony Clarke, Shurland David, Sherwyn Julien, Dexter Boucher, Marlon Austin, Anton Pierre, Coulson Dick, Stokely Mason, Dale Saunders, Lyndon Andrews, Travis Mulraine, Adarryl John, Sherwyn Seifert, David George, Angus Eve, Kerwyn Jemmot, Keno Thomas, Wesley Webb, Dean Pacheco, Cyd Gray, Gary Glasgow, Peter Prosper ,Ralston James and Warren Butler.


Yorke & Villa loose to Athletico Madrid
Yorke looks on versus Madrid on Tuesday.

Dwight Yorke and Aston Villa suffered a set back on Tuesday night when they lost to Athletico Madrid 0-1 in Spain on Tuesday. It was the first leg of the quarter-finals of the UEFA Cup. Yorke was working up front with Stan Collymore.Villa essentially played counterattack football allowing Madrid to come at them with Italian Vieri leading the way. The savior for Villa was Australian keeper Mark Bosnich. He kept Villa in the game by making some outstanding saves. However, in the 42nd minute Ian Taylor brought down a Madrid player in the penalty box and Bosnich was unable to save the shot. Yorke had a good chance to level the game but his shot was well saved by the Madrid goalie. Villa needs to win by two clear goals in order to move on the the semi-finals. The return leg will be held in two weeks.

In the rumor mill.

Inside the rumor mill this week is Jerren Nixon. Nixon's performance in the Gold Cup has earned him some looking over by some scouts in Europe. Nixon is currently on trials with Wimbleton of the English Premier division. Reports state that he has been there for the last two weeks. This is the third time for Nixon in trying to gain a contract in England. In 1996 Southampton was interested in acquiring the striker. He was prepared to sign on the dotted line when the management changed and ripped up the deal. He was supposed to be at Watford in the English Second division. However, after tearing up his knee in a friendly pick up game in T&T, the transfer deal with FC Zurich was decleared void. He found himself back in Switzerland and Zurich decided to sign him to a four year deal. This pending move to Wimbleton will give more exposure to Nixon who is rated as the fastest member of the T&T squad.

In the starting lineup...

Dwight Yorke and Aston Villa travel to London to face Chelsea. Clint Marcelle will be looking for his first goal of the season when Barnsley face Blackburn Rovers. You can hear all the action by going to Stadium at 9:30 am on Saturday morning. Over in Scotland Anthony Rougier has this weekend off. Marvin Andrews will be looking for his first start when Raith Rovers face Airdie at home. In Portugal it will be a mini Trini derby when Russell Latapy of Boavista faces his compatriot in Leonson Lewis from Chaves.

Have something to say about Coach St. Clair and his plans? Leave a message on the board.

Next update Monday.
---
Monday March 1st, 1998
Howdy folks,
Welcome to the new look TTFOL. It is designed to make the site more attractive and more responsive to your needs. This will be a work in process. Coming in the next months: A new players database. (Currently waiting for the new rosters in the USA to come out). Russell Latapy's Corner Kick will be back next month. There will be new columnist coming to TTFOL soon. I will keep you up to date with the changes. A new change will be the news section. There will be an entire month's worth of news and all the news will be archived for one year. Also there will be a new message board where you will be able to leave a comment for others to respond to. On the front page you will find a vertical scroll news applet. That is designed to past on the latest news. If a bit of news comes up I will update the applet. Complete news will be updated as usual on Monday and Thursday. It is my wish that you will further enjoy the site.

Nahkid and John sign new contracts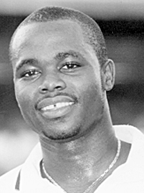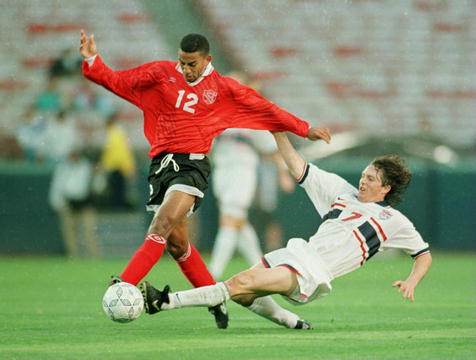 John(L) and Nahkid (R) joining the MLS

National team captain David Nahkid has finally signed with the New England Revolution. This comes as no surprise as Nahkid impressed the club management with his play in the last two weeks. He played well as a defensive midfielder and help set up two goals for the Revolution during pre season play. The 33 year old has played with professional teams in Belgium and Switzerland. Nahkid was supposed to go to Qatar but chose to go after new deals in the U.S. Nahkid joins fellow compatriot Evans Wise at the Boston based club.

Stern John's signing with the Columbus Crew was never in question. Even though PSV Edinhoven was interested in him, John's dream of playing on the USA was realized when he signed on the dotted line late last week. John scored Columbus' only goals in pre season action last month. The Crew was looking for someone to partner U.S national striker Brian McBride up front. John fit that position perfectly.

With Nahkid and John joining there clubs they become the fourth and fifth Trinidad and Tobago players in the MLS. With the exception of US players, of the current crop of Concacaf players playing in the MLS, T&T players make up 31 percent.

Marcelle and Barnsley off the bottom.

Clint Marcelle has finally made it off the bottom of the English Premier league table. They did so with a 2-1 win over Wimbleton on Saturday. Barnsley were building on there F.A Cup win over Manchester United earlier in the week. By all accounts Marcelle had a great game. Barnsley were on the attack from the opening whistle. Rapid passing between Marcelle and teammate Nicky Eaden ripped apart the Wimbleton defense and a sharp past to Norwegian Fjortoft opened the scoring for the Oakwell boys. Marcelle had a foot in the second goal when he he provided pressure on the Wimbleton goalie, who lost possession and provided a easy tap in for Fjortoft's second goal of the day. The win moves Barnsley off the bottom of the table but still keeps them in the relegation zone. Two more wins and some draws will have them out of danger.

Yorke gets his first start after injury.

Dwight Yorke got the message from his new manager. "Stop whining or else!" was the threat from Gregory Taylor late last week. Having that in mind Yorke was activated from the injury list on Saturday. Aston Villa completed there second win in the last seven games with a 2-1 victory over Liverpool. Yorke must have been happy with the new 3-5-3 formation as he played his heart out. Yorke provided the equalizer when his shot deflected off a Liverpool defender to Stan Collymore who shot just inside the post. The go ahead goal was scored when Yorke sent Ian Taylor through whose shot rebounded off the upright straight to Collymore who banged the ball into an open net. Yorke had a chance to score when a mistake by a defender let Yorke run onto a ball but American goalie Brad Friedel (former teammate of Ansil Elcock at Columbus) made a save with his legs. The win keeps Villa out of relegation danger.

Misery continues for Rougier

Wanted, one football fan to put a Scottish team out of misery. Must have own ammunition. Anthony Rougier and Hibernian continue to suffer, They lost 0-1 to Celtic, a team that Rougier had a chance to playing for. The lost keeps Hibernian at the bottom of the Scottish premier league table. Hibs had there moments in the game but found it hard to break down the Celtic defense. Hibernian will just continue to play out the rest of the season.

In the shooting range...

If there is anyone that need a good bush bath to get rid of bad luck it has to be Marvin Andrews. His long awaited start was postponed when the ground he was supposed to be playing on was deemed unsafe. The game will be made up in the near future. This is just a string of incidents that has plagued Andrews since signing with the Fife based club. Over in Portugal, Leonson Lewis suffered an injury after 39 minutes in Chaves' game with Guimaras. That must have come at a fortunate time because Chaves lost big time 1-5.

Have something to say? Leave a comment on the message board.

Next update: Thursday

Where do you want to go to next?