Russell's Corner
---
Howdy folks,

Welcome to the first ever Russell's Corner. This is Russell Latapy's corner on the web. He is without a doubt Trinidad and Tobago's top player in Europe. Every month TTFOL will bring you his views on the game of football and life.

Special thanks to Wayne Manderville in T&T for all his help. Without his tireless help this would not happen.

Q. This is a question on the mind of many T&T football fans around the world: What happened to Trinidad and Tobago in last years World Cup Qualifiers?

A. I am of the view that the team lacked the required cohesion to perform at the required level in order to be successful at World Cup qualifying games. By cohesion I mean we needed to spend more time as a unit, so we could better relate and understand each other as team mates, while capitalizing on each other's stregths. In addition we also experienced a transition from one coaching concept or philosophy with the change in coaches and coaching styles. We also needed to set realistic goals and objectives as a team and individuals, while bringing a total professional attitude both on and off the field.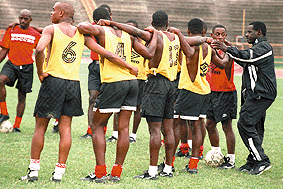 Latapy..With the T&T World Cup team last year.

Q. Do you believe that the problems we suffered in the World Cup qualifiers will ever be solved?

A. Certainly, I see those problems being solved by Coach St. Claire. He is knowledgeable and very methodical and professional in his approach. He also has the ability to motivate the players so that we work as a unit and achieve the objectives outlined.
Q. What about the feud between you and TTFA head Oliver Camps?

A. There has never been a feud between Oliver Camps and myself, as a matter of fact I hold Oliver Camps in very high regard as a person and as a man who is dedicated to Trinidad and Tobago football. Camps brings to the table energy and commitment to his job, this is my experience with him. He has done a lot for football and he has more to offer in the future.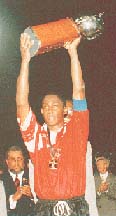 Q. Will we see you in the Gold Cup in February?

A. I am committed to play for the Trinidad and Tobago in the Gold Cup. I want to represent Trinidad and Tobago once I continue to play at a competitive level and feel that I can make a a significant contribution.

Q. Trinidad and Tobago plays Honduras and Mexico in the Gold Cup. How do you think we will perform in the tournament?

A. Honduras, Mexico along with Brazil are just some of the better teams in the Gold Cup, these are very disciplined teams and are extremely well coached. I believed our coach St. Claire will implement an approach and strategies given the players at his disposal so that we can be competitive and give a good account of ourselves.

Next month: More on the Trinidad and Tobago team and his European season and career.

Where do you want to go to next?