June News
May News
---
Friday June 24th, 1999
Jack plans for T&T.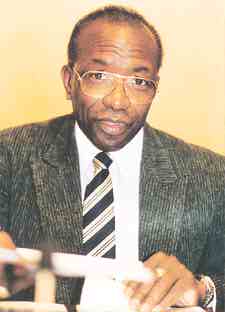 Warner...taking the show on the road.
Coming soon to a stadium near you, the Trinidad and Tobago senior team. Trinidad and Tobago will play Colombia and El Salvador on September 4th and 8th at Giant's stadium in East Rutherford, New Jersey. This was part of the plan outlined by Fifa Vice President Jack Warner in order for T&T to qualify for the World Cup in 2002. In addition to that the senior team will play up to 12 international games per year until qualification for the World Cup.
Warner made the remarks at a brunch to celebrate the national team's success in the recent Cope Caribe. During the presentation a check for US$80,000 for winning the tournament. The players were also presented with their match fees and bonuses ranging from $18,000 to $25,000.
Warner budgeted TT$25 million over the three years for Trinidad and Tobago's world cup campaign. He stated: "We are no longer going begging cap in hand to corporate T&T. We have had enough." He along with Clico, BWIA, Errea Sportsware and Select Sports formed a partnership that will contribute $15 million with the rest coming from the Government. All the teams expenses will be managed by FCOTT.
Along with the sponsorship package, Warner called for:
i) A rent free, fully furnished house for the national coach.
ii) Reduction of the rental fee of the Hasley Crawford stadium.
iii) The lease of the Petrotrin ground and facilities for the team's training.
The call for sponsors was also echoed by Prime Minister Basdeo Panday. He stated that: "We often lament the fact that our corporate citizens, in the main, to reserve their backing for teams and individuals who have already 'made it.' That's a great pity."
Camps or money walks.
Talk about the kick in the teeth that everyone was expecting. Warner said that the TTFF president must stay. This was in response to comments made by former national captain David Nahkid, who late last week called for the president to quit.
The Fifa vice president stated that as long as Camps was the president, he will continue to place his resources behind him.
"I shall put all my resources in local football under your presidency. Nothing has changed since I said so four years ago and nothing will," Warner declared.
Yorke commits for 2002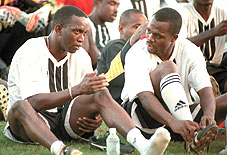 Yorke and Stern...deadly duo will see action soon.
Dwight Yorke has gone on record to state that he is there for T&T when they kick off there 2002 qualifying next year.
Yorke back in Trinidad for a brief rest stated this at a reception held for the national senior team at the prime minister's residence in St. Anns. Yorke stated: "My commitment to the national team has always been the same...I've always said before, if I'm called up and the situation is right for both parties, then I'm always available."
Yorke will most likely play for T&T in the Gold Cup and World Cup qualifiers next year. The technical team is looking forward to unleashing the strike force of Stern John and Dwight Yorke. Fans can't wait.
St. Clair gets support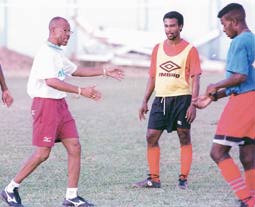 St. Clair...a few good men in his pocket.
Former Brazil national coach Carlos Alberto Parreira has thrown his support behind national team head coach Bertile St. Clair.
This message was revealed to St. Clair by national's men head coach Jamal Shabazz. Shabazz told the Trinidad Express: "Parreira truly believes that Bertile can take us to the World Cup... (Parreira) has seen St. Clair in action before and the two of them had also exchanged ideas on the game and Parreira had come to respect Bertille's capabilities as a coach."
The two coaches have butted heads before when Trinidad and Tobago made World Cup qualifiers Saudi Arabia lead by Parreira, struggle to a 2-1 win last year in France.
National team manager Richard Braithwaite also echoed those sentiments. He said the coach who lead Brazil to the 1994 World Cup, was very impressed with that performance, the teams skill and St. Claire's tactics.
St. Clair has also received the endorsement of Manchester United's boss Alex Ferguson after a month long stint at Old Tradford last year.
---
Monday June 21st, 1999
Nahkid lets fly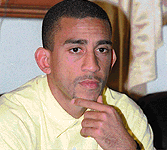 Nahkid...tells it like it is.

Give David Nahkid a broom he is ready to clean house. Former national captain has come out all with his broom squarely aimed at TTFF head Oliver "where is my free trip" Camps.

Nahkid stated that in order for T&T to move ahead Oliver "I really don't have strings attached to me, honest" Camps must be removed as president. Nahkid said that Camps has failed to make arrangements to take T&T into the next century.

Speaking to the Trinidad Express, Nahkid stated: "The only thing which Camps has proven himself to be is a total failure, His track record up to now has been one of only incompetence. I am prepared, with the help of the public who I feel from all accounts have already decided that they have had enough of local administrators, to take this as far as it will go."

Nahkid said that in order for T&T to qualify the entire administration needs to be completely overhaul. He continued: "Imagine only 4,000 people turned up to see a Copa final with the national team involved...people are staying away from the football for a reason. They have a perception that the administration is poor and until such time as this problem is solved they will not come out... bringing Dwight (Yorke) may work once or twice by filling up the Stadium", he asked "what will happen when Dwight is playing and the crowds don't come out?"

"Everybody is tiptoeing around," he continued, "not wanting to mash anybody's toes. Nobody wants
to ask serious questions about things anymore. But I intend to ask these questions from now until I
die."

Nahkid made comments directed towards those above the administration stating: "We have too much nepotism, too much conflict of interest in football. All these things we need to take a serious look at."

Nahkid stated that there were several areas that needed to taken care off. They include treatment of players, the necessity of adequate facilities and the the federation's alienation from the national team (more on that later).

With regard to finance he let his feelings be known load and clear: "I think people don't have trust and confidence in the current administration...once that is the case it's going to be extremely hard to gain sponsorship."

"Sponsors are staying way from football," he continued, citing no authority for his claims, "because
they believe that the same people have been running the football throughout the years and are merely
being recycled. So these guys should go and let the sponsors see some new people who they can
trust."

Finally he stated his strong belief in current head coach Bertile St. Clair. "St Clair has shown he's the man. I was happy for the Copa win because it keeps the vultures away from Bertille for now...he'll now have some more time to do the things he needs because I'm still convinced he's the man for the job."

However, he still has some concern with regard to Bertile: "I believe they (TTFF) want to fire him without having to be bound by anything. I know they would love to fire St Clair but if you ask the public now who they would prefer, Camps or Bertille, who do you think will survive?"

Nahkid is correct in the isolation that is felt between the local team and administration. Two years ago when T&T was preparing for the Gold Cup in California several players were injured or playing hurt. One former member of the national team took his money and time to take players to get MRI's at the Eric Williams Medical center. Later he remarked: "Imagine we are are just a few weeks away from the Gold Cup and not one member from the administration has even called or visited the players." From all indication things have not changed.

Strange but true, there is also stress between certain members in the organizing committee of the World Under 17 tournament in 2001 and the administration. There are times when the relationship seems icy and at times vicous. You would think otherwise for such a important tournament. There was a great deal of disappointment in the rehiring of Camps last August. Just when it looked like a palace coup was going to take place and Camps seemed to be on his last legs, it turned out to be the same old song and dance.

Finally I have included a article that appeared three months after our failure to reach the World Cup. I ask you have we progressed from that point?
---







Friday June 18th, 1999

T&T wins Cope

Trinidad and Tobago walked away with there seventh championship on Sunday. A goal in the 119th minute sealed a 2-1 victory over Cuba in front of a disappointing crowd of 4,500.

The win gives T&T a place in next years Gold Cup. Also, the Calypso Boys regain the cup they lost to Jamaica last year and continue there winning streak at seven games. You can view the results by going to game and schedule information.

Rougier angry at organizers


Rougier...bad job by organizers.

National team captain Tony Rougier has slammed the organizers of this year's tournament. He made those comments during the celebrations with his team mates after the game on Sunday. "It was horrible. I thought it was absolutely dismal and I feel this way especially as I'm a countryman," Rougier told the Trinidad Guardian.

"We are asking countries to come from abroad and play here and I expected it to be a really big occasion. Probably things were not organized well but still you can't wait until the teams arrive to get things in order," he said. "Things such as T&T coming out in blue socks (against Haiti in the semi-finals), lights going out at the stadium, Haiti unable to get a dressing room. I mean it was absolute crazy and we've got to sort things out soon, If we want to remain leaders in the Caribbean and become so in the world to some extent, then major improvement is required," he said.

"We are without a doubt the leading football nation in the Caribbean but we've got to teach the smaller islands the right way and the way we staged this tournament was a bad example. We've got everything but we just have to do things the right way from here on," Rougier added.





Trinidad and Tobago to play more games.

Finally God has heard the prayers of many T&T football fans. The Calypso boys are not going to sit on there hands like previous years. The senior team will play Colombia in September, Costa Rica in October and embark on a Central American tour in December.

Both Dwight Yorke and Shaka Hislop have indicated that they will be available for next year's Gold Cup. The tournament will take place in Miami, San Diego and Los Angeles from February 12th-27th.

Dwight Yorke signed a sponsorship deal with Nike this week that will see him receive £5,000 for every goal he scores next season.

In the shooting range...

Stern John started for Columbus last night versus New England. The Crew defeated the Revolution 2-1 via a shutout.

Some of you may be wondering what is wrong with John. Why is he not scoring like last year. My opinion is that there are two reasons for this. First John has found himself marked more tightly than last year. Secondly, John is not happy with the Crew. Remember two years ago when he started his professional career with the Carolina Dynamo of the A-League? A unhappy John could not find the back of the net then a trade to New Orleans brought out the Stern John of old. In other words, a happy John gets you the goals you want.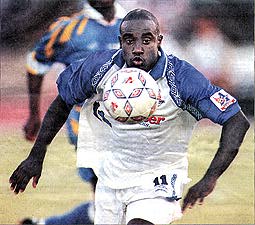 Trotman...time to change strategies.

It was only a matter a time before Mickey Trotman found himself out of a job in the MLS. The Miami Fusion released Trotman after the player was released by Dallas earlier this year.

Trotman is the victim of marketing than playing ability. It would be much easier for Trotman to change his name to Miguel Torrez and take up Costa Rican citizenship in order to maintain a job in the MLS. However, all is not lost for Trotman there are two MLS teams interested in his services, which goes to prove that all that matters is how you play the game.

Nixon finishes strong.


Nixon..what a way to finish.

Jerren Nixon and FC Zurich concluded a strong season in the Swiss first division with a 3-1 win over St. Gallen. Nixon scored in the 18th and 54th minute. The win by Zurich placed them squarely in fourth place with 42 points four points out of first placed Servette FC and Grasshoppers.