June News

May news
---
Monday June 28th, 1998
Dwarika offered contract with Al Ansar
Dwarika...headed to Lebanon but...

Arnold Dwarika has been offered a contract with Al-Ansar in Lebanon. Dwarika will join Peter Prosper and Wesley Webb next season. However, the deal is being held up on what else? Money. According to CANA, local club Joe Public wants US$100,000 TT$ 630,000 in order to release him. According to Al-Ansar that transfer fee is too high. The deal will allow Joe Public to recover 31 percent of there TT$ 2,000,000 budget.

Should Dwarika join Al-Ansar it will be his second stint overseas. He has played in Scotland for East Fife in the second division.

In the shooting range....

In MLS action, Mickey Trotman and Brian Haynes of Dallas got the better of David Nahkid and New England on Saturday. Dallas battled back from 2-0 and 3-1 deficits to win the game in a shoot out. Trotman started and set up a goal in the 44th minute to make the score 3-2. The game was tied at the end of regulation play and progressed to a shoot-out. Brian Haynes scored in the period and Dallas emerged the victors.

In A-league action, Terry St. Louis and Toronto's trip to the West Coast was not a happy one. They lost 2-1 versus Vancouver and 1-0 versus Seattle. In the battle of T&T defenders, Craig Demmin and Rochester beat Shawn Boney and Connecticut 2-1 in a shoot-out win. Shawn then lost to Montreal 2-1. The misery continues for Raleigh and Marvin Raeburn. The lost to Hampton Roads 4-0.
The Trini Crew at New Orleans got back into the winning ways when they defeated Milwaukee 2-0. Finally, hell is just a little colder today. Craig Demmin and Rochester were undefeated in the A-league until Sunday. The lost 2-1 in a shoot-out to Long Island.
---
Thursday June 25th, 1998
Hislop joins West Ham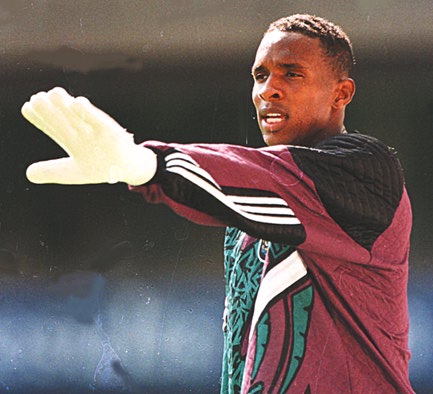 Hislop...waving good-bye to Newcastle.

Shaka Hislop's days at Newcastle United are over. He will join West Ham United on a free transfer. However, he may have to fight Canadian Craig Forrest for the number one spot. Hislop, the former St. Mary's College goalkeeper moved to the Hammers for £3.5 million double the value he received from Newcastle for a transfer from Reading.

Hislop's move was expected since he did not agree to a contract extension during last season with manager Kevin Daglish. When he did not sign he was immediately dropped to number two (in more ways than one).

Details of his contract were unavailable however, I am working on getting the most important detail of his contract available. Many T&T fans want to know if he will be available to play for T&T. His last contract with Newcastle stated that he was to play for England only, giving up his status as a T&T player. However, should there be a restriction placed on him, he has Fifa case law on his side. Robbie Earle's contract with Wimbleton stated that he could only play for England. However, thanks to Jack Warner and the player's committee that section of his contract was found to be in fault and he now represents Jamaica.

In the shooting range...

Jack Warner came back to his hotel room in Paris on Tuesday to discover that it had been broken into by thieves. The bandits stole US$35,000 worth of cash and jewelry belonging to Jack's wife....Prior to the World Cup a major Argentina sports magazine listed Deon Burton of Jamaica as the Ronaldo of the Caribbean. Just something to snicker about, I guess they have never seen Dwight or Jerren or Stern in action.

In the starting lineup...

In the MLS, Brian Haynes and Mickey Trotman face David Nahkid and New England.

In the A-League it will be the battle of the defenders when Shawn Boney of Connecticut takes Craig Demmin of Rochester on Thursday. Shawn then faces Staten Island on Friday and Montreal on Sunday. Craig Demmin and Rochester face Long Island on Sunday. Terry St. Louis and Toronto heads to the West Coast this weekend. The face Vancouver on Friday and Seattle on Sunday. The Trini Crew at Raleigh faces Hampton Roads on Friday. Finally, all-star Gary Glasgow and his strike partner Lester Felician will face Milwaukee.
---
Monday June 22nd, 1998

Ramdhan does the job.

Ramesh Ramdhan restored some common sense to the game with his handling of Japan and Croatia on Saturday. Ramdhan's performance on Saturday morning was a good one. He controlled the game and apart from some diving on the part of Croatia had a easy time. Ramdhan is almost certain to see action in the later rounds of the World Cup.

John scores again.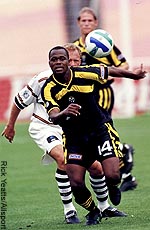 John...in second place.

Stern John continued to show why he should be the rookie of the year in the MLS. John moved to second place in MLS goal scoring by scoring his ninth goal of the season. He is now within three goals of taking the lead. John's goal tied the score at 1-1 in the 29th minute when he beat two New York defenders to rifle the ball into the back of the net. Columbus went on to win the game 2-1 to move into second place in the MLS East division. Also playing a key role was his cousin Ansil Elcock.

In other MLS action, both Brian Haynes and Mickey Trotman started for Dallas in their encounter with Tampa Bay. However, they were unable to prevent the Burn from falling 1-0 to the Mutiny.

A-League action.

The slump continues for Marvin Raeburn and the Raleigh Flyers. They lost both encounters this weekend, first to Jacksonville 3-2 and to Terry St. Louis and Toronto 2-0 on Sunday. Wendell Regis and Hershey lost to the US Pro-40 team 3-2. Craig Demmin and Rochester defeated Terry St. Louis and Toronto 2-1. Shawn Boney and Connecticut defeated Albuquerque 1-0 in a shoot out. Lester Felician and the Trini Crew at New Orleans lost to Nashville 2-1. Finally Craig Demmin and Rochester defeated California 5-0 on Sunday.
---
Thursday June 18th, 1998
Ramdhan to referee this weekend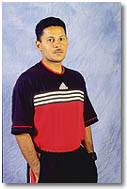 Ramdhan...big weekend ahead

While referees in Trinidad and Tobago are under pressure they can take relief that one of their own will be taking charge on the World stage. Ramesh Ramdhan will referee the Group H match between Croatia and Japan on Sunday. This is the first time that a Caribbean referee will take charge of a World Cup game. Ramdhan is no stranger to big games. He has been in charge of the Gold Cup final in 1996 and his biggest game to date has been the Mexico-Jamaica match at Azteca Stadium in Mexico City during last year's World Cup qualifiers. Joining him will be Merere Gonzales also from Trinidad. He will be on the sidelines. This was supposed to be a big game for the region with the third referee's assistant being Owen Powell of Jamaica. However, due to a Japanese protest Powell was forced to do another game.

Waiting for the WC to end.
Nahkid...On hold till July 12th.

David Nahkid has put his pending move to Tottenham Hotspurs on hold. Nahkid, speaking to the Trinidad Express stated that he will wait till the end of the World Cup and the MLS All Star game to decide on a move to England. Nahkid said "I have decided to put everything on hold...at least until the end of the World Cup. For one thing," he added, "the clubs interested would have settled on their teams and it will also give me a chance to play in both the All Star game and the Shell Cup (July 22-31) before deciding on whether I will take the option to move on."

Evans Wise, Nahkid's New England teammate is not so certain about his future. New England placed Wise on waivers to make room for a new signing. When he clears waivers the Revolution can either release him outright making him a free agent or keep him in the league player pool.

Another player waiting till the end of the World Cup is Russell Latapy. Latapy, currently in France with his Mastercard duties, has talked to teams in England about a transfer from current club Boavista. Teams believed to be in the hunt include Leeds United and Arsenal at a transfer fee that has been quoted around £ 7,000,000. His current club Boavista are not going to let Latapy go without a fight. They are prepared to match any sum that he receives from the clubs in England.

In the starting lineup...

Stern John and Columbus take on New York on Saturday. Brain Haynes and Dallas take on Tampa Bay. In A-league action Avery John and Raleigh take on Jacksonville on Friday and Terry St. Louis Toronto on Sunday. On Friday Terry St. Louis and Toronto take on Craig Demmin and Rochester. Rochester then take on California at home on Sunday. Shawn Boney and Connecticut take on Albuquerque on Saturday. Finally the Trini Crew at New Orleans will play Nashville on Saturday.

---
Monday June 15th, 1998
Sorry for the non update on Thursday.
John scores in Columbus lost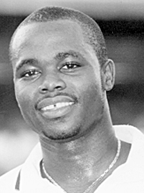 John...scores number eight

Stern John scored his eight goal of the season on Sunday but that was not enough to help the Columbus Crew fall 4-3 to DC United. John scored in the 29th minute to send the Crew up 2-1. However, DC came back to even the game at 3-3 in the 67th minute. The game remained level at the end of regualation play and progressed to a shoot-out to decide the winner. John's attempt in the shoot-out period was saved and DC prevailed to move to the top of the MLS East division.

In other MLS action, David Nahkid and New England fell to Chicago 3-1. Nahkid started but came off in the 54th minute.

A-League report.

This weekend we start off with Toronto and Terry St. Louis. St. Louis and Toronto beat Shawn Boney and Conneticuit 2-0.

Conneticuit lost to Long Island 1-0

Over in New Orleans Lester Felician and the Trini Crew defeated Cincinnati 4-0 on Friday and then went on to defeat San Francisco 4-3 in a shoot-out. Lester Felician had a great game. Felician scored a goal, assisted on another goal and scored the deciding goal in the shoot-out to move New Orleans up the table.

Marvin Raeburn and Raliegh continue to slump. They lost 3-1 to Milwaukee and 5-2 to Minnesota.

Craig Demmin and Rochester continue their winning ways when they defeated Montreal 1-0.

---

Monday June 8th, 1998

Ramdhan to officiate WC game.

While T&T bowed out of the World Cup a long time ago, it's influence will still be felt on the World Cup stage. Ramesh Ramdhan is going to officiate the game between Japan and Croatia on the 20th of June. Helping him in that game will be Gonzalez also of Trinidad and Powel of Jamaica. Before that game Gonzalez will be the linesman in the France-South Africa game on the 12th. The next day Ramdhan will be the fourth official in the Holland-Belgium match. This provides the opportunity for Caribbean referee's to shine on the World stage. Ramdhan has officiated several international games including the Gold Cup final and World Cup qualifiers.

Trotman scores in Dallas win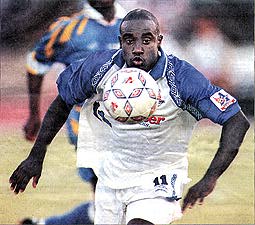 Trotman...first of the season

Mickey Trotman came off the bench in the 84th minute and scored four minutes later to break a 3-3 deadlock for Dallas in their game with DC United. It was Trotman's first goal of the season with Dallas. His goal came off a rebounded shot by fellow T&T national Brian Haynes. Despite the goal, Dallas gave up the lead just seconds later when their own defender lofted a pass over their goalie to push the game into a shoot out to decide the winner. In the end Dallas emerged as 5-4 winners.

The Dallas burn were coming off a 8-1 beating by Los Angeles. Both T&T players were in action with Trotman coming on in the 53rd minute and Haynes in the 65th.

This weekend was a bad one for T&T players in the MLS. Stern John could not get into the scoring books when he and Columbus lost to Chicago 2-0. David Nahkid and New England lost to Los Angeles 5-1.

A-League report....

The Trini crew at Raleigh lost to Charleston 4-1. Criag Demmin and Rochester continued their winning ways when they beat Long Island 2-1. On Saturday they beat Staten Island 1-0 to remain undefeated for this season. Shawn Boney and Connecticut beat Jacksonville 2-1 in a shoot-out. Finally, in Toronto Terry St. Louis and Toronto lost to Long Island 3-0 at home.

What to do......

For the next month my phone will off the hook and the convince store downstairs will be out of Pringles and dip. Unless if you have been in a coma or living in the cave you know the World Cup will begin on Wednesday. The news does not stop for T&T football, I will still keep updating the page with the news on T&T football every Monday and Thursday. Trinidad and Tobago Football Online will provide links to Live coverage of the World Cup. You can see all 64 games via Univision here on the internet. Go to The Stadium for more details for the Univision link via KMEX in Los Angeles.

TTFO will be undergoing a major site overhaul. I will be working on all the pages from the back pages to the front page. The new look site will be up and running when the World Cup is over.

Now I am on my way to Sears to by a new television.

---
Thursday June 4th, 1998
Johns wins again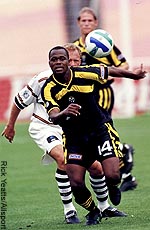 John...add another to the trophy case.

National striker Stern John, has won his second MLS player of the week award this year. John won the award due to his hatrick last weekend versus San Jose. It was his first game back from a separated elbow injury he suffered three weeks ago.

John won the award last month also on a hatrick performance this time versus Miami. Those were his first three goals of the season. John is third in the league in goal scoring with seven just one goal behind for second place.

If John should continue scoring, he will be strong canidate for rookie of the year. Last season he was the A-League rookie they year. Despite his scoring and twice winning player of the week, John's name is still absent from the MLS All-Star ballots to pick the World team. I guess John is like Roger Dangerfield of the MLS; he gets no respect at all.

High price deters Manchester United

John Gregory's wish of keeping Dwight Yorke at Aston Villa seems to be coming through. Case in point is the slapping of a £15 million transfer fee on Yorke. Manchester United is in hot pursuit of Yorke but the fee is serving as a deterrent to the former champions.

According to press reports Yorke is unhappy with the high fee. However, Villa has come up with a package that they hope will satisfy Dwight. Apart from a pay raise from £7,000 a week to £21,000 a week, Villa management is handing Yorke a £5.5 million signing bonus for his signature on a contract extension. Yorke's current contract concludes at the end of next season.

New York trip pays dividends

Call it the Big Apple's charm but T&T players are reaping the benefit's of last weekend's game with Jamaica. According to published reports, European scouts were impressed by the play of goalie Clayton Ince and forward Jerren Nixon.

Clayton Ince had a good game stopping various shots from the Jamaican forwards. Nixon also had a good game with some good runs and setup the wining goal in the 65th minute.

Ince has already gathered interest from European clubs. The cousin of English captain Paul Ince, Clayton had a stint with Wrexham but failed to secure a contract because of work permit restrictions. He has since moved on to another team.

Nixon already at FC Zurich, has raised several eyebrows across Europe. Since his move from Dundee United in Scotland to Zurich, he has attracted interest from Southampton and Derby County in the English Premiership and Watford in the second division.

Another person gathering interest is national team captain David Nahkid. Nahkid currently at New England in the MLS, is already subject to transfer talks with Tottenham Hotspurs in the English top flight and has raised the interest of Watford in the English second division.

In the starting lineup...

Brian Haynes and Mickey Trotman of Dallas will take on Los Angeles on Thursday and DC United on Sunday. Stern John will be looking to add more goals to the scoring sheets when he along with his cousin Ancil Elcock and the Columbus Crew take on Chicago. You can hear hear the game via Broadcast.com at 8:00pm on Saturday. On Sunday David Nahkid and Evans Wise of New England will take on Los Angeles.

In the A-League, Avery John and the Trini crew at Raleigh will be looking to get back to there winning ways when they face Charleston. Craig Demmin and Rochester are at home this weekend. On Friday they face Long Island and on Sunday they face Staten Island. Wendell Regis and Hershey face Staten Island on Friday. On Sunday, Shawn Boney and Connecticut will face Jacksonville. Finally in Toronto, Terry St. Louis face Long Island at home.
---
Monday June 1st, 1998
Yorke puts two past Jamaica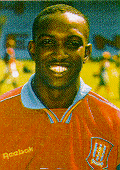 Yorke...scoring the winner.

Call it I will see you next time, Dwight Yorke came out firing on all cylinders on Sunday afternoon. Yorke scored two goals for the Caribbean All Star team to beat World Cup qualifiers Jamaica 2-1. Jamaica dominated the opening minutes of the game. They went ahead in the 35th minute on a Frank Sinclair goal. The Jamaicans however ran into the brick wall of young T&T goalie Clayton Ince and the defense anchored by Sherwyn Jullien. Dwight Yorke and the Caribbean All-Stars came out with more purpose in the second half. Yorke scord in the 60th minute on a header. Three minutes later Yorke took advantage of some poor defensive work on the parts of the Jamaicans to put the All-Stars up for good.
Mulitmedia: Hear all the action via Broadcast.com & Radio Jamaica

Stern John scores hatrick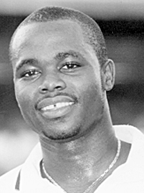 Stern...Welcome back!
Stern John returned after a three week absense to record his second hatrick of the season. John, who was out with a dislocated elbow, scored all his goals in the second half for Columbus in there 4-1 win over San Jose. John's first goal came in the 62nd minute when he one timed a pass from teammate Jeff Cunnigham, into the far post netting. That proved to be the game winner after both teams went into the dressing room tied 1-1 at the half. John's second goal came ten minutes later when he was on the end of a 30 yard pass that split the Clash defense. John once again one-timed the shot past the hapless San Jose goalie who grabed nothing but air as the ball whizzed past him. Stern's third goal came when he found himself open on a throw in. He chested the ball down and once again beat the San Jose goal keeper with a right footed rocket.
Multimedia: Stern John's post game comments in Real Audio (Couresty: Columbus Crew)

In the USA....
Starting in the MLS, Evans Wise came on in the 53rd minute in New England's game with New York. Most of the action the game happened in the second half as New York went ahead in the 69th minute and New England tied it up with just six minutes from time. The game then progressed to a shot out to decide who would win the matchup. Evans Wise scored but that could not help New England as they lost 3-2 in the shoot out.
Brian Haynes and Dallas completed a convincing 2-0 win over Miami. Haynes started for Dallas and came off in the 78th minute.
In A-league action, on Saturday Wendell Regis and Hershey defeated Avery John and the Trini crew at Raliegh 4-2. Head coach Alvin Corneal said: "We're just not playing with enough desire, We have to develop a killer instinct. We have to start progressing. We get these chances to score, and we do not follow through." On Sunday Raliegh lost again to Staten Island 3-0.
In Toronto Terry St. Louis and the Lynx completed there third win in a row by beating the US-Pro 40 2-1. St. Louis contributed to the opening goal when Terry put pressure on the Pro-Select defender who lofted the ball towards the goalie. The goalie chested the ball down which fell nicely to a Toronto foward who slotted in the ball.

In the battle of the defenders, Craig Demmin and the Rochester Rhinos toped Shawn Boney and Conneticuit 1-0 in overtime. Last week Demmin was named to the A-league team of the week.
Gary Glasgow, Lester Felician and the rest of the Trini crew at New Orleans lost to Minnesota 3-1.
What do you think of Yorke's game. Leave a message.