July News
June News
---
Wednesday July 14th, 1999
John snubbed again

Is it really time for Stern John and others to leave the US for good? John and other Caribbean players are finally getting the message. You can be exceptional in what ever you do, the MLS is not aiming at a expanded Caribbean market.

John, last year's top scorer and last week's MLS player of the week has found himself once again in the cold when it comes to being picked for the MLS All Star game.

John considered to be one of the best forwards in the United States and Ancil Elcock one of the best defenders were left off the ballots and can only get a reprieve if they are picked as reserves.

Last week the MLS allowed fans to post questions to Stern John. Here are his answers.

Ince on trials in UK.

National team goalie and Caribbean goalie of the year, Clayton Ince is on his way to England for trials. According to reports Ince is headed to English premiership club Chelsea.

Ince's resume is very impressive. He represented Trinidad and Tobago in the 1991 World Youth championship. He has been voted best Caribbean goalie for the last three years in a row. Two years ago he was supposed to join Wrexham in the English Second division. However, due to work permit restrictions he was unable to join the team.

Chelsea may be his first choice but recently there has been a backlash against the amount of foreign players at the London based club. Keep your fingers crossed.

PanAm team selected

Trinidad and Tobago has selected it's team for the PanAm games to be held in Winnipeg later this month.

Included in the team is three US-based players in Richard Goddard, Brent Rahim and Neil Lewis. The star of the team is expected to be former St. Johns University stand-out Brent Sancho. Sancho recently signed a contract with Tervarit FC in Finland.

National under-22 squad: Nigel Pierre, Travis Mulraine, Justin Latapy, Kerwyn Jemmot (Joe Public), Derek King, Anthony Marshall, Atiba Charles (W Connection), Hector Sam, Joseph Peters (CL Financial San Juan Jabloteh), Brent Sancho (Tervarit FC), Marlon Rojas (Police), Jason Scotland, Errol McFarlane jnr, Carlos Edwards, Anton Pierre (Defence Force), Richard Goddard, Brent Rahim, Neil Lewis (US-based).


Bertille St Clair (head coach), George Joseph (technical administrator), James Balfour (assistant coach), Wayne Lawson (trainer), Noel Bovell (equipment manager).
---

John powers Columbus to win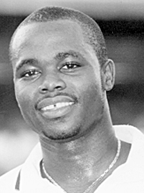 John...keeping it late

Stern John waited till late in Columbus' encounter with San Jose. John shocked the Clash when he ran onto the ball in the penalty area, then chipped it out of the reach of Clash goalkeeper Joe Cannon with three seconds remaining.

It was John's cousin and national teammate Ansil Elcock that first put Columbus on the board. That goal was in the 37th minute. With the Crew down 2-1 in the 79th minute John scored the tying goal. However, the Clash bounced back four minutes later to take a one goal lead. It was then left to John to force a shoot-out with a goal three seconds from time.

In the extra time session John and teammate Warzycha scored while San Jose could only manage one goal and Columbus won the game 2-1.

New CFU women's tournament

While the Women's World Cup is still in progress, the Caribbean Football Union is already making plans for the future, launching a new women's competition for senior national teams in the year 2000. The preliminary rounds will commence February 1st and will conclude by May 31st. The final competition is set to take place in June.

The CFU will also initiate a new boys U-15 competition which will begin in November of this year concluding in by the end of January 2000. - Courtesy Concacaf Signals