July News
June News
---
Friday July 31st, 1998

T&T vs Jamaica preview.

Trinidad and Tobago meet Jamaica in the Shell/Umbro finals in Port of Spain today. This is the final that everyone has dreamed of since Jamaica qualified for the World Cup. Jamaica has once the cup once, while T&T has won the tournament six times including four times in a row.

Here is how the two teams stack up:

Goalkeeper

No one can deny that Arron Lawerence has arrived. For years he waited in the wings for Warren Barrett to step aside and he has now steped into the shoes of the captain. Lawrence is one of the best goalkeepers in the region and should make the strikers fustrated with his ability.

On the T&T end, there is no Shaka Hislop in goal but Clayton Ince. What Ince lacks in experiance he makes up in heart and agility. Needs some more full internationals from becoming a truly great goalkeeper.

Edge: Lawrence via experiance.

Defence:

Jamaica-The back four for Jamaica is solid. They have not given up more than one goal a game in this tournament. Goodinson and Wilson are showing the experiance gained by playing in the World Cup.

T&T- This is one of the major weak links in the T&T team. The defense has not steped up and done the job that they should have reling on the abilty of Clayton Ince bail them out for there mistakes.

Edge-Jamaica

Midfield

Jamaica- Whitmore is the man in midfield. WIth his pace and skill is obviously the man to watch on this Jamaican team. He has a good complement of experianced players around him.

T&T- David Nahkid and Clint Marcelle are the ones to watch in the midfield. Nahkid with his consistent abilty to get the pass through and Marcelle with his pace to run at defenders create a good combination.

Edge- Even

Forwards

Jamaica-Onadi Lowe and Walter Boyd are two front runners that make long days and nights for defenses. Boyd is skillful and has grown as a player in the last year.

T&T- Stern John and Irasto Knights are the two front men for T&T. John is the tournament's leading scorer and a serious threat to anyone. Knights is one to two years from becoming a world class player.

Edge-Even

You can hear the game live tonight via Radiojamaica. The game starts 5:30pm EST at Broadcast.com.

Enjoy the game.

---
Thursday July 30th, 1998
T&T to meet Jamaica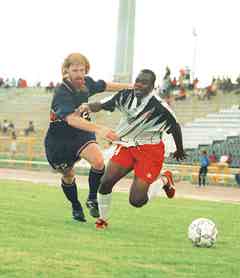 John... in the running for MVP of tournament.
Well it is finally here, the final that we waited for months. World Cup qualfiers Jamaica will face Shell cup champions in Port of Spain on Friday night. T&T got to the final via a 4-1 win over Haiti. Jamaica needed extra time to defeat Antigua to progress.
Come back on Friday for a special Shell/Umbro final edition.
Latapy to move to Villa.

Latapy...moving to Aston Villa.
Well folks here it is, the match made in heaven I told you about a couple weeks back. Russell Latapy is expected to sign a new contract with Aston Villa within the next couple of weeks, this according to his business manager.
Here is how Russell came to Aston Villa. After watching the World Cup final in France and the conclusion of his Mastercard duties he travelled back to Portugal on the Monday and then to England on later that week. He has been training at the Birmingham based club ever since.
Last year he was the interest of Aston Villa who wanted to sign him for £6,000,000. However, Boavista rejected the offer and kept him for one more year. This year Boavista lost out on the rights to retain Latapy and he is currently available on a free transfer. The fee for Latapy's signing is undisclosured.
Yorke...will he stay or will he go?
The question now is Dwight Yorke. Yorke is being targeted by Manchester United and the next 48 hours will tell if he will remain with Aston Villa. Manchester United manager Alex Fergusion, has placed a £8 million initial bid for Yorke. However, that was rejected by John Gregory the Villa manager who stated that he wanted a higher fee and striker Andy Cole in exchange for Yorke. The both teams have until Saturday to agree to a transfer in order for Yorke to play in Champions League action this season.
---
Sorry for the non-update yesterday. My hard drive is failing and I an in the process of replacing it. I will have the problem fixed by the end of the week. Please pardon the shortness of the reports.
Tuesday July 28th, 1998
T&T move to semi's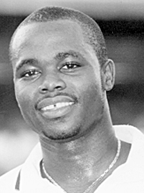 Sten...mvp performance.
Trinidad and Tobago have moved on to the finals in the Shell/Umbro tournament. They did so with a convincing 8-0 win over Dominica on Sunday night. They will face Haiti on Wednesday night in Port of Spain. Jamaica will face Antigua on Wednesday in Port of Spain as well.
Stern John scored four goals, Irasto Knights two and captain David Nahkid two in the romp over Dominica. Despite the win the T&T defense still showed that they need alot of work. Go to games for reports.
A more detailed update will be made on Thursday. Once again I am sorry for the short update.
---
Thursday July 23rd, 1998
T&T prepare for Shell/Umbro.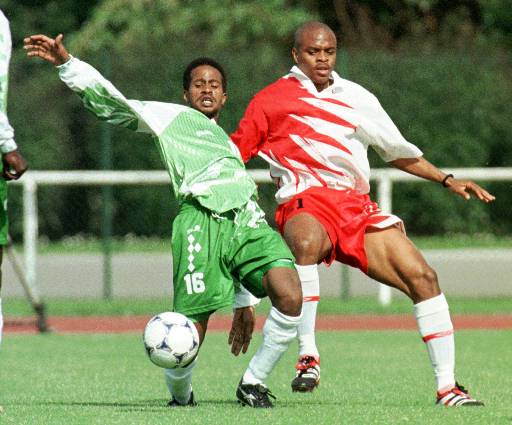 Nixon...out of tournament.
Trinidad and Tobago open there defense of the Shell/Umbro tournament with Antigua at the Hasley Crawford stadium. However, they enter this tournament ranked as underdogs to World Cup qualifiers Jamaica. Like last year this tournament will once again pit a rebuilding, inexperience squad against there Caribbean rivals.
Having that in mind several foreign based players have come in to help T&T lift the trophy for the fifth time in a row and seventh overall. David Nahkid (New England) will lead the national team, he will have as supporting cast: forward Stern John and defender Ancil Elcock (Columbus Crew), Clint Marcelle (Barnsley, England), Tony Rougier (Hibernian), Marvin Andrews (Raith Rovers) and Sheldon Thomas (South China). T&T will be without Dwight Yorke who vowed never to play for T&T during the Shell/Umbro cup and Russell Latapy who is currently involved in an impasse with TTFA President Oliver Camps.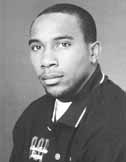 Thomas...joins the squad.
Sheldon Thomas steps in for Jerren Nixon who asked to be excused due to club commitments. He impressed head coach Bertile St. Clair in the team practice. Thomas, a 23 year old midfielder/striker, was a NCAA All Star at Call State-Fullerton in 1996. He was drafted by the Orange County Zodiac in the A-league last year, but chose to ply his trade in Hong Kong with South China in the Chinese first division.
Bertile St. Clair in keeping with his tradition of rebuilding has called up several young players. He called up goalkeeper Richard Goddard, Kerwyn "Hardest" Jemmott and defender Keyeno Thomas all of whom are 19 years old. Also entering the squad is under 21 Joseph Peters and under 23's Lyndon Andrews and standout striker Irasto Knights. Completing the rest of the squad is Shurland
David, Dale Saunders, Rodney Dennis and Sherwyn Julien.
The foreign based players have had little time to prepare for the tournament. Most of them came home last weekend and captain David Nahkid arriving on Monday. However, Nahkid stated that the team's involvement in the Gold Cup in February gives the team a "big advantage."
John...looking for a good performance.
Trinidad and Tobago will open with Antigua, they move on to tougher competition in Martinique who have always played them tough on Friday night and finish the first round with Dominica on Sunday.
Flash: T&T 3 vs Dominica 2 details later, Jamaica 4 vs Cayman Islands 0 Go to results for scores
Jamaica coming strong.
Boyd...leader of the pack.

You have to be suffering from brain damage if you don't think that Jamaica is not favorites to win the Shell/Umbro cup this year. They are coming off a creditable performance at the World Cup and full of fight to become regional champions.

In the squad will be Walter Boyd and Onandi Lowe as the main strike force. Veteran Peter Cargil, Thedore Whitmore and recent Bolton Wanderers signing Ricardo Gardner is expected to run the midfield. The back line for Jamaica is solid with Ian Goodison, Christopher Dawes and Fabian Davis. Who goes between the pipes is going to be interesting. Jamaica has an embarrassment of riches in veteran Warren Barrett or Lawrence. Jamaica is without seven of there English born players but head coach Carl Brown speaking to the Jamaica Gleaner stated that even though the players will be missed the local contingent will do well.

Jamaica open the tournament with the Cayman Islands, The World Cup has only served to provide experience for this tournament.

What we will be doing...

Check back here on later today for game reports and the latest scores. The little Java applet on the left normally reserved for domestic scores will be the new tournament sports ticker. The games will be played on Friday and Sunday and the site will be updated as soon as the results become available. Also sign up for the mailing list, I will send out an e-mail as soon as the scores become available.
---
Monday 20th July, 1998

T&T qualify for CAC games.

After a woeful performance versus Guyana late last week. Trinidad and Tobago bounced back to record a 1-0 win over the Netherland Antilles on Sunday. With the win they move onto the CAC games scheduled for Maracaibo, Venezuela next month.

The goal was scored by Lesile Fitzpatrick in the 90th minute after several scoring chances that went begging. With the starting forwards ineffective, Bertile St. Clair replaced them with Fitzpatrick and Burris to add some offense. Fitzpatrick scored on a free kick from national standout Kerwyn Jemmott.

Mickey scores in Dallas lost.

Mickey Trotman scored his second goal of the season in a loosing cause for Dallas. Mickey scored in the 32nd minute on a Chad Deering chip over the New England defense that found him in front of a open net. That goal ended 288 minutes of scoreless play for the Burn. However, three second half goals sealed the win for the visitors. Both Brian Haynes and David Nahkid started for there respective teams. The win for New England was only there second in the last thirteen games.

In other action, Stern John, Ancil Elcock and Columbus lost to New York 3-0.

In the A-League....

This was a weekend of goals. Gary Glasgow three goals in two games this weekend. He scored the only goal in New Orlean's 2-1 lost to Hampton Roads late last week. However, New Orleans bounced back with a two goal performance by Gary which included a driving header in the 74th minute that won the game for the Storm over Richmond.

Wendell Regis scored for Hershey and Anthony Dhanoolal scored for Raleigh but Hershey won the game 3-2 over the hapless Flyers. The Flyers went on to loose this weekend 2-1 to Atlanta.

Terry St. Louis and Toronto defeated Craig Demmin and Rochester 2-1.
---
Thursday July 16th, 1998
Yorke staying put
Yorke.."I will start the season at Villa."

Dwight Yorke will start the English Premiership season with Aston Villa. Yorke had been linked to a £15 million transfer to Manchester United. Yorke speaking to Reuters said: "Unless I'm told otherwise, I expect to start the season as a Villa player. Anything other than that is out of my control."

Yorke is due to have talks with Villa management to sign a new five year contract that will keep him at the Birmingham based club until 2003. It has reported that Yorke will get a salary boost from £7,000 a week to £30,000 a week.

Yorke, who will resume pre season training on Wednesday added: "I will have a talk with the manager. But I have heard nothing about a new Villa contract. I have to weigh up everything very carefully, but the fact remains that I have two years left on my contract, so I am here to play for Villa for that time if they want me."

Lewis signs with Amadora

While Russell Latapy is set to leave Portugal, Leonson Lewis is staying put. Lewis signed a new two year contract with first division club E.Amadora. Details of the contract were not disclosed. Last season Lewis played for Chaves.

Lewis and Justin Latapy are now the only two Trinidad and Tobago players in Portugal. Lewis goes to a team that finished seventh in the Portuguese first division last season.

T&T drop in rankings.

Click above for rankings.

Trinidad and Tobago has fallen in the latest Fifa world rankings. They have dropped 11 places to 59th place in the world. This is due to the shaking up in the higher levels caused by the World Cup. Trinidad and Tobago are ranked fifth in Concacaf behind Mexico(12th), USA(19th), Jamaica(29th) and Costa Rica(51st).

In the starting lineup...

In the MLS, Mickey Trotman, Brian Haynes and Dallas face David Nahkid and New England. Evans Wise and Tampa Bay face San Jose on the road. On Sunday, Stern John, Ancil Elcock and Columbus face Nashville in US Cup action. You can see the game by clicking on KMEX in the Stadium at 3:00pm.

And finally...

There is a major surprise coming to T&T football fans in the next week. Lets just say it's a match made in heaven. That's all I can say for now.
---
Monday July 13th, 1998
Latapy out of Portugal

Latapy...not going back to Boavista

Russell Latapy is not going back to Boavista. This was confirmed by his manager in Trinidad who stated that Boavista had lost the right to retain the services of the former national captain. The teams were not disclosed but according to his manager Latapy will be playing in European competition next season. They are expected to be announced later this week. Russell is returning to Portugal today after concluding his Mastercard duties at the World Cup.

Speculation is that he may move to an English club, however clubs from France, Portugal and Spain have shown interest in him. One English club said to be in the running is Leeds United. Russell will move on a free transfer with a asking fee in the region of £6,000,000.

National team in need of financial help.

National team manager Richard Braithwaite is asking financial assistance for the national teams. Braithwaite made his request for corporate sponsors in a Trinidad Express interview last week.

"We have four major tournaments coming up and that is a very expensive venture. Unfortunately, the
corporate bodies just haven't been giving us the kind of support we expected." Braithwaite stated that after making a call for sponsors several months ago only two have answered the call. Carib breweries have made there facilities available at Champ Fleurs as well as providing refreshments at the daily training sessions. Petrotrin is providing transportation for south based players as well as facilities for a live-in camps for the team. He also said that Fifa vice president Jack Warner has donated money towards a Under-20 tour of England.

He continued by stating that the three cannot support the national team alone. "The youth teams in particular are where our future lies. These are going to be the players for the 2002 World Cup and you can't start supporting that effort in 2001, you have to start now."

Due to lack of funds preparation for the Shell/Umbro tournament had to be scaled back. They have been unable to call upon any foreign based players and it seems unlikely that those players will be called up unless sponsors could be found.

Under 20s suffer tough lost.

The national under 20 team suffered a 4-1 beating at the hands of there fellow counterparts of the USA. Playing on a sloppy field at the Centre of Excellence T&T opened the score on a strike by Brent Sancho of St. John's University in the 63rd minute. However the US came storming back with four goals inside of eleven minutes. As usual poor defense proved to be the down fall for T&T. The two teams were scheduled to meet on Sunday. The national youth team will then travel to England for a tour on Monday.

The national youth team is preparing for two tournaments. They are schedule to play in the CAC qualifiers and the World Youth championship Concacaf qualifiers next month.

Trinidad & Tobago -- Gotter, Thomas, McDonald, Sancho, Jemott, Gordon, Peters, McFarlene, Pierre,Fitzpatrick, Toussaint.

John scores again.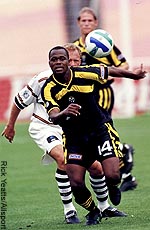 John...keeps scoring.

Stern John made his case for rookie of the year again on Friday when he scored his tenth goal of the season for Columbus. John's score was the opening goal in a 3-0 win over Chicago. John has scored ten goals in fourteen appearances. Only El Salvador's Raul Diaz Arce at one goal every 1.3 games and US international Cobi Jones at one goal every 1.1 games have a better scoring clip than John. The win help propel Columbus to 9-8 for the season.

In other MLS action, Mickey Trotman, Brian Haynes and Dallas lost to Kansas City 2-0.

David Nahkid may only be marking time at New England since transfer rumors have him headed to Tottenham in England. He and New England lost to Colorado 2-1.

In the A-league, after starting for the A-League all stars last week Gary Glasgow came out firing on all cylinders on Saturday. He scored two goals in his first game back in a New Orlean's uniform. Also having a good game was Lester Felician who recorded three assist in the 4-0 beating of California. It was Glasgow's ninth and tenth goals of the season. New Orleans was coming off a 3-2 come from behind win over Barry Swift and the US Pro-40 team.

Barry and his team lost again 3-2 this time to Jacksonville.

Terry St. Louis and Toronto defeated Shawn Boney and Connecticut 1-0. Connecticut then went on to lose to Atlanta 2-1.

Craig Demmin and Rochester defeated Atlanta 4-0.

Finally, Marvin Raeburn and Raleigh continue there slide. They lost there 11th game in a row by dropping a 2-0 decision to Richmond.

---
Thursday July 9th, 1998
On the move again.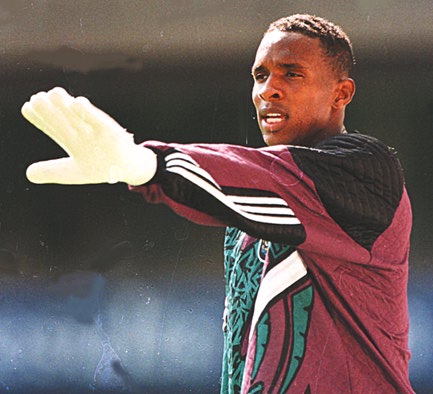 Hislop on the move.

Shaka Hislop has finally signed a new deal with West Ham in the English Premiership. It completes a few transfer move worth £3.5 million. Hislop didn't renew his contract with Newcastle when his contract with them expired on June 30th. The likelihood of Hislop resigning with Newcastle was slim to nil since his falling out with manager Kenny Daglish late last season.

Hislop has to battle Canadian goalkeeper Craig Forrest for the starting job. Hislop stated: "Competition makes for a tremendous working atmosphere. I had to battle with Pavel Srnicek and Shay Given at Newcastle and I know that Stephen is one of the pool of goalkeeping talent. I asked for no guarantees about a first team place and wasn't given any. That's exactly how it should be and Les has pointed out how good they are.''

He went on to say that he is putting his England ambitions out of his mind and concentrating on club football.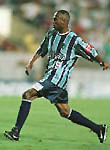 Wise back in Florida

Evans Wise has returned to his original club of Tampa Bay after being placed on waivers by New England. Wise was placed on waivers by New England to make room for a new signing.

"We felt we couldn't pass up the opportunity to bring Evans back," said Sakiewicz (manager). "He was an extremely popular player when he was here and we feel he'll add an element of excitement to our team. We're happy he's again part of our family."

Wise is one of the original two Trinidad and Tobago players in the MLS. The other being Brian Haynes at Dallas.

In the starting lineup...

Most of the world's attention will be focused on the World Cup final between Brazil and France. I was really pulling for the Netherlands this year. You can see the third place game and the final starting at 3:00pm EST on KMEX in the Stadium.

---
Monday July 6th, 1998
Sorry for the non update on Thursday. I was in the process of changing the look of the site and could not make the deadline on Thursday. I have updated the players section with some new additions. I will update it further at the end of the World Cup. Also, I hope to have Alvin and Russell back at the end of the month as both of them are in the going through the World Cup paces. Thank you for your patience-Marc'98
Trotman: "I want to play!"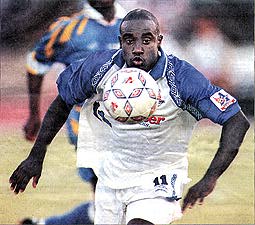 Trotman...wants to play for national team.
Mickey Trotman wants to play for the national senior team. Speaking to TTFOL Trotman said that he will like an oppurtunity to play for the senior "strike squad" having only played for them at the youth level. Trotman stated: "Together with Stern, myself and Jerren we can get ready for 2002."
He commented on his season being mixed so far. However, he credits fellow national Brian Haynes as being a big help to his transition.
The Dallas Burn forward last represented T&T in the Olympic qualifiers in Edmonton. Trotman was unable to train due to injury with the national team last December for the Gold Cup tournament. Trotman was supposed to make his debut for the senior team last month in St. Kitts but was not released by his club in time for the mini tournament.
Last year Trotman worked well with Stern John at New Orleans. There partnership up front contributed to the majority of the then Gambler's offense. Due to last year's performance Trotman was courted by European scouts for possible moves to teams in Norway and Switzerland.
Joe Public to represent Caribbean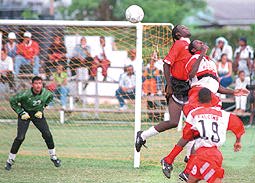 Joe Public in action. (Photo:Trinidad Express)

Local club Joe Public will represent the Caribbean in the Concacaf Champions Cup. They are expected to play MLS champs DC United in quarterfinal action on August 11th in Washington DC. They are following on the heals of United Petrotrin who lost to DC United 1-0 last year. Joe Public were invited to the tournament because the Caribbean Club Championship, which is supposed to decide who went to the tournament, will be held in November.

Joe Public is easily the biggest club in Trinidad and Tobago. The club is owned by Fifa Vice President Jack Warner. It is reported that the Tunapuna based club has an operating budget of TT$2,000,000 or US$318,000. They boast of several national players and a trio of Mexican players. They have been active in the transfer market acquiring former national midfielder Arnold Dwarika last year from East Fife.

Under 20's to face USA

The national under 20 team will face their US rivals in a two match set this week. They will face the USA on the July 10th and 12th in Port of Spain. This will be preparation for the Concacaf Under 20 tournament scheduled for Trinidad in August.

The national team coached by Peter Granville has been under camp since September of last year. The Concacaf tournament is going to be very difficult. They are in the same group with Canada, Costa Rica and the USA. The top two teams will advance to next year's World Championship scheduled for Nigeria. Trinidad and Tobago has already qualified for a World Championship back in Portugal in 1991.

In the MLS

We start off in Dallas where Brian Haynes scored his third goal of the season in a loosing cause for the Burn. Dallas lost to Chicago 4-1. Mickey Trotman also started but could not help. In the return match with Chicago at home they lost again but to the much more respectable score line of 1-0.

Stern John, Ansil Elcock and the Columbus Crew lost to San Jose 2-1 in a shoot out. The lost sends the Crew to 8-8 on the season. John assisted on Columbus' only goal of the game.

David Nahkid and New England bounced back from a 1-0 lost to Kansas City late last week to defeat Tampa Bay 3-2.

In the A-league, Lester Felician and New Orleans defeated Milwaukee 2-1.

It was not a happy Canada day weekend for Terry St. Louis and Toronto. They traveled to Montreal for the battle of Canadian teams on Canada day and got beaten 6-0. They then headed south across the border and were defeated again this time to Staten Island 2-1.

It was a mixed weekend for Shawn Boney and Connecticut. They defeated Worester 4-3 in a shoot-out win. They traveled to Montreal and were once again they were involved in a shoot-out. However, this time they lost 3-2.

Craig Demmin and Rochester beat Western Mass. 3-1.

Finally, help is desperately needed for Marvin Raeburn and Raleigh. They lost to Hampton Roads 1-0 on Thursday and again to fellow Trini Barry Swift and the US-Pro 40 team 2-0.