January News
December News
---
Monday January 24th, 1999

Trinidad and Tobago finish week 1-2

The Trinidad and Tobago senior and under 23 teams finished a week of international games with a win and two close loses. First the senior team travelled to north Africa to play 1998 World Cup qualifiers Morocco. They lost a close encounter 1-0. At home the Olympic team split a two game series with Denmark. On Wednesday T&T lost 1-0. However, on Friday they returned the favor also by a 1-0 score.




T&T forwards aim to get it right

by Shaun Fuentes

Danish coach Flemming Serritslev believes that once this country's under 23 strikers can brush up on their finishing touches on goal, they can defeat his team in the second of two friendly matches at the Concacaf Centre of Excellence, Macoya from 6 pm today.

Serritslev expressed this feeling after the Danes inflicted a 1-0 defeat on the local ladson Wednesday.

The Europeans move on to face Jamaica in their next outing and are hopeful for a good showing but are bracing themselves for a better performance from T&T who are coming off 7-0 and 1-0 defeats to Brazil and the visitors.

"My players were very exhausted coming down to the end of the match. But I am very sure the next game (Friday) will be very difficult for us. The win is a very good result for us because I think Trinidad has a very good team. The players are skilful and fast and there is no doubt that they had more possession than we did. But perhaps we had more chances to score.

"The Trinidad and Tobago team is lacking proper goal-shooting. They had a lot of looks at our goal but they were not hitting the shots. And when they did they either went high or wide . If they can improve on their shooting, I am sure they will be a very difficult team to beat" said Serritslev.

Local coach Bertille St Clair will be at the helm of today's team again after missing Wednesday's match. He and the man in charge last match Jamaal Shabaaz, will be hoping that the return of strikers Hector Sam and Nigel Pierre add some stability to the T&T forward line.

After falling behind to Daniel Jensen's 2nd minute header on Wednesday, the local side struggled to mount any worthwhile attacks on goal before the half-time break.

The use of three over aged players in striker Gary Glasgow, Lyndon Andrews and Stokely Mason hardly helped their chances. Defence Force striker Jason Scotland could have done better with a couple second half chances.

Finnish based defender Brent Sancho was solid for the locals but guilty of slipping too often and was lucky to escape on each occasion. Shabaaz pushed regular defender Keyeno Thomas into the midfield and introduced regular under 23 members Adrian Narine and Joseph Peters after the break.

Almost immediately there was a different approach. The Danes defence was pressured in latter half of the second period. Peters saw his left foot effort drift wide of the mark in the 75th minute. Six minutes later, Carlos Edwards' right side cross whistled across the six yard box before Peters met the partial clearance to force goalkeeper Jacob Kragh to save to his right.

Afterwards Shabaaz said that the reason for having the guest players was because of the little knowledge of the visitors. "After travelling such long distance, the least we owed them was a decent match"

He felt the local players deserved credit for a their efforts but added that there's still much work to be done before T&T go into the semi final round of the 2000 Sydney Olympic qualifying round here in March against Canada, Netherlands Antilles and Guatemala.

"We played with an appreciative level of intensity but Sydney is a very, very long away from T&T" said Shabaaz. .

Trinidad seeks compromise over Yorke's call-up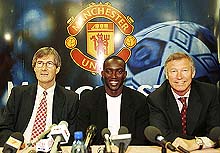 Yorke... man in the middle.


LONDON - Trinidad and Tobago is hoping it can reach agreement with Manchester United over the inclusion of international striker Dwight Yorke in its squad for matches in America next month.

The former Aston Villa forward will miss the Premiership games against Coventry and Newcastle if Old Trafford bosses cannot persuade the Caribbean nation to leave Yorke out of the squad.

National team boss Richard Braithwaite said: "We hope we can reach a compromise with United." Meanwhile, United's home game against Middlesbrough will go ahead on Saturday January 29, the day set aside for the FA Cup fifth round.

The fixture had to be called off on January 3 as United travelled to Brazil for the FIFA World Club Championship.

T&T Under-23 seek revenge against Denmark


By Shaun Fuentes

Trinidad and Tobago's Under-23 footballers will be going all out to make up for their 7-0 whipping from Brazil last week when they face the visiting Denmark Olympic team in a warm-up match at the Centre of Excellence, Macoya, from 6 pm today.

A second match will be played between the two teams on Friday at the same venue and starting time.

Captain Travis Mulraine's team are weakened by the absence of Hector Sam, Nigel Pierre, Brent Rahim and Derek King who arrive home today from Morocco.

But new coach Jamaal Shabaaz, in charge of the team because of Bertille St Clair's presence with the senior team is optimistic of a good showing against the Europeans.

St Clair was obviously disappointed with the beating from Brazil but said it would only help improve the local side for today's match and others to follow.

"As any team does before a match they always hope to get a good result. I thought we played well under the circumstances and the final result is not really a true indication of the level of play from our boys. Too see them match up against those top players was really something.

"It was definitely a learning experience for the guys and my desire is that we can have that same team play us at home within the next four months. "But we have to understand that tackling in the Caribbean or any part of the world is completely different to tackling in South America.

We found that out and Alex Ferguson of Manchester United also found that out (during World Club Championship)" St Clair said, referring to the early sending off of defender Derek King and two penalty calls against the locals.

Denmark coach Flemming Serritslev admitted yesterday that he knows little about T&T.

"But I am sure these two matches here will be very important ahead of the qualifying tournament. We expect to play against players that are fast and skilful and we hope to have very good and fair match," said Serritslev.

Some of the key players on the Danish side include midfielder Kasper Bogelund who plays for Dutch side PSV Eindhoven, Daniel Jensen of SC Heerenveen and Peter Foldgast of English team Brondby.

The local side, currently preparing for the semi-final round of qualifying tournament for the 2000 Sydney Olympics, will have the services of Gary Glasgow, Vibe CT 105 W Connection midfielder Lyndon Andrews and Joe Public's Stokely Mason as guest players today and will be hoping to get good services from Finnish based defender Brent Sancho, Carlos Edwards, Kerwyn Jemmot and Jason Scotland.

Jack vows to help Jabloteh build home for PFL matches

by Shaun Fuentes

FIFA vice-president Jack Warner has pledged to assist CL Financial San Juan Jabloteh construct a new sports complex for their Professional Football League engagements.

Warner revealed this at the club's prize giving function in the VIP Lounge of the Hasely Crawford Stadium, Mucurapo yesterday. Among the highlights of the ceremony was the naming of national striker Hector Sam as 1999 "Player of the Year."

Sam is currently in Morocco with the Trinidad and Tobago team and is on the verge of signing with English Second Division side Wrexham.

Jabloteh completed the inaugural Professional League with the PFL Cup, and were runners-up in the Mt D'or Champions League. They also finished fourth in the league competition.

Featured as a last minute speaker after arriving home from Brazil on Saturday, Warner praised Jabloteh chairman Jerry Hospedales and his management team for their efforts in sports, particularly football, and culture in their 26 years of existence.

Warner also disclosed plans by the T&T federation to concentrate more on the development of the national Under-20 league rather than the introduction of a semi-professional competition.

He also dismissed suggestions of an increase in the PFL first prize from $500,000 to $1,000,000.

Hoping that the club will get involved in the Women"s Football League, Warner said: "Jabloteh's vision, Jabloteh's structure, Jabloteh's drive is needed to serve as a catalyst for the other clubs to follow.

"Many of times I would look at Jabloteh and call Jerry (Hospedales) and say I wish I had your organisation. We (Joe Public) have the resources and some people say the money. But believe me we don't have the organisation, we don't the commitment, we don't have the dedication. And no amount of money that you have could be a substitute for that," said Warner.

Warner also felt that the introduction of Englishman Peter Miller as marketing manager of Jabloteh would only improve the club. He added that efforts will be made to obtain land in the San Juan/Barataria area for the construction of a playing venue for Jabloteh who used the Hasely Crawford Stadium for their home matches last season.

Hospedales mentioned in his speech that the club is currently addressing the establishment of a facility in the Santa Cruz Valley.He added that the San Juan Jabloteh Sports Limited made a successful offer for sale of 49 percent of their issued share capital to 59 individuals.

The other 51 percent was taken up by the San Juan Sports and Cultural organisation. Another offer of shares will be made later this year he said.

The Jabloteh women's netball team was also recognised for winning five trophies in the Arima Queen's Netball League and are also participating in the Port-of-Spain League.

Special Awards

PFL team
Most Goals (31) - Hector Sam
Most Improved and Disciplined - Stephan David
Four Players of 1999 - Hector Sam, Dale Saunders, Don Morris, Rolston James
Player of 1999- Hector Sam

Youth Teams

Under-13 Players of 1999 - Hayden James, Jesse Romain, Lester Bruce, Cleavon Noel
Under 15 - Anthony Noel, Kellon Francis, Rennie Brito, Dwight Lewis, Kurleigh Charles.
Under17 - Nicholas Jaggessar, Sterling O'Brien, Fitzgerald Millington.
Under 20 - Keston Lemmessy, Wendell Isaac, Joel Reyes, Stephan David, Michael Lee Celestine.




---
Monday January 16th, 2000

Trinidad and Tobago looses heavy to Brazil.

The Trinidad and Tobago Olympic team suffered a heavy 7-0 lost to the Brazilian Olympic team in a warm up game. T&T will face the Denmark Under 23 team on Wednesday and Friday.

Nahkid returns versus Morocco.

By IRVING WARD Trinidad Express
FORMER Trinidad and Tobago skipper David Nakhid is set to make his return to international duty next Tuesday.
Nakhid, who retired from international duty last May only to change his mind late last year, will get the chance to wear the red, white and black once again against African giants Morocco in a friendly international in Casablanca.
Coach Bertille St Clair yesterday named Nakhid on an 18-man squad which also included a few surprises. The biggest was the inclusion of Scotland-based professional Russell Latapy who, according to T&T General Manager Richard Braithwaite, asked to be considered after convincing Hibernian management to release him for the game.
It was the second time in less than a week that Hibs boss Alex McLeish has had a change of heart concerning the release of his star midfielder. He had also allowed the 31-year-old midfielder to play last Saturday against Canada despite originally indicating he would not.
"Russell was very keen to play against Morocco," Braithwaite told the Express. "And I also have to admit that I've been very impressed with Russell's attitude since he has returned to the national team. He has shown a maturity and commitment that is very refreshing and he will be a tremendous asset to the team."
Last year Latapy played only in one match, the game against Jamaica. The Little Magician will join the squad in England on Sunday after returning to Scotland with Hibs, who play their final game of a T&T tour today, tomorrow.
"We are very pleased that he (Latapy) was willing to make the sacrifice to join us in Morocco," Braithwaite said, praising the "high level of enthusiasm for the national team".
It is that same "enthusiasm", he added, which has brought Nakhid out of retirement."There is a strong feeling that the pool of players that we have right now is one of the best in many years and I think that every player will want to be part of that," he explained. "And David has indicated that he's willing to commit himself to the national team again if we need him."


Cox...making debut
St Clair also recalled England-based midfielder Ronnie Maugé (Bristol Rovers), who made his T&T debut against Canada, and gave a first call to defender Ian Cox of Bournemouth. Both players were born in England of Trinidad and Tobago parents. Two other players who had good games against the Canadians-newly capped United States-based Brent Rahim and Germany-based Evans Wise-are also selected.
The locally-based members of the squad will leave here tomorrow evening bound for England where they will link up with the players based in Britain.
SQUAD: Shaka Hislop, Clayton Ince, Ian Cox, Anthony Rougier, Shurland David, Derek King, Ansil Elcock, Brent Rahim, Angus Eve, Evans Wise, Russell Latapy, David Nakhid, Ronnie Mauge, Jerren Nixon, Mickey Trotman, Arnold Dwarika, Hector Sam.
Miller in talks with Jabloteh
By Shaun Fuentes
Englishman Peter Miller is currently negotiating a move to CL Financial San Juan Jabloteh Football Club.
Word is that a final decision to him joining the Professional League Cup champions will be made at a meeting of the club directors sometime next week.
Reliable sources have informed that Miller has linked well with the Jabloteh management and there is a very strong possibility that he will be with them prior to the start of the 2000 PFL season in late March.
Miller was sacked as commercial and marketing manager by Vibe CT 105 W Connection at the end of the inaugural PFL season last November in what club management said was a decision based strictly on business.
Meanwhile, another Jabloteh member, striker Hector Sam is close to tying up a deal with English Second Division side Wrexham.
He returned home from trial there along with Defence Force duo Carlos Edwards and goalkeeper Ross Russell last week.
Wrexham officials are currently negotiating deals with Jabloteh and the Army for both players.
The 23-year-old Sam felt that the 19-day trial would benefit him in the future even if a deal is not signed.
"I never went on any sort of trial before so this was a great experience for me. "We trained for 19 days and I even scored the winner in a practice match against Bolton Wanderers. We got a positive feedback so most likely we will be recalled" said Sam.

Both he and Edwards are currently in Brazil with the local under-23 side to take on Brazil's Olympic team tomorrow (Wednesday) night.
Russell also impressed Wrexham officials who felt he had all the makings of a goalkeeper in the English Leagues.
One of the Wrexham goalkeepers is expected to go on loan to Bury to make way for the former national custodian.
First Division teams, Port Vale, of which T&T captain Anthony Rougier is a member of and Ipswich Town are also impressed with Russell and will attempt to get his signature if he does not go back to
Wrexham.

---

Monday January 10th, 2000
TTFOL is back for another year. This edition covers from December 18th to January 10th.

Trinidad and Tobago tie Canada 0-0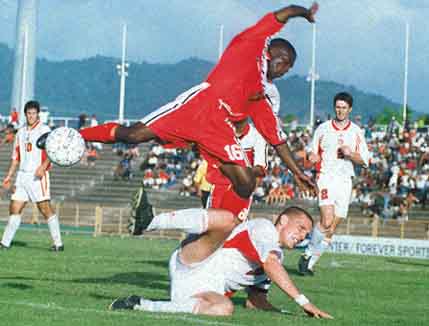 Stokely Mason goes airborne versus Canadian defender
Trinidad and Tobago opened it's 2000 account with a tame 0-0 draw versus Canada in the Port of Spain. Trinidad and Tobago will now travell to North Africa to face Morocco on the 18th. They will then face Costa Rica on the 26th before heading to the Gold Cup.
Stern not interested in playing for T&T


John wants to stay at Forrest

Courtesy Trinidad Guardian

Trinidad and Tobago striker Stern John has reportedly said in England that his main commitment presently lies with Nottingham Forest instead of the national team.

John was ruled out of yesterday's match against Canada because Forest were taking part in a FA Cup Third Round replay against Oxford United. Stern did not score but Forest won 3-1 and will meet Chelsea next.

Known to be one of the more committed players to T&T in recent times, John told the Nottingham Evening Post last week that he would prefer staying at Forest to help lift them up the standings even when the Gold Cup comes around next month.

Forest have some three games during that period. "We need everyone available at Forest to get us up the table. I'd rather stay with my team-mates right now. Forest is now my club and it's my job for the next two and a half years to score as many goals as I can for them," John said. "That's what I want to do and why David Platt brought me here. And it is more important that Trinidad do better in the World Cup than in this tournament (Gold Cup).

But there is nothing I can do. Under Fifa's regulations, I have to go with Trinidad," he said.T&T's opening match is against Mexico on February 15. The tournament is due to end 12 days later.
John is hopeful he can return to the City Ground early. "If Trinidad lose the first game then I might be able to come back then because you have to win your group to go through to the next round," he added.

TT's Olympians vs. Brazil Samba test for Olympic boys

Trinidad and Tobago's Under-23 football team leaves this morning hopeful of a good showing against Brazil's Olympic team in a friendly encounter in Sao Paulo next Wednesday.


Following an invitation by the Brazilian Confederation, coach Bertille St Clair and captain Travis Mulraine sees the match as perfect outing ahead of the semi-final round of this year's Sydney Olympics qualifying tournament to be played here in March.

St Clair selected a squad of 20 players for the trip on Friday. Finnish based defender Brent Sancho, Joe Public striker Nigel Pierre, Kerwyn "Hardest" Jemmot and Defence Force midfielder Carlos Edwards will want to combine well against the Brazilians.

Both Edwards and CL Financial San Juan Jabloteh striker Hector Sam are just back from England from trials at Second Division side Wrexham and are close to signing contracts.

Derek King, Atiba Charles and Keyeno Thomas also aim to prevent any kind of disaster at the back. American based midfielder Brent Rahim and debutant Zane O'Brien get an opportunity to impress.

"Playing against Brazil is a big experience and the players now have to learn to cope with that type of competition because we could end up meeting them later down the road. "Nobody cares about second place so regardless of the opponent you have to give your best," said St Clair.

Mulraine felt that his teammates should be in good form following the recent Professional League season here.

T&T squad: Kelvin Jack, Ryan Edwards, Brent Sancho, David Atiba Charles,Marlon Rojas, Keyeno Thomas, Derk King, Andre Cooper, Travis Mulraine, Kerwyn Jemmot, Brent Rahim, Anton Pierre, Carlos Edwards, Nigel Pierre, Hector Sam, Jason Scotland, Ayo Greene, Zane O'Brien, Daryl Gomes, Justin Latapy.

Rio inspires T&T £12.6m striker
Yorke: Best is yet to come

TRINIDAD and Tobago's England-based professional Dwight Yorke is poised to celebrate the turn of new millennium in fine style.

The 28-year-old Manchester United striker, now in his second season at Old Trafford, has not exactly been firing on all cylinders so far this season.

However with United currently in Brazil for the World Club Championships Yorke, who revealed he was an avid fan of that country's players since he was a little boy, feels the energy being generated there will help him lift his game significantly.

Speaking to reporters recently about his efforts so far this season for the Red Devils, Yorke admitted it was a far cry from his Cinderella debut during the 1998/99 campaign.

'Hey, I am only human. I make mistakes like anyone else," he explained.

"I am not going to use this as an excuse either, but the second season was inevitably going to be more difficult. I accept my form has been a little bit up and down, but I have been working extremely hard on my game."

He fired home 29 goals in leading United to a treble of titles including the Premiership, FA and European Champions League after a £12.6m move from Aston Villa. But so far this season, Yorke has scored just 12 goals and was relegated to bench at one point in time by boss Sir Alex Ferguson after a dip in form.

"You don't, as they say, become a bad player overnight. You just need that little fraction to come right, and everything changes completely," he said.

"And let's put it in perspective: I haven't exactly been having a nightmare. I have scored 12 goals already, yet still people have been pointing fingers. There are short memories. Still, my shoulders are broad enough and I can handle all of this, otherwise I wouldn't have joined United."

Of Ferguson's decision to drop him from the starting lineup Yorke explained:"The manager has left me out from time to time. I have accepted it. There is always going to be rotation when three other quality strikers are available. If you are not performing as you should, then other people deserve their chance."

He added: "Like everyone else, I am never really happy when I am not playing. But the gaffer knows what he is doing. He is just trying to bring the best out of me again. It's down to motivation. I understand and it's fine with me. When the manager makes such decisions he inspires me to work that bit harder."

Ferguson's move may have been just what the doctor ordered as, with United set to kick off the World tournament against Mexican side Necaxa today, Yorke seems set to explode again.

"Now I feel the real form is coming back, just at the right time, too, with everything building up towards winning in the championships (Premiership) again," he said of his future drive with United.

But even if they do not achieve glory in Brazil, Yorke is hoping United will keep their stranglehold in England and Europe.

"We can win trophies again this season, definitely. It will be a big disaster if we don't. We haven't, it's true, played to the same level as last season, but I feel we are in good nick.

"My belief is that we certainly can go all the way in the Premiership and we also have a good chance in the Champions League."

New boys impress St Clair

By IRVING WARD

TRINIDAD and Tobago coach Bertille St Clair was a pleased man yesterday evening after his latest workout with the squad for Saturday's friendly against Canada at the Hasely Crawford Stadium.

With the unit up to full strength after the arrival of England-based skipper Anthony Rougier (Port Vale), goalie Clayton Ince (Crewe Alexandra) and midfielders Angus Eve (Chester City) and Ronnie Mauge (Bristol Rovers) on Tuesday night, St Clair found himself with a real selection dilemma.

The problem, simply put, is the fierce competition now being waged by several of the newcomers for starting positions against the visitors who arrived on Tuesday.

Catching the eye yesterday at the Carib Brewery ground in Champs Fleurs were Germany-based Evans Wise, United States-based Brent Rahim, Switzerland-based Jerren Nixon, Mauge and Ince, the latter two showing little sign of jet lag.

In fact, based on yesterday's session both Mauge, born in England of Trinidadian parentage and making himself available for the first time, and Wise, who has never played under St Clair, could force their way into the starting team. Rahim, back home on vacation after a successful college season in the US, may also get the chance to earn his first full cap at senior level.

Nixon, who also seems to have shrugged off the injury problems which plagued him last year, should be a dead "cert "to start as well.

Speaking at yesterday's session T&T General Manager explained that the work ethic of squad was very healthy.

"The competition for places is very keen and that is good because only the cream of the crop will survive," Braithwaite told the Express.

"But that is what you want, keen competition for places. However we are very pleased with the response of the players to our calls for commitment to the Gold Cup and World Cup drive. They've been training very hard and all through the Christmas season as well."

Braithwaite was also looking forward to meeting the Canadians.

"We think this game will be an ideal opportunity for us to start the new year on a successful note. The players are working very hard and we are going out there to give a very strong performance."

CANADIANS IN TOWN

By Shaun Fuentes

Canadian coach Holger Osieck selected what he described as a "versatile" squad of 17 players to take on Trinidad and Tobago in a friendly international at the Hasely Crawford Stadium on Saturday from 4 pm.


T&T coach Bertille St Clair will name his team of 18 players today for the affair against the Canadians.

Like T&T, the Canadians will be using the match as preparation for the Football Confederation Gold Cup next month in the United States and 2002 Japan/Korea World Cup qualifiers in March.

Some six of the European-based players are missing from their line-up as Osieck opted against requesting their releases because of club commitments and injuries.

Among them are striker Paul Peschisolido of English First Division side Fulham and defender Mark Watson of Oxford United, while midfielder Nick Dasovic, goalkeeper Paul Onstad and striker Garret Kusch were not considered because they are recovering from injuries.


Jim Brennan, who moved from Third Division Bristol City to Nottingham Forest for (Can) $3.6 million two months ago, is also missing.

Osieck, who arrived in Trinidad on Tuesday is still confident that his team will give the homeside a stiff test.

Leading the side which includes four Scottish based professionals is Dundee United midfielder Jason de Vos.

The other three include Paul Fenwick (Greenock Morton), Inverness Caledonian Thistle duo Richard Hastings and David Xausa. Brad Parker of Dutch club Feyenoord is also expected to play in the middle. Paul Stalteri of German First Division team Werder Bremen and Carlo Corazzin (Northampton Town) will spearhead their attack, while West Ham United goalkeeper Craig Forest and defender Tony Menezes of Brazilian side Botafogo Rio is expected to control their defence.

The visitors were scheduled to meet Venezuela on Tuesday but had to cancel the match because of the recent mud slides disaster in that country and will now face Bermuda instead.

Osieck added the mini-tour will give him an opportunity to improvise. "This will give me a chance to assess some of the players as I will be trying them out in different positions to see how versatile they are," he said in Canada last week.

Canada last defeated a T&T Under-23 side 3-1 in 1995. Meanwhile, national coach Bertille St Clair will be anxious to see how his players fare in their first match of the new year.

He will have the services of Port Vale midfielder Anthony Rougier, SSV ULM striker Evans Wise, Chester City's Angus Eve, FC Zurich striker Jerron Nixon, English-born defender Ronnie Mauge and Crewe Alexandra goalkeeper Clayton Ince. Universityof Connecticut midfielder Brent Rahim may also make his international debut.

Following an invitation by St Clair, Anton Corneal and Ron La Forest also started their coaching duties with the under 23 team at Carib Ground, Champs Fleurs yesterday.

Canada squad: Craig Forrest (West Ham Utd) , Lars Hirschfeld (Energie Cottbus, Germany), Jason deVos (Dundee Utd), Paul Fenwick (Greenock Morton), Tony Menezes (Botafogo Rio), Nevio Pizzolitto (Montreal Impact), Carl Fletcher (unattached),Richard Hastings (Inverness CT), David Xausa (Inverness CT), Jason Bent (Colorado Rapids), Marc Bircham (Millwall), Brad Parker (Feyenoord), Paul Stalteri (Werder Bremen), Carlo Corrazin (Northampton Town), Elvis Thomas (Toronto Olympians), Mauro Biello (Montreal Impact), Martin Nash (Chester City).

Latapy gets Cup greenlight


By IRVING WARD, Trinidad Express
SCOTLAND-based professional Russell Latapy will get the chance to make a return to the Trinidad and Tobago side come next month at the Confederation's Gold Cup tournament.
The former T&T skipper's club Hibernian, this week agreed to release him for the February 12-27 competition.
However, T&T coach Bertille St Clair will not get the player for any of his build-up matches as Hibs also revealed that he will not be available for the three matches against Canada this Saturday, Morocco (January 18) and Costa Rica (January 26).
T&T General Manager Richard Braithwaite confirmed that the TTFF had received official word from Hibs concerning Latapy's status. But although he was pleased that they would have the "Little Magician" for the prestigious Gold Cup series, he was a bit perplexed at his unavailability for the Canada game.
The 31-year-old midfielder will be in the country on tour with Hibs, who arrive on Friday for a two-match winter assignment as guests of Vibe CT 105 W Connection. "We went to great lengths to make sure that our friendlies did not clash with the schedules of our foreign-based pros," Braithwaite told the Express.
"We are showing that we are willing to compromise but some clubs seem unwilling to reciprocate."




Dwight: Form will come in good time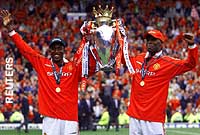 Yorke with Andy Cole

Courtesy Trinidad Guardian

Manchester United striker Dwight Yorke is not worried that his form has not been as smooth and devastatingly effective as last season.

After scoring 29 goals last season, he agrees that his individual contribution after signing a £12.6 million deal played an essential role in the winning of the historic treble (Premiership, FA cup, European Champions' League).

Yorke is not placing unnecessary pressure on himself having scored 12 goals this season and finding himself on the bench on occasions.

"Hey, I am only human. I make mistakes like anyone else. I am not going to use this as an excuse either, but the second season was inevitably going to be more difficult. "I accept my form has been a little bit up and down, but I have been working extremely hard on my game.

"Last season was a riot. It was a combination of many things. It was all so new to me and I arrived at United with a lot of will, desire and passion. I still feel I have got it now, to keep doing well at this club. If you don't, you will be out of the door. I accept that. "But because everything happened so quickly, my whole life has gone from one level to a totally different level in such a short time. It is not easy to adjust. I was always going to suffer a little phase of not doing so well. That's human nature," Yorke said in England on Friday.

He spoke at length with national coach Bertille St Clair during his recent visit to England assuring the Tobagonian coach that he is willing to play in the Football Confederation Gold Cup and 2002 Japan/Korea World Cup qualifiers which begin in March.

But he will concentrate on regaining his devastating form to help United to the top of the Premiership standings and to winners' spot in the World Club Championship starting this week in Brazil.

"It's all down to character. And let's put it in perspective. I haven't exactly been having a nightmare. I have scored 12 goals already, yet still people have been pointing fingers. There are short memories. Still, my shoulders are broad enough and I can handle all of this, otherwise I wouldn't have joined United.

"The manager (Alex Ferguson) has left me out from time to time. I have accepted it. "Like everyone else, I am never really happy when I am not playing. But the gaffer knows what he is doing. He is not daft. He is just trying to bring the best out of me again. It's down to motivation.

"I understand and it's fine with me. When the manager makes such decisions he inspires me to work that bit harder. Now I feel the real form is coming back, just at the right time, too, with everything building up towards winning in the championships again," said the 28-year-old Yorke.

Hibs blank Latapy for Canada match

By Shaun Fuentes, Trinidad Guardian

Trinidad and Tobago will not have the services of dynamic midfielder Russell Latapy for their friendly international against Canada on Saturday.

Officials of Hibernian, the Scottish club he plays for will not release him for the match despite the team being in T&T at that time.

Hibs arrive in Trinidad on Thursday for a nine-day stay during which they will play three matches and visit schools, hospitals and a home for the underprivileged.

The Scottish Premier League side have also refused to release Latapy for any international games for the entire month of January. T&T general manager Richard Braithwaite said having Latapy would have had obviously been a plus for Saturday's game at the Hasely Crawford Stadium but they are prepared to let the decision pass.

This is because the Hibs management have agreed to let him take part in the Football Confederation Gold Cup next month in the US.

"Hibs won't release Russell for Saturday's match even though they'll be in Trinidad. As a matter of fact they have said they won't be releasing him for the whole of January. "This makes things a bit difficult for us because we are trying to put together a team for the Gold Cup and we are still short of match practice.

"It's a pity Russell is not available but the show must go on," said Braithwaite, who was pleased that German based striker Evans Wise will be part of the side for Saturday. The SSV ULM player arrived home on Sunday and took part in training at the stadium yesterday.

Braithwaite added that Port Vale's Anthony Rougier, Angus Eve (Chester City), goalkeeper Clayton Ince (Crewe Alexandra), Avery John (Bohemians FC) and English-born defender Ronnie Mauge will be arriving IN T&T tonight.

Mauge is expected to make his T&T debut against the Canadians.Rougier has already stated his willingness to play in the Gold Cup but wants to be excused from training according to reports out of England.

Rougier is asking to skip the T&T training sessions prior to the competition as Vale will need him for important English League fixtures.

Meanwhile, another English-born defender who coach Bertille St Clair has looked at in recent times may have to wait a while longer before lining up for T&T because he needs another operation on his ruptured achilles tendon.

Hislop in Gold Cup dilemma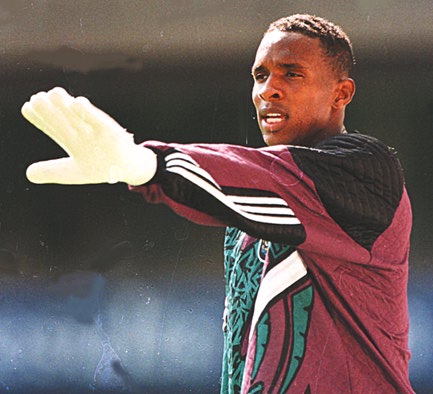 Shaka not going anywhere
By IRVING WARD, Trinidad Express, Monday January 3, 2000
ENGLAND-based professional Shaka Hislop's place in next month's Confederation's Gold Cup series is in jeopardy.
The West Ham goalkeeper had been hoping to take his place in T&T coach Bertille St Clair's side for the February 12-27 series in Los Angeles.
But the Premiership side's manager Harry Redknapp yesterday revealed he had no intention of letting his number one man go. "Shaka won't be going. I need him here,'' Redknapp told reporters. "We pay the players' wages and their loyalty has got to be to their clubs. It's difficult with Shaka.''
Redknapp's situation is exaggerated because he has also received a request for the services of his number two keeper Canadian Craig Forrest for the same series. But while he seemed ready to let Forrest go, Redknapp is apparently shaping up to break Fifa rules by withholding Hislop's services.
According to Fifa law, the Hammers must release Hislop at least 10 days before the start of the Gold Cup once they receive a request from the player's local federation. After a self-imposed exile from international duty, the former St Mary's College standout committed himself to T&T this year.
He has so far played in three friendly matches against Jamaica, Colombia and Panama for St Clair and was ready to make his competitive debut at the Gold Cup. Hislop is still hoping something can be worked out between the two parties though.
"I'm hoping it can be resolved. Trinidad and Tobago want me to go but they understand my situation here and I will have to speak to all parties about it.''
And Hislop will not be the only T&T player who could possibly face such a predicament. St Clair could get the same sort of response over the availability of his other Premiership player, Manchester United's Dwight Yorke, and Scotland-based professional Russell Latapy (Hibernian). Even the services of T&T skipper Anthony Rougier (Port Vale) and the likes of Stern John (Nottingham Forest), Clayton Ince (Crewe Alexandra) and Angus Eve, whose clubs are currently struggling in their respective divisions in England could be a problem.
But the local federation will hold the trump card here as once a request is made for a player's services, the clubs have no choice but to release them. If they refuse, Fifa has the power to impose sanctions to ban the players not reporting for international duty from playing for their clubs for the duration of those tournaments.
Nakhid eyeing 'Golden' comeback


Nahkid...looking for more glory.
By IRVING WARD
FORMER Trinidad and Tobago skipper David Nakhid is gearing up to give national coach Bertille St Clair a new millennium gift.
But St Clair will not have to do any unwrapping. The package will come in the form of Nakhid himself who is ready to make a return to international duty.
In fact, this could come as early as next month when he intends to link up with the T&T squad in preparation for the Confederation's Gold Cup tournament (February 12-27). But his international return could possibly come January 18 if St Clair selects him for T&T's friendly against Morocco.
In March of this year, the 34-year-old United Arab Emirates-based midfielder had retired from the international game after serving as skipper for some three years.
At the time, many had felt it was a premature move. But Nakhid stuck to his decision and instead concentrated on rebuilding his professional career at new club, Al Emirates, in the UAE.
Now, a fine debut season with the club-where he is also skipper-has once again fuelled Nakhid's competitive fire and he is ready to don the red, white and black once again.
"I'm definitely ready to come back to the national team,'' Nakhid told the Express.
"I've already held preliminary talks with team management about it and once I'm invited I'll be ready to play. The game against Morocco could be as good a time as any because they'll be playing in my back yard.''
Nakhid took over the T&T team in 1997. However, his tenure came soon after the T&T squad, then led by Portugal-based Russell Latapy, had failed to qualify for the 1998 World Cup during a miserable campaign.
Football had sunk to an all time low. Not one to spurn a challenge, Nakhid took the burden.
He first endeavoured to lift the spirits of his teammates. Once this was achieved, T&T's game returned to normalcy and St Clair finally had a suitable foundation on which to build.
1999 had begun impressively for T&T with Nakhid leading his team to a 1-0 victory over Jamaica in February and a 2-0 win over South Africa on May 6. But weeks before, Nakhid hadmade his shocking retirement announcement. The South African triumph was his parting gift to T&T.
Asked what brought about the change of heart, Nakhid replied: "I have missed the national team environment quite a lot. It's also no secret, my love for competition at the international level.
"And that's been exaggerated now because, for the first time in the last two years, I've finally been able to concentrate on playing football here (UAE). I've not been in such good physical and mental condition since I was in Europe and my competitive juices are really beginning to flow again.''
Pressed further he added: "This is our last realistic chance to make a World Cup in this millennium and I'm not talking about the current one but the new one approaching.
"Never again in 25 years will T&T see another crop of players like the current one. I therefore must play my part in this drive even if it means just starting the ball rolling and stopping when, perhaps due to age, I cannot go any more.''
He also revealed that he had been toying with the idea of returning for quite a while and actually held preliminary discussions with St Clair and General Manager Richard Braithwaite on the matter.
"My good relationship between the team management is no secret. I've been in constant contact with them and we've talked about the prospect so this will not be new to them.''
But Nakhid made his departure as leader of the team. England-based professional Anthony Rougier has since taken over.
Asked whether he would be disposed to returning to play under someone else, Nakhid replied: "That's for the technical staff to decide. If they feel it is best for me to return as captain then so be it.
My objective is to try and help the team to win the Gold Cup and also qualify for the World Cup.
"I don't want to get into issues like who's the most experienced pro, and who's at the biggest club.
My concern is seeking the interest of my country and seeing how best I can contribute to help the national team do well in whatever capacity.''
Everyone must work together says Latapy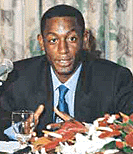 Latapy
TRINIDAD and Tobago midfielder Russell Latapy has given the reassurance that he is ready to be part of this country's quest to do well in next year's Football Confederation Gold Cup and qualify for the 2002 World Cup Finals in Japan/Korea.
But he wants all concerned including administrators, coaches and players to work together as a unit or wave goodbye their chances of playing in a World Cup Finals .
"I have always and will always be available to play for the national team as long as I am fit and I think that I can contribute in a positive way to the team," Latapy told Vibe CT 105 FM in an interview on Tuesday.
Both he and Manchester United striker Dwight Yorke were deemed unfit for selection after failing to turn up for T&T's match against Colombia in Miami in September.
The Trinidad and Tobago Football Federation then requested immediate responses from both players about their absence. But the duo refused to take the blame until president Oliver Camps held talks with them and reportedly settled the differences.
"It is no secret that in the past I have seen things differently than the TTFF. But I think football and the country is the most important thing and as far as I am concerned all that's behind us now," said Latapy.
"As individual players this is the group of highest profiled players that we ever had but we need to get it together as a team. The talent is definitely there but we need to play and work for each other," said the former FC Porto player.
The 31-year-old individual also feels that national coach Bertille St Clair is capable of leading T&T well and he is willing to lend support.
St Clair,Warner support Tobago pro soccer team
Trinidad and Tobago football coach Bertille St Clair supports the idea of a team from Tobago entering the Professional Football League.