January News
December News

---
Friday January 29th, 1999

T&T to hold camp in Europe.

The TTFF has finally saw the light. Trinidad and Tobago will hold it's first European camp in November. The site is yet to be determined. The camp is part of a plan that will help prepare the senior team for World Cup qualifiers which will begin late next year.

It was reported earlier this week that it will cost the federation TT$300,000 to bring home the seven foreign based players for the March 28th encounter with Mexico. The local senior team is already back in training twice a week for the Mexico encounter along with the Olympic team.

The Under 23 team defeated St. Vincent & Grenadines 5-1 in the Kingstown in the first of a two game series. The second game is scheduled for T&T this weekend. The winner goes on to play the Barbados-St. Lucia series.

New system drops T&T.



Click above for rankings

A new system of ranking teams by Fifa has caused T&T to drop dramatically in the latest world rankings. The national team is now ranked 68th falling seventeen places from last month. The change is due to a new system implemented by Fifa to rank teams.

Despite the fall T&T are still ranked fourth in Concacaf behind Mexico (12th), USA (23rd) and Jamaica (39th). To read more of the new system click here.

In the shooting range...

Dwight Yorke and Manchester United will face Charlton. Shaka Hislop and West Ham will face Wimbleton.

In the English first division, Tony Rougier and Port Vale will face Ipswich. Clint Marcelle and Barnsley will face Oxford United.
---
Tuesday January 25th, 1999
T&T to face Mexico.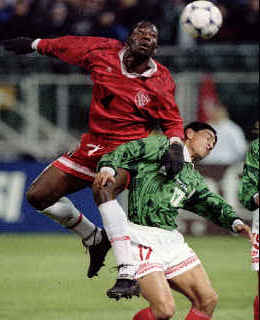 Andrews may to face Mexico again.

Trinidad and Tobago will open it's 1999 campaign versus Mexico. They will face the Concacaf's top team in Port of Spain on March 28th. Invited to the team is seven overseas players. They include Russell Latapy, Tony Rougier, Marvin Andrews, Dwight Yorke, Jerren Nixon, David Nahkid and Stern John.

Apart from the surprise exclusion of Clint Marcelle and Ancil Elcock is the inclusion of Russell Latapy. Latapy's apperance on the squad invited to face the Mexicans is a signal that his exile from the national team may be coming to an end. Latapy has not been on a national team since 1996.

The game is part of the launching of the Professional Football League. At a newsconference last week Jack Warner outlined the prize money and the level of sponsorship involved in the new league. Some details of the new league:

Major sponsors:
Craven A, Caribbean Communications Network, First Citizens Bank, Neal and Massy Motors and Kenny's Sport Centre.

Eight teams:
Joe Public, Doc's Khelwalaas, Jabloteh, Police, Futgof, Point Fortin Civic Centre, Defence Force and W Connection.

Prize money: First prize of $500,000. Runners-up will take home $300,000, third- placed team $200,000 and the fourth to eighth placed teams $100,000 apiece.

Other details:
Minimum salary is $2,000 per player with there being no salary ceiling. There will be three categories of players - those under contract, non-contract and amateur. "Player of the Year" will receive a Nissan Sentra motor car, sponsored by Neal and Massy. There will also be cash incentives for winners of each of the four rounds and prizes for the most disciplined team as well as the most outstanding coach, referee and assistant referee.

Special thanks to Shanun Fuentes of the Trinidad Guardian.

Yorke to the rescue.

You can call Yorke what ever you want but on Sunday he could have easily gone by: Dwight Yorke "Rescue Ranger." Yorke provided the equalizer in the most anticipated game of the FA Cup tournament between Manchester United and Liverpool which could easily be called a game for the ages.

For eighty-seven minutes Micheal Owen and Liverpool thought they had Dwight Yorke and Manchester United beat. Infact infront of a highly partisian crowd at Old Trafford Micheal Owen scored with just three minutes into the game.

Good defending and sound goalkeeping kept the Red Devils at bay for much of the game. However, it was Yorke who leveled the game in the 88th minute. Andy Cole headed down a ball directly into the path of Yorke who tapped in the ball past David James to level the score. Then two minutes later Ole Gunnar Solskjaer put Manchester United up for good.

Manchester United will face Fulham on the weekend of February 13th & 14th.

In other FA Cup action Clint Marcelle was not in Barnsley's lineup when they defeated Bournemouth 3-1. They will face Bristol Rovers in the next round.

Latapy faces replay.

While Dwight Yorke went clear through to the next round, Russell Latapy has to face the task of a replay. Latapy and Hibernain tied Stirling 1-1 and will have a replay them next week to see who will move on to the sweet sixteen. The winner of the game next week will face Premeirship club Motherwell.

In other action, Marvin Andrews and Raith Rovers lost 4-0 to Clyde.
---
Friday January 22nd, 1999

T&T for Pan Am games

Trinidad and Tobago is among the ten Concacaf teams selected for this year's Pan Am games scheduled for Winnipeg. The list includes: Canada (host), USA, Mexico, Guatemala, Costa Rica, El Salvador, Honduras, Trinidad & Tobago, Jamaica and Cuba.

However, in the event that South America enters teams into the tournament, the Concacaf contingent will be reduced to five.The football matches are scheduled to run from July 23rd to August 8th.

Now it's time for speculation. If South America decide to enter teams and the Concacaf contingent is reduced to five, the first three teams will be Canada, USA and Mexico. Costa Rica and Jamaica looked almost certain to take the final two slots.
---
Monday January 18th, 1999

Yorke scores hat-trick.

Dwight Yorke scored his first hat-trick of the season and his first for Manchester United. Yorke's triple score was part of a 6-2 drubbing by ManU over Leicester City. Yorke scored in the 10th, 63rd and 84th minute.

Yorke's first goal came after a dummy in the area by strike partner Andy Cole found him unmarked which he promptly banged home his 14th of the season. Goal number two came when Leicester City keeper American Kasey Keller, tried to shepherd a ball past the goal line. However, Yorke pounced on the ball and fired home in a shot from an acute angle. His hat-trick came when a shot from Andy Cole hit the upright and rebounded to Yorke.

The three goals moves Yorke up in scoring race to third. He has sixteen goals this season, eleven of which came from league play and five from European competition.

In other English Premiership action, Shaka Hislop and West Ham found themselves on the end of another drubbing. Last week it was a 4-2 lost to Manchester United, this week is was a 4-0 lost Sheffield Wednesday.

Latapy and Hibs keep moving on.

There is no certainly in life. However, Russell Latapy and Hibernian are aiming to prove otherwise. Hibernian completed there 10th win in a row over lowly Hamiliton by a 4-0 score. Latapy again was a main threat for the Hamilton defense. At the restart his pace and dribbling skill left most of the Hamilton players and some of his teammates in total confusion. That effort was wasted by the two Hibernian strikers. Latapy's long range effort minutes later hit the crossbar.

The win keeps Hibernian in first place with 56 points, fourteen points ahead of second placed Falkirk.

In other action, Marvin Andrews and Raith Rovers lost to Stranraer 2-0.

In the shooting range...

In English first division action, Tony Rougier and Port Vale lost to Swindon 1-0. In Portugal Leonson Lewis and Amadora lost to Benfica 1-0.
---
Those of you who live in the North East of the USA and Canada I bet that you would give anything to be in T&T right now :-)

Friday January 15th, 1999

In the starting lineup...

In the English Premiership, Dwight Yorke and Manchester United will face Leicester City. Shaka Hislop still smarting from the drubbing he suffered last week will look to rebound versus Sheffield Wednesday. Earlier this week Hislop and West Ham were bounced out of the FA cup in a 1-0 lost in third round replay to Swansea.

In the English First division, Clint Marcelle and Barnsley will face Birmingham at home. Tony Rougier and Port Vale take on Swindon.

In Scotland, Russell Latapy and Hibernian will face Hamilton. Marvin Andrews back in the starting lineup for Raith Rovers last week will face Stranraer.

In Portugal, Leonson Lewis and E.Anadora will face giants Benfica.
---
Monday January 11th, 1999
Yorke and ManU blitz Hislop.


Yorke yesterday versus West Ham

The power went out at Old Trafford yesterday for fourty-five minutes but that only delayed the slaughter. Manchester United under power of the tandrum of Andy Cole and Dwight Yorke came out and beat Shaka Hislop and West Ham 4-1.

Dwight Yorke opened the scoring in the tenth minute from a Cole cross to register his 13th goal of the season. Yorke returned the favour later on when he found Cole minutes before the end of the first half. Manchester United continued the onslaught in the second half with two goals. West Ham got a consolation goal one minute from time.

The win moves them into third place with 38 points behind co-leaders Chelsea and Aston Villa who have 40 points.

Rougier gets first start.

Tony Rougier started his first game for his new club Port Vale on Saturday. Despite not being match fit Rougier still caused problems for Birmigham. However, Port Vale still slipped further into relegation danger with a 1-0 lost.

Latapy and Hibs steam on.

Russell Latapy amd Hibernian continue to rumble over the opposition in the Scottish First division. Latapy and Hibs completed a 2-1 win over St. Mirren. The win pushed them to 53 points. Latapy provided a pass that sent Hibernian up 2-0.

Latapy got some help from fellow Trinidadian compatriot Marvin Andrews. Andrews was named as co-man of the match when Raith Rovers defeated second placed Falkrick 2-1. Andrews earned a rare start for Raith and impressed with his play at the back.

You can view two of Latapy's goal's this season courtesy Gregory Anderson of Erinweb.
Both in Real Audio:
Latapy versus Raith Rovers (3.8 mb)
Latapy versus Clydebank (3.6 mb)
---
Thursday January 7th, 1999

Blatter:World Cup every two years

For those of you who watched "60 minutes" on Sunday you would have seen a report on the Swiss government's purchase of heroin for drug addicts in Zurich for a daily "quick fix." Among the addicts are professional business people, civil servants and judging from this weekend's comments one Fifa President.

Sepp Blatter has come out on the record to state that he would like to have the World Cup every two years. According to Sepp Blatter the change would be a direct challenge to the proposed Super League by Italian media giants. He said that it would shift emphasis away from club football to national football. "I am demanding a clear statement: Do we want national teams or do we only want club football?"

The tournament would be held every even year starting in 2006. "The existing four-yearly tournament is out-of-date. It dates from the 1930s when teams chugged from one continent to another on ships," Blatter said.

Under Blatter's proposals, qualification for the finals would happen in odd-numbered years when national teams would take part in continental tournaments. The existing system of qualification, where teams play international matches in groups over the course of the years leading up to the finals,
would be dropped.

Somehow Blatter seems to have forgotten tournaments held between the World Cup including Euro championships, the Copa America, the Gold Cup and the African Nations Cup. Also, he has no one to blame but the headmen at UEFA who have elevated club football in the pursuit of money.

The final aspect is what considerations are made for the players. There has been rumblings from players who might revolt under the pressure of having to play so many games. Imagine a player like Zidane right now facing the prospect of playing in the Seria A and Champions League for Inter Milan as well as exhibition games; European Championships, Confederations Cup and the World Cup every two years for France as well as qualifiers and friendlies. I would ask for the a few Gold bars at Fort Knox to put my body through that punishment.

Upcoming schedule for U-17's

While everyone will be feteing in Port of Spain the national under 17 team will have there hands busy in El Salvador. The schedule that T&T will face is very tough and it will be a very difficult road to overcome. The winner of the group goes onto New Zealand with the second placed team entering into a playoff with the other second placed team in group A.

Group B scheduled for T&T:
February 10: Trinidad & Tobago vs. El Salvador (18:00)
February 12: Trinidad & Tobago vs. Mexico (20:00)
February 14: Trinidad & Tobago vs. Canada (12:00)

Olympic schedule shaping up.

When Trinidad and Tobago faces St. Vincent later this month it will be the beginning of a very long journey that will take them to the 2000 games in Sydney. With no offense to the other teams (I will use "if" and that depends on what your definition of "if" is thank you President Clinton) if T&T defeats St. Vincent they will face the winner of the St. Lucia and Barbados.

Should they get into the second round they will be slotted into group C along with Canada, the winner of Guatemala-Belize series and the winner of the Guyana vs. Surinam series, and Aruba vs. the Netherlands Antilles series. Qualifying matches to be played at three different venues to be announced. Groups will be designated to play February 16-20, March 1-5, and March 15-19.

The top two teams in the group will go onto the final round which will take place in the USA from April 1st-9th. Should they win there group they will probably be slotted with the USA and Costa Rica. Should they come in second in there group they will probably face Mexico and El Salvador.

Changes to the Caribbean Cup

It will no longer be called the Shell/Umbro cup it will instead be called the Copa Caribe. That was not the only change to the regional championship. Concacaf president Jack Warner announced yesterday that the prize money will increase with Inter Forever Sports pumping US$ 2.2 million into the tournament. They will sponsor the tournament from 1999-2005 with US$500,000 going for the first two editions.

This year's winner will walk away with US $100,000. Prize money ranging from US $30,000 to US $15,000 will go the the second placed team to the fourth placed teams. After this year the tournament will be held every two years with T&T slated to hold the next one in 2001.

The tournament will be held from June 1st to June 14th of this year in Trinidad and as a final incentive the Brazilian Under 20 team will be invited to take part in the tournament. The presence of the Brazilian team should raise the quality of play in the tournament. Warner reemphasized a Fifa technical report on the Brazilian Under 20 team which stated they could beat any team in the world ranked from 11 down.
---
Monday January 4th, 1999
Latapy scores in Hibs rout.



Latapy...second of the season.

Russell Latapy continues to be the best investment that Hibernian has made in recent times. That was evident when he scored in Hibernian 5-1 beating of Raith Rovers on Saturday. Latapy scored his second goal of the season in the 22nd minute. He collected the ball just inside his half. He ran past a few Raith players and fired a shot that left the goalkeeper stranded.

The win gave Hibernian there seventh win in a row and left them unbeaten in there last sixteen games. Latapy's play has not gone unnoticed by the Scottish clubs in the Premiership. According to some circles Glasgow Celtic have shown interest in the former national captain. However, it seems very unlikely that Latapy will leave the Edinborough side in the near future.

Yorke and ManU advance

This new year will not be easy for Dwight Yorke and Manchester United. On Sunday Yorke was scheduled to make his return from injury in the third round of the FA Cup tie with Middlesborough. Manchester who lost a couple weeks ago to the same side returned the favour with a convincing 3-1 to send them into the next round.

In the fourth they will face long time rivals Liverpool with the young English standout Micheal Owen. That is not the only major game that Yorke will face. Manchester United will take on Italian powerhouse Inter Milan in the Champion's League quater-finals. Look for those two series to be highlight of the new year.

In other FA cup action, Clint Marcelle started for Barnsley versus Swindon. The game ended in a 0-0 draw.

Eight teams in new Pro league.

Eight teams have been chosen to participate in the new Craven A Professional Football League which will kick off in March.

The teams: Defence Force, Joe Public, CL Financial Jabloteh, Futgof, Point Fortin Uprising FC, Doc Khewaalas, Williams Connection and Police.

Trinidad and Tobago finished in 51st place in the latest Fifa World rankings. They finished up four places from last year. They remained in fourth place in Concacaf behind Mexico, the USA and Jamaica.

January and February will be two busy months for the the Under 17 and Olympic teams as they seek to qualify for the World Youth championship and Olympic games. I will make the complete schedule available in the next update on Thursday.