December News
November News

---
Saturday December 18th

Hislop saves best for T&T

By Irvin Ward (Courtesy Trinidad Express)

FOR all those still wondering whether England-based professional Shaka Hislop will be in goal when Trinidad and Tobago begin their World Cup quest next year, the answer is in the affirmative.

In a stirring interview with English reporters last week, the talented West Ham goalkeeper left no doubt about which colours he will be wearing when the World Cup qualifiers kick off next March. "There is no way you'll see me in an England shirt even if I was privileged enough to be picked," he explained.

"Of course, it is a huge boost to my confidence to hear people linking me with the national team. But I've made my choice and I'm not going to change it now."

The issue arose after Hislop, born in England of Trinidad and Tobago parents and so enjoying dual citizenship, produced yet another brilliant performance in West Ham's Premiership encounter against Tottenham Hotspur.

The former St Mary's College player, who had played for the England Under-21s and was on the bench for the senior team last year, had already hinted that he was looking T&T's way earlier this year.

But last week's unequivocal statement provided final confirmation that the lure of possible success with the English senior team would not see Hislop changing his mind.

Of his final choice, he explained: "There was a lot of soul-searching which went into my decision. "It took a long time to make but I have to say I am happy with it. I did not speak to anybody in the England camp. Instead I talked it over with my family and friends and my manager and they all said Trinidad is my real country and my best option."

He added: "I have made the decision and now I'm going to stick with it. I am confident it will be the right one in the long run."





More awards for Latapy

MORE awards are pouring in for Scotland-based professional Russell Latapy.

The Hibernian star was honoured by his club's community newspaper, the Evening News, on Sunday evening with the prestigious "Sports Personality of the Year" award.

Last month, the "Little Magician" was also named "Player of the Year" by the Edinburgh club's fan group, the International Hibernian Supporters Club.

Of course, such accolades are not new for the 31-year-old midfielder, all being part of the spin-off from his fine season last year.

After joining the Hibees on a free transfer after leaving Portuguese club Boavista, Latapy led his new club to the First Division title and a place in this year's Premier Division competition.

For those achievements, he was voted as the 1998/99 "Player of the Year" by both the First Division and the club.

And he continues to lead the club by example this season. He is again their major inspiration in the middle this season and his seven goals make him currently one of their top scorers.




Rougier gets his day in sun

Trinidad and Tobago skipper Anthony Rougier got his day in the sun earlier this week.

As he has done all season, the 28-year old utility player was the star of the show for Port Vale in their third FA Cup clash against Premiership giants Leeds United.

Unfortunately though, Rougier simply did not get enough support and Vale were eventually downed 2-0 by their opponents. Rougier, who has been used mainly in the striking position by manager Brian Horton this season, found himself all alone up front for much of the game as Leeds pegged his team back in their own half for much of the game.

However, Vale still managed to hold their Premiership rivals to a 0-0 draw at the halftime interval.

In the first 45 minutes, Vale's best chance came when Rougier, who hounded the Leeds defence with his speed when he got the chance, rounded an over-committed Leeds keeper Nigel Martyn but his shot from a tough angle could not find the net. In the second half, though, Vale could not hold on and they will now have to focus their energies on saving their First Division place.

Wise's SSV win 3-0

Evans Wise and SSV ULM enjoyed a 3-1 shut out of Kaiserslautern in the German Bundesliga on Saturday.


Wise was among the goalscorers which included Janusz Gora, Hans van der Haar and Tomas Bodog.


ULM were off to a hot start scoring all three goals after only 23 minutes and Kaiserslautern never looked as if they could fight their way back into the match.


Ulm remain in an uncertain 16th spot, two places above bottom team Arminia Bielefeld. Wise is expected to join the national team in preparation for next year's Gold Cup.

Getting the right Public image





By Shaun Fuentes (Trinidad Guardian)

LESS than a month has passed since the end of the inaugural Professional Football League and already there is an air of anticipation at Joe Public, runners-up to Defence Force in the League, and winners of the Mt d'or "Big Four" Champions' League and President's Cup.


A new year beckons and with Christmas right around the corner Richard Abraham, manager of the Jack Warner owned club, can't wait to begin making plans for the 2000 season.


All managers start each season with optimism but events of the past have heightened Abraham's sense of anticipation.


Three key members of the club fondly known as the "Eastern Lions" are bound for Europe next season.


Nigel Pierre, Kerwyn Jemmot and Travis Mulraine have won two-year contracts to Yugoslavian side Red Star Belgrade and head coach Jamaal Shabaaz will have some difficulty filling their boots.


According to Abraham, however, this is nothing new after the heavy criticism of the fans early in the season, while Shabaaz was in the process of restructuring the team following the early exits of a few players.


Among those who left the team were Irasto Knights, who went off to Raleigh Capital Express in the American A-League and Wesley John to Portugal.


National defender Brent Sancho began training with the club before leaving for Finland.



Later, Arnold Dwarika and Angus Eve went on trial to MLS team Kansas City Wizards. Eve and goalkeeper Michael McComie also left for England for try outs at Chester City where Eve eventually tied up a two-year deal.


Since the clubs inception in 1997, some six coaches have passed through the 'lions' den. Abraham came in as manager at the start of the second round of the Semi-Professional League that year along with Zoran Vranes who took over head coach duties from Keith Look Loy, who was promoted to technical director.


Nevick Denoon and Muhammad Isa followed and like Look Loy did some months later, made their exits before current coach Jamaal Shabaaz took over going into the PFL season.


When Abraham and Vranes came into the fray in '97, Public won their remaining ten matches to finish second to Defence Force. The following year, the SPFL and Champions' League and Caribbean Club Championship titles would be theirs.


In 1998, Public were mauled 8-0 by DC United in the Concacaf Club Championship in Las Vegas, but avoided similar embarrassment this year going down 2-0 to Chicago Fire even without Angus Eve and first string goalkeeper Michael McComie who were off on trials in England. The team had to thank former national player and coach Alvin Corneal who had a special three-week assignment to prepare them for the 'Fire'.


Jamaican-born Donovan Thomas stepped in to do a remarkable job between the uprights in that loss.


"All of this shows a level of consistency in the team despite the knocks we have been getting," said Abraham.


This season, Dwarika was undoubtedly a main force behind Public's success scoring some 46 goals.


He gave up the captaincy because he felt it would be better for the team. It was later revealed that several big offers from the top teams in the PFL for Dwarika had been turned down because he felt Public had been responsible for his progress and reselection on the national team.


"Angus came back into the midfield after Dwarika volunteered to give up the captaincy to concentrate on his goalscoring and did well despite all the negative things people have said about him. He had a number of different striking partners before settling with Nigel Pierre," said Abraham.


Eve who ended the season as captain was their second leading scorer with 22 goals followed by Pierre with 14.


Public ended the season victorious in 31 of their 47 matches, losing 11 and drawing five.


He also made mention that Public continue to have a large number of players consistently called to training with the national team.


"There's 16 of them training with the national team and we finished the season with only two foreign players (Kendell Velox and Fabio Agripino) and yet we get all this criticism about foreign players.


"It amazes me to when we hear the negative things being said about Joe Public.


"People are hardly aware of the blood, sweat and tears that go into our preparations. We continue to win major trophies but yet people criticise us and say that we are inconsistent," added Abraham.


Other technical members Jimmy Blanc, Jerry Moe, Lennox Murray and Ikin Williams are all pleased with the end rewards.


Abraham was also high in praise for the efforts of midfielders Jemmot and Mulraine and defender Brent Sancho.


"Travis may not be the best passer of the ball but he is fit and aggressive.


"Jemmot eventually settled after being absent from training and can go on to be a top midfielder.


"Brent is an excellent sweeper and we even refused a request from the Trinidad and Tobago team to have him play in a left wing back position in the "Big Four" because they wanted to see how well he fared there."


Sancho who ended his first season with Myloskosken Pall 47 in the Finnish League before joining Public for the Mt d'or series was high in praise of the local team's set up.

"The organisation at Joe Public is tremendous. The technical staff have done well. It's not much different from the professional teams outside.

"Obviously there is still some work to be done but the infrastructure is definitely there and I think in a short time they will be right on par with the other bigs teams in Concacaf," Sancho said.


Possibly influenced by the Christmas spirit, Warner's "Lions" will be taking things lightly for the remainder of the year, looking forward to their Awards Ceremony at their home base Joao Havelange Centre of Excellence on January 29 when England manager Kevin Keegan will deliver the feature address.


Keyeno Thomas, Rodney Stokes, Stokely Mason, Eve, Dwarika, Agripino, Mulraine, Coulson Dick, Thomas, Adrian Narine, Terry St Louis, Felix Seales, Jemmot, McComie, Adaryll John, Anthony Dhanoolal, Cyd Gray, Pierre are some of the names who have contributed to Public's success.


"This is no one man team. These players all fought for the right to play, hence the reason we set up a bonus structure for selection after getting advice from Russell Latapy and these guys," said Abraham.


He explained that those making the starting line-up and entering a match got bonuses, as was the case for the all the members for each goal scored.


Abraham has become aware of the rise of several Caribbean players through the efforts of the PFL and Warner.


Because of the Football Confederation having to assist Caribbean football, Abraham pointed out that players from the islands no longer fear T&T because they are growing accustomed to playing with or against them.

Abraham cited the league match against Vibe CT 105 W Connection played in St Lucia in July as one of the times when Warner and fellow Caribbean Football Union and PFL officials were caught in predicament.


That match was used to help spread professional football but Abraham would have preferred it to be an exhibition match and hopes that only such matches are played outside of T&T in the future.


"Because of Warner's post as CFU president, he has to ensure that football not only in T&T but also in the region continues to gain from us and improve. If we have a West Indies team to develop that would be fantastic," said Abraham.

He doesn't have any major complains about the first year of professional football here but feels there is urgent need for a Semi-Professional League because of the large gap between the teams in the PFL and the regional associations as was evident in the FA Trophy tournament.


"And our feeding system is well in place so we hope to see the other teams getting theirs on stream. Several Joe Public players have come out of our youth programme so the local football governing body needs to ensure that the other clubs do similarly."


Stern hits post in Forest draw

STRIKER Stern John and Nottingham Forest had to settle for a 0-0 draw with Fulham in their English First Division clash at City Ground yesterday.


John started alongside Dougie Freeman up front and was unlucky not to add to his one goal tally.


For the third time this season, the 23-year-old striker saw his shot come off the woodwork when a chance fell to him in the second half after being set up by Freedman.


Earlier in the first half, John hit inches wide of the mark after stealing possession from a Fulham defender.


John and company remained in 20th spot on the 24-team standings with 22 points, levelled with Anthony Rougier's Port Vale.


They will hope to ease some of manager David Platt's worries with a victory in an FA Cup third round replay against Oxford United on December 21 after both teams drew 1-1 last Friday.





St Clair reads riot act

By IRVING WARD

TRINIDAD and Tobago senior team coach Bertille St Clair yesterday laid down the law for the forthcoming 2002 World Cup drive.

In a stirring team talk with his training squad at the Hasely Crawford Stadium, St Clair explained that
players should prepare themselves for a long hard journey.

I they were not prepared to go the distance, St Clair added, they could pack up at anytime and hop
off the World Cup train.

Speaking after yesterday's session, general manager Richard Braithwaite said he hoped St Clair's session hit home.

"This is going to be a long and hard journey,'' he told the Express.

"And with the Gold Cup coming up very soon to be followed the World Cup qualifiers, Bertille just let the players know that he will not be pampering anybody in the months to come.''

Some 25 players turned up for yesterday's session including several United States-based players back home on vacation. Switzerland-based Jerren Nixon also arrived here yesterday and is expected to join the session today.

St Clair himself is just back from a coaching stint in England in which he visited several top clubs including Manchester United, Watford, Sunderland and Nottingham Forest.

Previously, the Tobago-born coach had also held a training camp in the United States where he assessed the talent resources available to him.

Braithwaite explained that it was because the coach expected there to be a lot of competition for places that he was laying down the law now.

"The coach realises that he has a lot of talent at his disposal now. And this is why he let them know he will not be tolerating any slackness.

"He also explained that if any of them felt the preparation was too difficult, they would be free to pack up and leave the camp at any time. So I think everybody now understands how serious the build up to the World Cup is going to be for us.''

Braithwaite also said yesterday that Costa Rica had joined the list of countries requested a warm up game against T&T early next year. T&T are scheduled to meet Canada on Jan 8 and Morocco 10
days later. A tentative date of January 12 has been set for the Costa Ricans.
---
Monday December 13th
T&T get easy walk into Semi-finals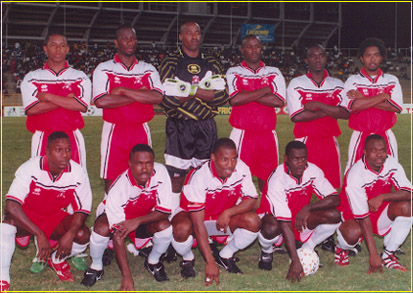 The national team before their encounter with Colombia
Talk about a easy time for the national team. Trinidad and Tobago will face the Netherlands Antilles in March to start there World Cup campaign. The home and away series will begin in March. Should (hold your laughter please) T&T advance they will face the winner of the Dominican Republic/Montseratt series.
The winner will move into the semi-final stages where they will face either Jamaica, Costa Rica, the United States or Mexico. Those teams received byes due to there World Cup qualifications.
One important stat to keep in mind is that in order for T&T to qualify for the World Cup, they will have to play a total of 26 games in 17 months. This does not include the international friendlies that they are scheduled to play as warm up matches.
You can read T&T's World Cup qualifying history in the archive section.
T&T manager worried over pros releases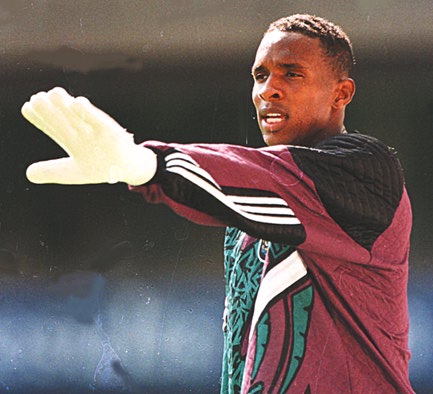 Hislop and others in the same position.

By Shaun Fuentes

TRINIDAD and Tobago football teams general manager Richard Braithwaite is in a quandary as to why the clubs of some local overseas based professionals are thinking it difficult to release them for next year's Football Confederation Gold Cup and 2002 Japan/Korea World Cup qualifiers.

Braithwaite was responding to recent statements by Hibernian, Manchester United, West Ham United and Port Vale officials about the release of midfielder Russell Latapy, Dwight Yorke, goalkeeper Shaka Hislop and Anthony Rougier.

Local fans are also keenly awaiting to see if the same happens with striker Stern John and his new club Nottingham Forest.

"There is certainly too much hysteria concerning the release of players for the Gold Cup. I don't see why they are getting upset because T&T wants to field its best possible team for a major tournament in our part of the world," said Brathwaite.

"In the final analysis, once the players are willing to play, then they should be released as the Gold Cup is a FIFA tournament.

"But it seems that the clubs want to have their cake and eat it as well. They don't want to release players for friendlies during the year because they say such games are not important. Now we have a prestigious tournament and they are still reluctant to release them."

Braithwaite added that it was important to get the players for friendlies in order to avoid last minute rush to get players well blended.

He brushed aside talk of players having to miss more than two matches for their clubs.

"I maybe wrong but I don't think any player has had to miss more than one match for his club for the entire year. We have had 10 internationals for 1999 and some players have been available for only one match.

"The top countries play more friendlies than we do and don't ever seem to have problems in getting their players for tournaments like the European Cup.

"We have bent our backs to accommodate the clubs and the overseas players but yet we are hearing complaints ahead of the important tournaments" he said.

St Clair will hold discussions in England on December 12 with this country's European-based players, including Yorke and Latapy about plans for next year.

St. Clair sells more talent in Europe.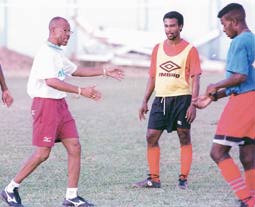 St. Clair...doing more than coaching.
By Shaun Fuentes
TRINIDAD and Tobago's football coach Bertille St Clair was given the opportunity to conduct a two hour training session with local striker Stern John and Nottingham Forest at City Park on Monday.

This was revealed by the Tobagonian after Forest manager David Platt allowed him to take charge of the first of two sessions in the morning period.
St Clair is on a two week stay in England. and has already held talks with T&T professionals based there including Manchester United's Dwight Yorke and Bournemouth's English born defender Ian Cox.
While in Nottingham, St Clair stayed with John at the International Hilton Hotel and said that "Stern is the man of the moment here."
St Clair added that he was very impressed with the work rate of the professional footballer in the UK as compared to the T&T player.
"It is really something to see how hard the life of a professional footballer is. The real difference between them and our local players is the work rate."
St Clair was interviewed on a BBC sports program last week about this country's football and commented on the recent rush of interest in T&T players from European teams.
St Clair said on the weekend that T&T players Mickey Trotman and Nigel Pierre can solve John and Nottingham Forest's relegation woes in the English First Division.
Forest are currently struggling in 20th spot with 21 points, one above the relegation zone.
However, Joe Public's Pierre is said to have been contracted by Yugoslavian team Red Star Belgrade for two years and is expected to join them early next year. Trotman meanwhile is currently in search of a club.
St Clair didn't miss the opportunity to boast about the wide range of talent in Trinidad. "I am sure that both these players will soon be hot prospects like Dwight Yorke and Stern, so maybe someone should try and get them now. We have a great many talented footballers in Trinidad and it's just a case of them getting a little bit more experienced and then being noticed by clubs," St Clair said.
(Courtesy Trinidad Guardian)
Clubs turning to Trinidad's talent


You are not the only one Stern.
BY IAN COLLIER (Nottingham Evening Post)

We all know about the success of Manchester United's Dwight Yorke. Football fans have followed the roller coaster career of West Ham 'keeper Shaka Hislop. And the impact of midfielder Russell Latapy at Scottish club Hibernian is making headlines on both sides of the border.
Stern John is the latest high profile arrival from Trinidad and Tobago since he joined Nottingham Forest from American club Columbus Crew.
But football clubs have now spread their scouting nets out to the Caribbean and many other players are flooding into the British game.
Striker Clint Marcelle recently signed a new two year deal at First Division Barnsley and, despite only being a peripheral player at Oakwell, he has commanded a regular place in Trinidad's national side, winning more than nine caps.
Tony Rougier is another First Division Trinidad player. He captains his country and has recently enjoyed a free scoring run at Port Vale, with six goals in four games. He joined Port Vale from Scottish club Hibernian in January for £175,000 and is now impressing the staff at Vale Park.
Crewe, who will visit the City Ground later this month, have recently signed up one of Trinidad's other 'keepers, Clayton Ince, and midfielder Marvin Andrews traveled north of the border to Raith Rovers.
All of these players are now signed for clubs in Britain but there are many other talents from Trinidad who are attracting attention from some of England's top clubs.
Hard tackling defender Derek King is on trial with Southampton and striker Gary Glasgow is on Newcastle's hit list after an unsuccessful trial period with Sheffield Wednesday and Manchester City.
But it is not just the Premier League and First Division clubs who are after the Trinidad stars.
Third Division Chester City are currently giving trials to goalkeeper Michael McCormie and midfielder Angus Eve.
This influx of players is no surprise to Bertille St Clair, the coach of Trinidad and Tobago and the man who can be given much of the credit for nurturing these young players into stars of the future.
"We have a great many talented footballers in Trinidad and it's just a case of them getting a little bit more experienced and then being noticed by clubs," he explained.
"But I would advise many of the clubs to get a move on because they will be able to get some of them cheap now — but in a while their prices will have shot up."
St Clair is currently on a trip to England as part of a fact finding mission.
His first objective is to pick up coaching tips from a number of clubs around the country and he has been spending time with Forest boss David Platt during his training sessions.
But one of his other objectives is to search out players who will be eligible to play for Trinidad in the 2002 World Cup.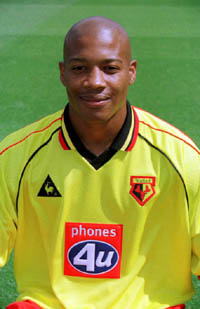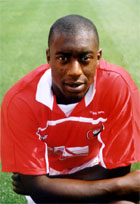 Cox, Hyde and Austin...new targets of St. Clair
St Clair has already targeted a number of players in Barnsley's Kevin Austin, Ian Cox of Bournemouth and Watford's Anthony Micah Hyde.
Over the years scouts have spotted so many players around Europe that they are having to search further afield where there may be richer pickings.
Boca Juniors, in Brazil, have close links with a number of Premier League clubs thanks to Nottingham agent Robert Matuseiwicz.
But now it seems that the promising players from Trinidad are all being snapped up fast. Many of Trinidad's home-grown talent move on to the leagues in America, but with more and more coverage of football in the States it is becoming easier for managers like David Platt to search out and find the stars.
Marcelle's goal voted best ever
CLINT Marcelle's goal at the end of the 1996/97 English First Division season was recently voted the best in the club's history by fans. The goal took Barnsley into the English Premiership the following year.
However, career problems have resurfaced for the speedy midfielder. Following almost two seasons of distress at Barnsley when he struggled to win a spot in their side, 34-year-old Marcelle finally appeared to get his career back on track with Second Division side Scunthorpe United. But now the club is continuing to delay transfer talks, leaving Marcelle a bit frustrated.
Marcelle, who lined up for T&T in their 3-2 loss to Honduras last month, said he was happy to begin playing again.
"I enjoyed it there, it was great to play first team football and get myself back playing again, and enjoying the game."
The former Mucurapo Senior Comprehensive player said he felt honored that his goal against Bradford City in April of '97 was voted the best in the team's history by fans who had responded to a monthly football magazine poll.
"That goal will be in the back of my memory for ever and I will take it to the grave with me. It was a great day, not only for me but for the fans as well," said Marcelle.
You can see that goal by going to the Stadium.
Rahim and Lewis out of NCAA tournament.


Rahim...out but not forgotten.
Two of Trinidad and Tobago's best prospects in the US, suffered a major disappointment on Saturday afternoon. After a marathon session which included three overtime periods both Brent Rahmin and Darren Lewis watched as Shawn Percell of Santa Clara scored the game-winning goal four minutes into the fourth sudden death overtime.
That goal lifted the Santa Clara University Broncos to a 2-1 victory over the Connecticut men's soccer team in the NCAA Division I College Cup National Semifinals.
UConn had most of the possession and the run of play in the first half. However, a swift counter attack put Santa Clara on top in the 20th minute.
Connecticut tied the score in the 12th minute in the second half when junior Brent Rahim back passed the ball to junior forward Darin Lewis who netted his 11th goal of the season with a blast into the upper right corner of the net from 25 yards out.
At the end of regular time the two evenly matched teams moved into a series of four 15 minute sudden death overtime periods where they eventually lost.
Football is not over for the two. Both players are expected to be in T&T for Christmas and expected to train with Bertile St. Clair. (Special thanks to Agnieszka Sankiewicz for making this possible, I hope you enjoy Trinidad ;-))