December News
November News

---
Monday December 28th, 1998

Jack top goalie.

In only his second year at Yavapai College, Kelvin Jack has become the top goal keeper in Junior college. Jack considered to be one of the best young keepers in Trinidad, was named to the NJCAA's All American first team.

Jack was not the only one to recieve the All American awards. Darin Lewis was named to the NJCAA second team as a forward.

In the shooting range...

Dwight Yorke is still injured but Manchester United returned to there wining ways with a 3-0 win over Nottingham Forest. Shaka Hislop and West Ham lost to Arsenal 1-0.

Over in Scotland, Russell Latapy played his usual role as playmaker for Hibernian this weekend. Hibernian defeated rivals Ayr United 3-0. That win cements there place on the top of the Scottish First division.

In Portugal, Leonson Lewis and Amadora tied Sporting Braga 1-1.
---
Monday December 21st, 1998

T&T women lay down the law.

The national women's team returned to action this weekend when they faced Antigua and Barbuda in a two game series at home. In there first game on Friday they came out and demolished Antigua 13-0. They lead at the half 6-0.

The second game was scheduled for last night. The women's team includes Swiss defender Kathy Ann Guy who is scheduled to marry national men's striker Jerren Nixon soon. The games were scheduled to provide a way for head coach Jamaal Shabazz to evaluate young talent. It was only two weeks ago that it was found out that there will be a women's portion of the Pan Am games that will take place in Winnipeg, Manitoba next year.

The national team:
Goalkeepers: Natalie Noel, Ineka Waterman, Sherry Ann James

Defenders: Jasmine Callendar, Desiree Sargeant, Dawn Marie Alfred, Kathy Ann Guy, Jamila
Cross

Midfielders: Izler Browne, Ricarda Nelson, SeeDonna Agard, Natasha Thomas, Tamara Charles, Leslie Ann James, Margaret Andem

Strikers: Vasha Maharaj, April Reyes, Natalie DesVignes, Simone Assing, Rae Ann Elder, Keisha James, Jill Pasqual Timothy

Technical Staff: Jamaal Shabazz (head coach), Abdul Rashid and Ernest Ferdinand (assistant coaches), Sharon O'Brien (manager), Junior Phillip (physio).

In other national team news, the Under 23 team in a quest to reach the Olympic games in 2000 will take on St. Vincent and the Grenadines on January 17th. It will be part of a two game home and away series starting in St. Vincent. Once the Olympic squad gets past St. Vincent they will face either Barbados or St. Lucia in the right to represent the Caribbean in the round robin series which will involve Canada, Guatemala and Guyana or Suriname. The squad is expected to begin there training today at 8:30am at the Concacaf Centre of Excellence.

TT Olympic team:
Adrian Thomas, Anthony Marshall, Ron Alfred, Anton Pierre, Kerwyn Jemmot, Joseph Peters, Hector Sam, Larry McDonald, Darryl Toussaint, Sherwyn Jack, Marvin Gordon, Isa Ar Razi, Andre Cooper, Vijay Samaroo, Kerwyn Jack, Kamal De Gregory, Cornell Glenn, Addae Rique, Derek King, Kwesi Smith, Chad Sandy, Richard Santana, Kevin Adams, Adrian Narine, Jason Scotland, Marlon Warner, Carlos Edwards and Atiba Charles.

Finally, the government of Trinidad and Tobago has approved the plans for the building of five stadiums for the World Youth cup in 2001. Construction scheduled to begin in February. The government has approved TT$ 140 million for the project which will see the development of multi-purpose facilities in Arima, Couva, San Fernando, Tobago and Marabella.

Latapy scores, Rougier transferred.

It was coming and when it finally did it was worth the wait. Russell Latapy scored his first goal in a Hibernian uniform. The goal came in the 90th minute when Latapy lunched a rocket that curled away from the goalkeeper and into the top of the net. That was the second goal for Hibs who were not done with Clydebank. They scored a second goal in the extra time period to defeat Clydebank 3-0. You can view highlights of the game including a small interview with Russell Latapy courtesy Erinweb.com

In other news, Tony Rougier is now a member of the Port Vale football club. The transfer fee is estimated to be between £175,000 and £200,000. The move to the English first division club came just in time for Rougier to take part in Port Vale's FA Cup tie with Liverpool in two weeks. However, Tony Rougier has to sit for two weeks to obtain a work permit from the English authorities. Port Vale are currently struggling to avoid relegation into the second division.

In the shooting range...

Manchester United needs a healthy Dwight Yorke. Yorke was out this weekend when United faced Middlesbourough at home. They lost 3-2 despite a coming back from a 3-0 deficit early in the second half. The lost drops them down to third place behind Chelsea and Aston Villa.

Shaka Hislop and West Ham continued there good run when they defeated Everton 2-1.

In the English first division, Clint Marcelle and Barnsley lost Swindon Town 3-1.
---
Thursday December 17th, 1998
Latapy continues good run.



Latapy...still the man.

Russell Latapy still continues to impress in Scotland. Last weekend he and Hibernian completed a 2-1 victory over rivals Falkirk. That win cemented Hibernian's place on the top of the Scottish First division.

Latapy was instrumental in the opening score. His deep cross from a corner kick found the head of Hughes who powered home the ball. Latapy remained the main threat in the midfield, twice testing the Falkirk goalie with long range shots.

In the second half, Tony Rougier replaced Latapy and promptly caused trouble for Falkrick. His deep run and pass to Crawford gave Hibs a 2-0 score in the 65th minute.

In other Scottish action, Marvin Andrews was not listed as a starter in Raith's encounter with Ayr United. Raith won the game 2-0 to move off the bottom of the Scottish First division table.

Nixon and Zurich complete first half

Jerren Nixon and FC Zurich must be pinching themselves. Many predicted last season that FC Zurich would be near the bottom of the table fighting for there relegation lives. This year Zurich came out like bandits.

There last game before the winter break was against FC Aarau which they won 1-0. That win extended there unbeaten streak to eight games and gave them a overall record of 10 wins, 8 draws and 4 loses. Considering that Zurich dropped there first three games of the season that record is impressive.

Throw in a good run in the UEFA cup and this was a dream fall for Nixon. They finished in third place with 38 points the same as cross town rivals Grasshoppers. However, Grasshoppers have a better goal difference than FC Zurich.

FC Zurich and Nixon return to action in the spring when they play in the championship round of Swiss first division.

In the shooting range...

Manchester United could have used Dwight Yorke last Saturday. Yorke was out with a thigh strain and Manchester United preceded to snatch a draw out of the mouth's of victory. After leading Tottenham Hotspurs 2-0 in the first half, United found themselves outplayed in the midfield by the north London side. Two goals by English international defender Sol Campbell, one coming in the 90th minute of play, dropped the spirits of the Manchester United and pushed them a full three points behind league leaders Aston Villa.

Clint Marcelle and Barnsley competed a 2-0 victory over Ipswich Town.

Leonson Lewis and Estrell Amadorra salvaged a 1-1 tie with Salguerios.
---
Friday December 11th, 1998

Under 17's into next round.

The national Under 17 team is on to the next round of qualifying for the World Youth Cup next year. They were leading the Netherlands Antilles 2-0 after 90 minutes on Sunday night when the lights went out at the Centre of Excellence. It was decided to award the game to Trinidad and Tobago after a meeting of officials.It was T&T's third and final game in round robin play. They finish the tournament with two wins and one lost.

Trinidad and Tobago now enter into group B play with host El Salvador, Canada and Mexico.The final round will begin in February. The winner of the group will advance to New Zealand. The second placed team will play the second placed team of Group A. That group will play in Jamaica and will include the United States, Costa Rica and the winner of the Guatemala/Honduras series.

Yorke in, Nixon out

Dwight Yorke and Manchester United have made it into the quarter-finals of the Champions league. The winner take all match took place between United and Bayern Munich. Munich lead Man U by a single point in Group D going to action on Wednesday night.

Despite constant pressure from the United offense Munich survived with a 1-1 draw. Yorke had some good chances in the game. He hit a one time 20 yard shot that sailed over the crossbar and had a header that passed just wide of the goal.

The tie left United with 10 points one behind Munich. Fixtures for the next round will be announced shortly.

In UEFA cup action, despite a good game by Jerren Nixon, FC Zurich still could not over come a determined Italian team. AS Roma and FC Zurich tied there encounter 2-2. The tie means Roma progress on the aways goal rule.

In the bitter cold of Zurich, Nixon provided a free kick to South African international Antonio Chimenti whose header tied the game 1-1. Zurich went ahead 2-1 in the 79th minute but in the last minute of play Francesco Totti grabbed the equalizer to send Roma through to the quarter finals.

Rougier on the move?

News coming out of Scotland indicate that Tony Rougier may be on the move. Rougier was given permission by his manager to train at Port Vale in the English First division.

According to reports during a pre season game with Hibernian the Port Vale manager was impressed with Rougier. Recently the Port Vale manager noticed that Rougier was not in the lineup as much and inquired about his availability. He will train with the club until today and report back to Hibernian. The asking price for a transfer is around £100,000.
---
Monday December 7th, 1998

Under 17 closer to next round

Talk about breathing easier. After a humiliating 3-0 lost to Bermuda last week. T&T rebounded to record a 2-0 win over Barbados on Friday night. That win placed them right back into the thick of things. The Netherlands Antilles did T&T a huge favor when they defeated Bermuda 1-0. All the teams are tied going into the final games scheduled for last night.

The winner of the tournament move on to the final round scheduled for El Salvador. The winner of the Concacaf tournament moves onto the Under 17 World Championship in New Zealand next year.

Current table:
TEAMS M W L D GF GA GD PTS
Barbados 2 1 1 - 6 4 +2 3
Bermuda 2 1 1 - 3 1 +2 3
Trinidad & Tob. 2 1 1 - 2 3 -1 3
Neth.Antilles 2 1 1 - 3 6 -3 3

Remaining matches: Sunday December 6: Bermuda v Barbados, T&T v Neth.Antilles.

Yorke subdued in Villa return.

Dwight Yorke must of felt funny on Saturday. It was the first time he got suited up in the visitor's dressing room at Villa Park. It was also the first time that he ran onto the field where he had so many good memories in the opponent's uniform. Some folks were expecting a chorus of boos as soon as he made his appearance out of the tunnel. However, there was a segment of the sell out crowd that showed there gratitude for Yorke and the success he brought to the club while in a Villa uniform. That didnot underscore the fact that every time Yorke touched the ball there would be strong disapproval from sections of the crowd.

In what many called the game of the year, Aston Villa and Manchester United played to a respectable 1-1 tie. United scored first in the 47th minute on a strike by English international Paul Scholes. Villa equalized in the 55th minute. Yorke had some good touches on the ball but found himself tightly marked by his former Villa teammates. With the tie Manchester United still remain in second place one point behind Villa.

In other Premiership action, Shaka Hislop and West Ham got shelled 4-0 by Leeds. West Ham has enjoyed much success at Elland Road home ground of Leeds for sometime. The lost drops West Ham into sixth placed in the table.

Rougier scores in Hibs win.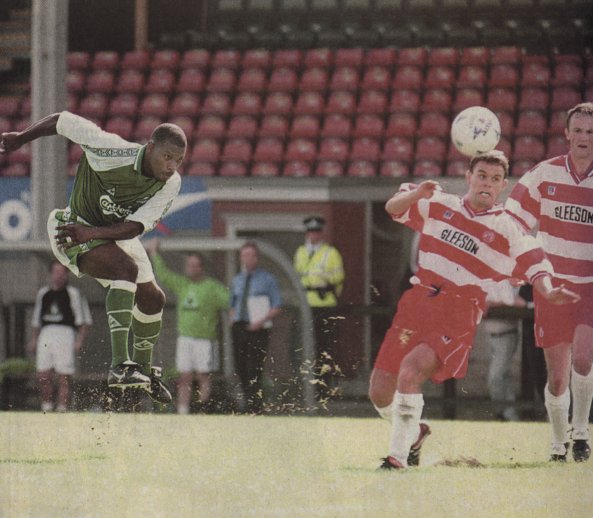 Rougier...puts away another.

Tony Rougier scored his first goal of the season in a 3-1 Hibernian win over Greenock Morton on Saturday. Rougier who had a habit of scoring late in games last year kept up to form when he scored in the 90th minute to preserve the win for Hibs.

Rougier didnot start but came on as a replacement for Russell Latapy in the 73rd minute. The win keeps Hibernian on top of the Scottish First division with three points separating them from second placed Ayr United.

In the shooting range...

Clint Marcelle and Barnsley played to 0-0 tie with Watford. Jerren Nixon and FC Zurich played to a 0-0 with FC Sion. Nixon will be action on Tuesday when they host the return encounter with AS Roma in UEFA cup action. Leon Lewis and Amadorra defeated Leiria 1-0 in Portuguese action.
---
Friday December 4th, 1998
Sorry for the non update on Monday. I have been busy with exams and essays for school.
Yorke lights it up.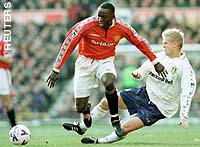 Yorke...under pressure versus Leeds

Dwight Yorke must love the Catalan region of Spain. It must be the water that reminds him of Tobago or the good food. Last year as a member of Aston Villa he walked into "the Cathedral," the home ground of Athletico Bilboa and gave the Spaniards a run for there money. This year he walked into the Nu Camp of Barcelona and this time gave a performance that the region will not forget. Yorke scored two goals for Manchester United in there Group D European Cup encounter.

Barcelona looked most likely to come away with a win when they opened the scoring in the first minute of the game. However, Yorke answered that score with a strike in the 25th minute that silenced the 70,000 fans. In the second half Yorke's strike partner Andy Cole put United up 2-1 just seven minutes from the restart. That celebration was short lived when Brazilian Rivaldo tied the score at 2-2 in the 56th minute. Dwight Yorke made the score 3-2 in the 67th minute and put Man U in the driver's seat. However Rivaldo came to the rescue of Barcelona in the 72nd minute to tie the game 3-3.

With the tie Manchester United drop to second place behind Bayern Munich who leaped forged to top place with a 2-1 win over Brody. Munich leads United by a single point. Next week's game between the two will be a winner take all for top place.

Dwight Yorke returned to action last Sunday when he and United completed a 3-2 win over Leeds United. The win moved United into second place in the English Premiership with just one point separating them from Aston Villa. That situation could change this weekend.

Dwight Yorke has faced many challenges throughout his career. However, this Saturday could be his toughest challenge to date. It will be the first time that Yorke will play at Villa park since his transfer earlier this year. The Aston Villa faithful will no doubt be showing there disapproval of Yorke when he runs onto the field. They view Yorke as a traitor and villain who left Villa for the bright lights and money of Old Trafford. Should he score the cascade of boos will sound just as loud as if the Prime Minister of Trinidad was making an appearance at a freedom of the press conference in Port of Spain.

In other action, Shaka Hislop and West Ham have moved into third placed. They were powered by a 2-1 win over Tottenham Hotspurs.

Joe Public win Club championship.

Joe Public cemented there position as the Caribbean's best club team by winning the BWIA sponsored Caribbean Club Championship. Joe Public defeated Caledonia AIA 1-0 in the final. The win puts them into the Concacaf Club quarterfinals next year.

Earlier this year Joe Public were embarrassed by eventual champions DC United 6-0 in Washington D.C. Since then team owner Jack Warner has promised to revamp the team. It was announced yesterday that Colombian head coach Slobodan Zecevic will take over the team from Muhammed Isa. Isa coached the team to the Champions League cup, SPFL title and Caribbean Club Championship.

Joe Public will form part of the new Professional Football League which will get started next season. They along with Barbados Mutual Queens Park, Courts Caledonian AIA and CL Financial San Juan Jabloteh will be four of the original teams in the new league. They will be joined by four other teams that will be picked by the TTFF. Two possible teams in the running include United Petrotrin and Defense Force. Joe Public now embark on a tour of St. Vincent and Antigua.

In other news the Trinidad and Tobago Under 17 team suffered a major setback in their attempt to qualify for the World Under 17 cup in New Zealand next year. They lost to Bermuda 3-0. That's right Bermuda. Trinidad and Tobago now have a huge task before them. They must defeat the Netherlands Antilles and Barbados in order to reach the next round of qualifying in El Salvador early next year.

In the starting lineup...

All eyes will be on Dwight Yorke as he travels to his old ground in the game of the year when Man U takes on Aston Villa.

Shaka Hislop and West Ham take on Leeds United.

In the English first division Clint Marcelle and Barnsley will be looking to dish out another severe beating this weekend when they face Watford. Last week Barnsley celebrated their biggest victory of the season when they defeated Huddersfield 7-1.

In Scotland, Marvin Andrews and Raith Rovers are coming off a 1-1 tie last weekend. This weekend they encounter Hamilton at home.

Tony Rougier, Russell Latapy and Hibernian find themselves on top of the division via a 1-0 win last weekend versus Airdire. This week they will face Greenock Morton.

In Switzerland, things just keep rolling along for Jerren Nixon and FC Zurich. Last week they defeated FC Lugano 4-1. That moved them within one point of second placed Grasshoppers. On Friday they face FC Sion.

In Portugal, Leonson Lewis exacted some form of revenge on his former teammates at Boavista. E.Amadorra defeated Boavista 2-1. This week they face Leiria.