August News
July News
---
Wednesday August 25th, 1999

Warner pulls plug on El Salvador game.

Here we go again at the mercy of Jack Warner. The Fifa vice-president has pulled the plug on on Trinidad and Tobago's game with El Salvador in Miami on September 8th.

Warner stating that the response of the foreign based professionals to the game was poor and that he rather pull the plug than embarrass the sponsors of TT2002 with T&T's poor showing.

Instead the "dream team" will play Colombia alone on September 5th at the Orange Bowl.

There is also some doubt on the which teams T&T will play on the South American tour in November. It has been confirmed that T&T will play Paraguay on November 10th. However, games versus Chile and Uruguay are in doubt. T&T will have to pick two games from either Ecuador, Venezuela, Chile and Uruguay. The dream team will not be available for the South American tour.

Today national team manager Richard Braithwaite stated that Warner had overstated the matter regarding the pros. He stated that he had received a verbal commitments on the player's availability for the second game with El Salvador. However, the clubs were unwilling to release there players for that game. He said that Warner wanted to put on a good show for the sponsors of the national team.

The 18-man squad for the match against Colombia: Dwight Yorke (Manchester United), Russell Latapy (Hibernian), Marvin Andrews (Raith Rovers), Anthony Rougier (Port Vale), Craig Demmin (Rochester Rhinos), Avery John (Bull Dogs), Jerren Nixon (FC Zurich), Mickey Trotman (LeHigh Valley), Shaka Hislop (West Ham United), Stern John, Ansil Elcock (Columbus Crew) Clayton Ince (Defence Force), Shurland David (CL Financial Jabloteh), Derek King, Lyndon Andrews (W Connection), Arnold Dwarika , Stokely Mason, Angus Eve (Joe Public).

John scores three more.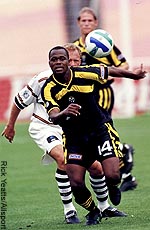 John...time to say good bye.
Stern John has done it again. Last weekend John scored his second hat trick of the season to push him into a first place tie for the league's leading scorer. He has 16 goals from 21 games with the Crew.
The three goals by John helped the Crew to a 4-2 win over the NY/NJ Metrostars. However, John and his team mates found it tough going versus Tampa Bay on the weekend. They lost 2-1 in a shoot-out after the game ended in a 1-1 tie after regulation time.
There is once again interest in Stern John. This time from Nottingham Forrest. The following is a report from CNNSI:
ATLANTA -- Columbus Crew striker Stern John, who has scored 42 goals in 48 career Major League Soccer games, has drawn the attention of Nottingham Forest manager David Platt, along with several other European clubs, MLS said Tuesday.
"A few different teams from Europe, including top clubs, have inquired about Stern John," said Ivan Gazidis, MLS executive vice president. "Obviously he's a young, exciting player who has scored a lot of goals in our league. He has attracted interest from around the world."
Gazidis said MLS is not actively shopping the 22-year-old striker abroad. He said the league is "very, very unlikely" to transfer John during the current season, but he said MLS is listening to offers out of fairness to the player and considerations for the league's business plan.
"Stern is not a player we're trying to move to Europe," Gazidis said. "We hope he stays in MLS. But he has ambitions of his own, and we would not want to stand in his way."
Columbus general manager Jamey Rootes said Nottingham Forest's manager attended the Crew's 2-1 loss to the Tampa Bay Mutiny on Sunday in Columbus.
"Yes, David Platt was in attendance at the Crew's game on Sunday," Rootes said. "He was in town to look at players on the Columbus Crew team, including Stern John."
Gazidis said Platt contacted him last week to express his interest in seeing John play.
"We are in ongoing talks [with Nottingham Forest]," Gazidis said. "I wouldn't characterize that as a negotiation. Forest is assessing its interest."
The Trinidad Express newspaper recently reported that MLS has placed a price tag of at least $2 million on John, but added that the striker could draw up to $3 million, as John has caught the eye of Forest of the English First Division, Watford of the Premier League and Bayer Leverkusen of the German Bundesliga, among others. The newspaper said John was recommended to Platt by another Trinidad and Tobago striker -- Manchester United's Dwight Yorke.
Gazidis did not confirm the figures, saying the league has not set a price on John because it is not actively seeking to sell him.
"We have not been closing doors," Gazidis said. "We've just been listening." John led MLS in 1998, his first season, with 26 goals in 27 games. He currently ranks third in scoring this season with 16 goals and two assists in 21 games. He scored his league record fifth hat trick last week in the Crew's 4-2 win over the MetroStars and has netted 13 goals in his last 10 games. He has appeared over 30 times for the Trinidad and Tobago national team, earning his first cap at 17.
Nottingham Forest, relegated from the English Premier League last season, is currently 1-1-1 in the First Division.
You can also read comments from Stern John's chat on Yahoo last week.
---
Wednesday August 18th, 1999

Yorke, Latapy and Hislop in.

Trinidad and Tobago in it's encounter with Colombia and El Salvador will have the benefit of all it's professional players. The games scheduled for Miami on September 4th and 8th will see T&T at full strength for the first time since there match versus South Africa in May.

Included in the squad is Manchester United star Dwight Yorke and Hibernian mid-fielder Russell Latapy. In goal will be West Ham United custodian Shaka Hislop who will appear in his second game for T&T.

The players became available because of the English break that will take place that weekend.

The squad will be captained by Port Vale midfielder Anthony Rougier. The two match series will also feature the return of Craig Demmin into the squad.

Demmin who plays for Rochester in the A-League, will appear in his first game for T&T in two years. He along with Marvin Andrews in Scotland, Ansil Elcock of Columbus and Rougier will form the nucleus of the T&T back four. Throw in Avery John and the crop of T&T defenders look decent.

The forward line made up of Yorke, Stern John should cause problems for defenders.

Strange enough the midfield has suddenly become a concern. The absence of midfield general has left a void in the area that could see head coach Bertile St. Clair bring up attacking defenders Elcock and Rougier or have Trotman and Nixon play in the midfield.

The squad:
Shaka Hislop (West Ham, England), Clayton Ince (Defence Force), Ansil Elcock (Columbus Crew, USA), Shurland David (CLF San Juan Jabloteh), Derek King (W Connection), Marvin Andrews (Raith Rovers, Scotland), Craig Demmin (Rochester Rhinos, USA), Marlon Rojas (Police), Avery John (Bull Dogs, USA), Angus Eve (Joe Public), Anthony Rougier (Port Vale, England), Brent Rahim (University of Connecticut, USA), Russell Latapy (Hibernian, Scotland), Lyndon Andrews (W Connection), Stern John (Columbus Crew, USA), Jerren Nixon (FC Zurich, Switzerland), Dwight Yorke (Manchester United, England), Arnold Dwarika (Joe Public), Stokely Mason (Joe Public), Mickey Trotman (Le High Valley, USA).

Yorke scores two

Dwight Yorke showed that he is about to repeat his performance from last year. Yorke having scored two goals in three games this season promptly added two more to his total last weekend.

Yorke scored on two headers off direct free kicks late in ManU's game versus Leeds United. They proved to be the only score that they needed as Manchester United completed the 2-0 victory.

In the shooting range...

Russell Latapy scored on a penalty to preserve a 1-1 tie for Hibernian in there game with Hearts. It was Latapy's first goal of the young season. Hibernian are off to a good start in the Scottish premiership as they have not dropped a game since being promoted. They have won one game and tied three others.

For those of us who watched the Columbus Crew- DC United game last weekend many of us were very tempted to call the police after we saw Stern John get robbed.

Near the dying stages of the game John headed home what seemed to be the game tying goal. His celebrations were short lived as the goal was waved off by the referee who thought John had fouled a DC United defender in the process.

The replays showed that he had not fouled the defender and that the goal should have stood. The game ended in a 2-1 win for D.C. United who take a commanding lead in the MLS east.
---
Wednesday August 11th, 1999
Nahkid in problems again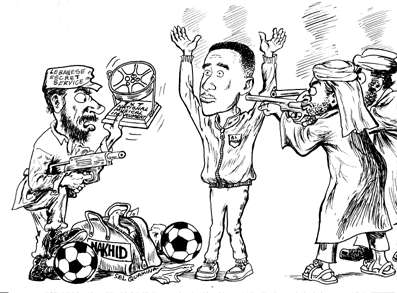 Nahkid...things just don't fall right again. (Picture:Trinidad Express)
David Nahkid's return to Lebanon seems to have stalled. After failing to gain a visa for his wife in Sweden, Nahkid returned to a country that he knows very well. However, he has been restricted by the local football federation from taking part in a trial with Al Nejmeh.
The federation maintains that Nahkid has been banned for life for taking part in a strike by African players two years ago. That has seriously dampened the return to club football for Nahkid, who retired from international football several months ago.
While Nahkid situation seems to have stalled, Errol McFarlane Jnr the Defense Force striker continues to impress. Reports coming out of Lebanon indicate that he is close to signing a deal with Nejmeh. He is currently negotiating for a better contract. There is speculation that he may return to play in Trinidad.
Ladies get scholarship
All was not lost at the Pan Am games for the women's Under 20 national team. Dawn Marie Alfred and Leslie Ann James were offered scholarships at Missouri State University.
While the women's team lost all games by wide margins, national head coach Jamaal Shabazz stated: "they showed some form of promise and with some eight players expected to join the senior team, T&T should do some good at next year's inaugural Caribbean tournament. The fact that these two were chosen women for scholarships is an indication of the talent we have."
Yorke scores for Man U


Yorke...aims to repeat scoring title.
Dwight Yorke is looking to repeat the same performance that he had last year. This season he is off to a good start. On Saturday he scored in the 7th minute versus Everton. However, with three minutes left in the game Dutch international defender Jaap Stam scored a own goal to negate Yorke's strike.
Last night Yorke scored in the 35th minute minute in Man U's 4-0 romp over Sheffield Wednesday.
Out of the file of the impossible: There is a chance that Joe Public will play Manchester United next year at the World Club cup. It all depends on Joe Public beating the best teams in Concacaf during the final round of the 1999 Champions' Cup in Las Vegas from September 28 to October 3. Don't hold your breath.
Elcock scores in Crew win.
National defender Ansil Elcock is having a good season with the Crew. Elcock received a long, aerial feed from Brian Maisonneuve in the 67th minute, and blasted a scorcher past Wizard `keeper David Winner.
The goal by Elcock was his third goal of the season and helped the Crew to a 2-1 win over Kansas City.
Here is a little information for you. Stern John will be chatting live over the internet to fans on Thursday night at 10pm est. You can click here to get to the site. Also, Stern and Ansil will be live on U.S national television this weekend when Columbus takes on DC United on Saturday at 4:00pm on ABC.

---

Monday August 2nd, 1999

Trinidad and Tobago suffer at Pan Am games.



T&T women...long way to go. (Photo: TT Guardian)

Trinidad and Tobago walked into the Pan Am games with there heads held high but two weeks later they are shaking there heads looking for answers.

This year's games is a report card on the progress of young teams in T&T. While at the senior level there seems to be a settling into fine form, the younger teams seem to be struggling to keep heads above water.

The T&T men's under 22 squad gave good accounts of themselves but still failed to win any games. While they remained competitive in all there games, the lack of any preparation before the tournament acted as a serious hindrance to the team.

The women's program still has a long way to go. Despite the promises of football executives to start a women's program after the good run of form by the women's senior team last year, a truly competitive women's team seems very far off in the distance. They like the men lost all there games but to much larger scores.

Here is a little fact to ponder. Below the Olympic level, Trinidad and Tobago has not won a game all year. That is a 0-11 record with a 7 goals for 49 goals against average. This trend cannot continue.

More games on the way.

While football at the lower level seems to struggle on the senior team seems to have there acts together.

Trinidad and Tobago have scheduled games versus Uruguay, Chile and Paraguay in November as part of a ten day South American tour. This is in addition to playing Colombia in Miami on September 4th and El Salvador in San Salvador four days later.

However, what is expected to fill the discussion boards for sometime, Trinidad and Tobago will play Jamaica in the Caribbean derby. This time it will be at the National Stadium in Kingston where Jamaica has not lost in two years. Well there is always a first time :-)





Stern Rising



Stern...Climbing the table.
Look out MLS Stern John is on his way up the table. On Sunday John scored a hat trick to push Columbus to a 4-0 win over Miami.
The hat trick was John's fourth in his two year career in the MLS. More impressively is that John has scored ten goals in his last seven games. That has catapulted him into third in scoring with 28 points and tied him for second in goal scoring with thirteen two behind the current leader .
The win by Columbus puts them firmly in second in the MLS east just four points away from first.
Latapy impressive in season opener.


Latapy...time to show off at higher level.
Russell Latapy made his return to the big time on Sunday. Last year when Russell signed with Hibernian in the Scottish first division there was a slight collective let down for many fans. A first division player of the year honor and a few months later Russell is back in the spotlight.
Yesterday Russell made a good debut in the Scottish premiership. All reports coming out of Scotland had nothing short of glowing reviews for the former national captain. His control in the midfield area keep most of the Motherwell defenders on their toes. Despite his impressive play, Hibernian tied Motherwell 2-2 in the season opener.