August News
July News
---
Thursday August 27th, 1998

Women get ready for tournament

Will the Trinidad and Tobago women's team do what the men have never done? That is qualify for the World Cup or will they follow along the lines of the national men's team? Those questions will be answered in the next few days when the national women's team will seek to qualify for next year's World Cup to be held in the United States.

The women's team is currently here in Toronto and will play Haiti on Friday night in the opening double header scheduled for Centennial stadium. They are grouped with Mexico, Haiti and Costa Rica. The top two teams will qualify for the semi final round. The winner of tournament will go to the World Cup final and the second placed team enters a play-off.

The women's team has several foreign based players on the squad and are coming off an impressive 16-1 aggregate drubbing of Guyana. The problem that has plagued the squad is lack of playing time together. Somehow the TTFA suddenly realized that there was a World Cup in the USA and decided to throw together a women's team. Good luck to the women we wish you all the best!

Out and injured
Andrews and Marcelle...both hurting.

Marvin Andrews and Clint Marcelle will both have to watch the early round of games from the sidelines. They are both suffering from injuries that are threatening to keep them out of the lineup until next month.

Marvin Andrews at Raith Rovers in the Scottish First division will not train with the club for four weeks. His injury was not specified. Andrews is going into his first full season at Raith.

Clint Marcelle is suffering from an ankle injury. He underwent a MRI earlier this week and will learn the results soon. Marcelle begins his third season at Barnsley after resigning with the club in the off season.

Nixon advances in European competition.

Jerren Nixon will add some more European playing time under his belt. Nixon and FC Zurich qualified for the first round of the UEFA cup despite loosing the return leg of there encounter with Shakhtyor Donetsk of the Ukraine 3-2. They still advance to the UEFA on a 6-3 aggregate after the defeated Donetsk at home two weeks ago by a 3-0 margin. The draw for the next round will be held shortly.

Nixon is not the only Trinidad and Tobago player in European competition. Dwight Yorke and Manchester United will play in the European Champions League. Manchester United will face Monaco of France in the opening round of the Champions League.

Finally...

Here is a little housekeeping. There us a new url for Trinidad and Tobago Football Online. It is located at http://welcome.to/ttfootball. It will still take you to the servers at Tripod but it will be easier for you to remember.

Secondly, I have updated the college and senior player's sections to reflect some additions and removals on those list. The current count stands at 88 players.

Trinidad and Tobago Football Online will be off-line for the next two weeks. I will be leaving for Trinidad on Saturday to enjoy some sunshine and good food. The next update will be on Monday September 14th. Don't worry I will back track all the news so you wont miss a thing. (Defender, I have my rocks ready).

Finally, TTFOL will celebrate two years online on September 1st. During that time we have received over 25,000 hits from football fans from Estonia to Thailand. The site has grown in the last two years and will continue to grow with the help of fans like you. Thank you for making my site what it is today.

Take care,
Marc'98


---
Monday August 24th, 1998

Yorke disappointing

The reviews are in and Dwight Yorke failed to impress this weekend. Yorke, starting his first game for Manchester United since his transfer on Thursday, all but disappeared for the entire 90 minutes. Yorke had only one chance to score in a somewhat dull game. Yorke suffered from poor service and tight marking in the back that kept him quiet. Manchester United tied West Ham 0-0.

There has been some doubt behind Yorke and whether the amount paid for him was justified. The Telegraph stated that while Yorke has the experience in the Premiership, he lacks the experience playing at the higher levels of European competition.

Yorke's departure has left a bitter taste in the mouths of Villa management and fans. His former manager John Gregory stated: "Dwight Yorke came to see me two weeks ago to tell me he wanted to play for Manchester United and not Aston Villa...If I'd had a gun at the time I would have shot him. What he said really hurt. It really got me."

That sentiment was echoed by Aston Villa fans, who according to reports in the Guardian newspaper in England, slashed the tires of his £90,000 car.

Here is a little something that I came across on Friday just before I hit the bars:

Tommy Tse-Tung:
Former Manchester United manager Tommy Docherty, watching Dwight Yorke make his pro debut, grumped: "If that lad makes a Premier division footballer, my name is Mao Tse-tung."

Yesterday, Yorke joined United in a 12 million pound transfer fee. Mr. Tse-tung could not be reached for comment.

Bill Lankhof, Toronto Sun

Just a little thing to make you chuckle on Monday morning.

Latapy headed elsewhere.

Don't call off the Russell Latapy sweepstakes just yet. Now that Dwight Yorke is at Manchester United, Russell Latapy is headed elsewhere. Latapy was released by Aston Villa when it became apparent that Yorke wanted to play elsewhere. It was Villa's intention to keep Yorke through the signing of Latapy.

Now come the offers from various English clubs to acquire Latapy. Among the pack is Tottenham Hotspurs, Blackburn and Ipwich Town. There are also Spanish clubs in the running. According to one source Latapy is expected to resurface with a English team later this week. So for now the sweepstakes are still on.

Bertile: Yorke the key

National head coach has said that Dwight Yorke will find himself in a key role for T&T's qualification for the 2002 World Cup. Speaking to the Trinidad Express Bertile stated that he hopes that Yorke recognizes that he owes Trinidad and Tobago something and that he is prepared to work. (Good luck! ). He continued: "...When I go to Manchester, I'll show him how much he could do for us to get to the next World Cup. With players like Jerren Nixon, Dwight Yorke and Stern John, I'm saying we will get to the 2002 World Cup."

Bertile said that the next major goal for T&T is qualification for the Olympic games in 2000. He said what was needed was full scale program and sponsors to prepare his current CAC team for the Olympic qualifying. With continued practice and a major game every three months the current Under 21 team will be prepared for the Olympic tournament.

Trinidad and Tobago finished fourth in the CAC tournament after Costa Rica defeated them 6-1.


John takes the lead.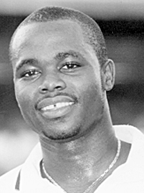 John...co-leader of the pack.

Hey Mr. Fergusion you missed a bargain! You could have gotten a good striker for less money. Stern John is now tied for the lead in goal scoring in the MLS. John scored his sixteenth and seventeenth goals of the season in a 3-1 Columbus win over Tampa Bay. John is now tied with New England's Raul Diaz-Arce for the lead. However, the El Salvador national player has played seven more games more than John.

John's first goal was typical. After receiving a ball from US national striker Brain McBride, John muscled his way into the penalty box and rifled a shot past the hapless goalkeeper. That evened the score line at 1-1 in the 59th minute. John scored his second goal in the 76th minute when he received a ball with his back turned to the goalie. He controlled the ball, turned and fired a shot past the stunned goalkeeper. With the win Columbus move closer to gaining a play off spot.

Multimedia: Stern John interview, Ansil Elcock interview. Both in Real Audio

European report

Tony Rougier and Hibernian tied Falkirk 1-1 on Saturday. Hibernian were down 1-0 when Rougier's corner kick provided the equalizer in what was described as the best game this weekend in Scotland.

In Portugal, Leonson Lewis started for his new team Estelle Amadora when they faced giants Benfica. They lost 2-0 to open the season.

Across the Atlantic

Brian Haynes scored his third goal of the season for Dallas in a 2-1 shot out lost to San Jose.

In the A-league Shawn Boney must have heard about Stern John's exploits, he scored a hat trick versus Albuquerque in a 5-0 win. Gary Glasgow scored in a New Orleans 3-1 lost to Richmond.
---
Thursday August 20th, 1998
Yorke hits the big time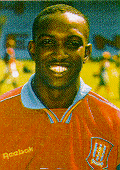 Yorke...moving up like the Jeffersons.

Dwight Yorke is now a Manchester United player. Published reports coming out of England state that Aston Villa has accepted the £12 million bid for Yorke. This came as Yorke stated for the record that he wanted out of Aston Villa. The rush now is to have the Tobago born striker registered in time for the Champions league and this weekend's encounter with West Ham. Yorke is scheduled to go through a physical at the Manchester United complex and a press conference has been called for 10:30am eastern time to announce the signing.

Yorke went on the record yesterday stated that he wanted out to Aston Villa Speaking in the Sun newspaper Yorke said: "I have always said the Champions' League is the type of stage I want. I spent all summer watching the World Cup, knowing I will never get there with Trinidad and Tobago. That is why I need to play at the highest club level I can. There is no point moving just to play in the Premiership. I can stay here and do that."

United chairman Martin Edwards said: "The player is on his way from Birmingham at the moment
and will have talks this afternoon. We are very happy at the way things are progressing at present.''

United manager Alex Fergusion said: "We have agreed a deal with Aston Villa for Dwight Yorke at £12 million. He is on his way up here now. It has been a long drawn-out affair to be honest. It becomes quite frustrating but it seems everything is in place now and hopefully we will have him signed by 5pm,''

The fee is a record for Manchester United who have now spent over £22.5 million in transfers on just two players.


Latapy close to deal.

Latapy...waiting on work permit.

Aston Villa have applied for a work permit for Russell Latapy. According to a report in the Independent newspaper in Trinidad, the director of player registration for the English FA had confirmed to them that Latapy had been registered as a Villa player and that a work permit had been was currently in the works.

A report last week stated that he had signed with Villa for £5,000 per week. However, according to sources close to Latapy the asking price is expected to much higher than that. Also contradicting that report is the fact that Villa cannot sign Latapy until the work permit is approved.

Latapy is moving to Villa on a free transfer after spending his entire career in Portugal.


Trinidad and Tobago moves up.

Moving up.

Trinidad and Tobago has moved up in the latest Fifa world rankings. They are currently ranked 47th in the world moving up 12 places. The rise can be attributed to the recently concluded Shell/Umbro tournament. Trinidad and Tobago is ranked number two in the Caribbean and fourth in Concacaf behind Mexico(12th), USA(19th), Jamaica (27th).

John MLS player of the week.

John...third time this year.

Stern John was named MLS player of the week on Monday. This comes after his hat trick performance on Sunday. This is the third time this year that John was named player of the week. John is the first person in MLS history to score three hat tricks in a season.

To show the scoring prowless of John, three of his hat tricks have all come in the second half of home games and have been in a combined 44 minutes of play (10 minutes vs. Kansas City, 16 minutes vs. Miami and 18 minutes vs. San Jose).

In the starting lineup...

Dwight Yorke is expected to start this weekend for Manchester United. He faces compatriot Shaka Hislop at West Ham. You can hear all the action by going to the Stadium at 9:30 am on Saturday morning.

Clint Marcelle is looking for his first start when Barnsley takes on Stockport.

Over in Scotland, Tony Rougier is in good form lately and he will take his show on the road when he and Hibs face Falkrick.

Marvin Andrews and Raith Rovers will face Ayr United.

Across the Atlantic, Stern John is looking for more goals when he faces Evans Wise and Tampa Bay on Saturday.

National captain David Nahkid and New England faces Los Angeles at home.

Mickey Trotman, Brain Haynes and Dallas travel to the west cost where they will face San Jose.
---
Monday August 16th, 1998
More goals for John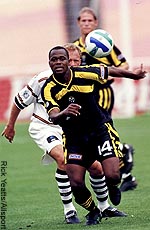 John...eyes on the top.

Just before the Gold Cup a scout from Dutch giants PSV saw Stern John in action on tape with his old club in New Orleans and with the national team. He said that if he is half as good in person, he will be in a PSV uniform when the season starts. That was several months ago and a scout is somewhere kicking himself for letting John play in the US. Stern John has become the most prolific striker in the US top league.

Stern John scored his third hat trick of the season to move him within one goal of tying the leading scorer in the MLS.

Surprisingly John did not start for Columbus and came on in the 53rd minute with something to prove. It took him just 18 minutes to put his name on the scoring sheet. He received a square ball from cousin and fellow Trinidad and Tobago international Ansil Elcock after a quickly taken free kick by Brian McBride. "He was mad that he didn't start," Elcock said speaking to Sportsnet Ohio. "That's why I gave him the first goal. I could have scored on it...it was such a great through ball from Brian (McBride)."

John scored his second goal in the 79th minute on a great through ball from the talented Jamaican midfielder Andy Williams. John completed his hat trick when once again found himself on the end of a Andy Williams pass.

The goals by John move him to fifthteen in 18 games. He is one behind Roy (the butcher of Joe Public) Lassiter and El Salvador's Raul Diaz Arce for the goal scoring lead.

Warner cleans house...(only at Joe Public)
Dwarika...you are out!!!

Call him "Jack the knife." Fifa Vice President and owner of Joe Public Jack Warner decided to cut several players from the roster after the 8-0 beating they received from DC United in the Concacaf Club championship.

Gone from the squad is former national striker Arnold Dwarika, Angus Eve, Sierra Leone striker Mc Unisa Conteh, current national players Shurland David, Lyndon Andrews and Tobago-born midfielder Lyndon George.

Warner was not pleased with the result and decided to revamp the club by cutting the high price talent and removing the perks that made Joe Public the most expensive club in T&T. With the cutting of the high price players, team management has decided to draft members of the youth teams into the senior squad.

Yorke begins last season at Aston Villa

Aston Villa manager John Gregory has finally resigned himself that he will loose Dwight Yorke. Gregory who has rejected offers from Manchester United, says that he has one year to find a replacement for Yorke. Convincing Gregory that Yorke will leave the club is the fact that the Tobago born striker has not signed a new long term contract with the Birmingham based club.

Speaking to CarlingNet Gregory said: ``He won't sign a new contract. That's it. I don't think I can convince him to sign a new contract and we have 12 months to get a replacement for him.

``I genuinely believe that if Yorke has an outstanding season then the likes of Barcelona, Real
Madrid, Juventus, Inter Milan, AC Milan will be knocking on his door - and they are seriously big
clubs with serious money.

``I want to be able to attract those sort of clubs and then we would have to listen to offers for him
because Dwight would have only one year left of his contract next summer.

``It's a big incentive to do well for Dwight because he wants his name up in lights on the biggest
stages - and that will happen if he performs for us this year.

``It's not the money. He's not going to go to the J-League in Japan for a load of dosh.''

Yorke will have to be sold before next summer in order for Villa to receive a good price for him. Under the Bosman ruling, Aston Villa will loose the rights to Yorke even though he still would have one year left in his contract with the club.

The Bosman ruling is like the Curtis Flood decision in baseball that outlawed the reserve clause that kept players tied to there clubs for life. Essentially the Bosman ruling is the bringing of free agency to European football. Previously, football players remained tied to there clubs even after there contracts had ended. Now once a player's contract is over he is free to move to any club he wishes.

Players love he ruling because they get a greater portion of the fee. Fifa extended the ruling to non European players last year to cover all players in Europe.

In the shooting range...

Jerren Nixon and FC Zurich placed themselves in a good position to qualify for the UEFA cup when they beat Schachtor 4-0 at home. The return leg is in the Ukraine in two weeks.

Peter Lewis is back at the Charleston Battery. He was signed by the Battery for the rest of the season. Lewis, a 32 year old defender has 62 international caps with the national team.

Yorke started for Aston Villa this weekend in the English season opener. Villa tied Everton 0-0.

Shaka Hislop started between the uprights for his new club West Ham on Saturday. Hislop who left Newcastle on a free transfer, was rarely tested. He was forced to only one good save in the game by a overhead kick by a Sheffield Wednesday striker. West Ham won the game 1-0.

In Scotland, Despite having over 90 percent of the possession Tony Rougier and Hibernian lost to Stranraer 2-1.

Across the Atlantic, Mickey Trotman and Dallas completed a 1-0 win over Colorado. David Nahkid and New England defeated Evans Wise and Tampa Bay 2-1 in a shoot out.
---
Thursday August 13th, 1998

Joe Public crushed

When everything was said and done T&T football had sunk to the lowest level in recent years. Joe Public, probably the best team and definitely the most expensive team in Trinidad and Tobago were crushed by MLS champions DC United 8-0 in the Concacaf Club championship. DC United set a team record for scoring in a single game with the win. Joe Public manager Keith Lookloy speaking to the Washington Post stated: "After the first two, it's hard to remember." "What can I say? We met a superior team," Lookloy said. "They are a vastly experienced team with vastly experienced players."

Joe Public was the lone Caribbean entry sent to this year's tournament. They were picked to represent the region because the Caribbean club tournament is scheduled for November way past this year's Concacaf Club Championship. Joe Public is owned and financed by Concacaf President Jack Warner. According to management: "Joe Public is the best run and most professional team in the Caribbean." Last year a much smaller United Petrotrin lost 1-0 to DC United.

Yorke bid rejected by manager

Dwight Yorke will start the season with Aston Villa this weekend. Aston Villa's manager John Gregory has rejected Manchester United's £10 million offer for the Tobago born striker. Gregory said that he would not accept anything less than £16 million for Yorke.

Gregory added: "If Pierre van Hooijdonk (Nottingham Forest) is now valued at 10 million pounds,
what is Dwight's price?

"He is worth 10 million pounds just as a professional and for how he handles himself."

Yorke will play this weekend's opening game against Everton.

In the starting lineup...

Jerren Nixon and FC Zurich enter into UEFA cup qualification when they face Schachtor Donets'k of the Ukraine at home tonight. They then play in the Zurich derby when they face cross town rivals Grasshoppers on Saturday.

The English Premiership kicks off this weekend when Dwight Yorke and Aston Villa play Everton on the road. Shaka Hislop is looking to start for West Ham when he faces Sheffield Wednesday.
You can hear all the action starting at 9:30am on Saturday by going to the Stadium.

In the first division Clint Marcelle and Barnsley face Crewe on the road.

In Scotland Tony Rougier and Hibernian face Stranraer at home. Marvin Andrews and Raith Rovers face St Mirren.

Across the Atlantic David Nahkid and New England will face Evans Wise and Tampa Bay on Friday. Mickey Trotman, Brian Haynes and the Dallas Burn face Colorado on Saturday. Stern John, Ansil Elcock will look to bounce back from a 3-1 lost yesterday when they face Kansas City. You can see that game live via KMEX in the Stadium starting at 3:00pm. Remember the game is in Spanish.
---
Monday August 10th, 1998

Warner to the rescue again.

This slowly turning into the Jack Warner show. After criticizing the lack of financial and corporate support for the national team and 2001 World Under 17 championship and threatening to pull the plug on the tournament, Jack finally got the things he needed.

Among Warner's concern was the lack of administrative support from various government ministries. Warner wanted several members in various government ministries excused from there jobs to assist with the aspects of the hosting. After speaking to Prime Minister Panday via telephone he got assurances that members such as national team manager Richard Braithwaite will be excused from his job with pay to help coach team 2001.

Also on the agenda is the building of new stadiums. Warner had complained that new stadium plans appeared to have stalled. He complained that Grenada PM Keith Mitchel had offered to host part of the tournament. However, a new stadium is to be constructed at Shirvan Park in Tobago. A new stadium in Central Trinidad as well as refurbishing of the Hasley Crawford Stadium, Arima Municipal and Skinner Park are also in the works.

After the discussions with the PM Warner sent a letter to Fifa stating that the tournament was in good hands. That was not the only bit of wheeling and dealing Warner did that day. He swung the purchase of the John, John towers to turn it into a football hotel for the national Under 17 players. The towers, built for fire victims in the area was sold to Warner for TT$ 2million.

Under 20's get knocked around.

The national under 20 team realized that they are playing in the big leagues this past week. They suffered humiliating loses to Canada 4-1, Costa Rica 4-0 and the USA 6-1. Those loses mean that T&T will not go to the Under 20 World Championship to be held in Nigeria in 1999. Costa Rica and the USA will travel to Africa.

All in all the national team was woefully under prepared for the tournament having played locally and outside T&T for the first time just two weeks ago. Compared that to Canada and the USA who have been on the road and playing international games since last year. Some valuable lesson should be learned once again: When you are going to play in tournaments come prepared or not all.

Joe Public to play DC United

Joe Public will be looking to do T&T proud when they face DC United in the opening game of the Concacaf club championship tomorrow night in Washington, D.C.

Last year DC United defeated United Petrotrin 1-0 to move on to the semi-finals. Joe Public represents the best chance that T&T have of advancing. Along with former national striker Arnold Dwarika the club has a trio of Mexican players on loan from the Mexican leagues. Also coming into the lineup is Travis Multraine who although suspended in T&T can play for Joe Public since the game is outside the country.

Rougier stars in Hibernian win.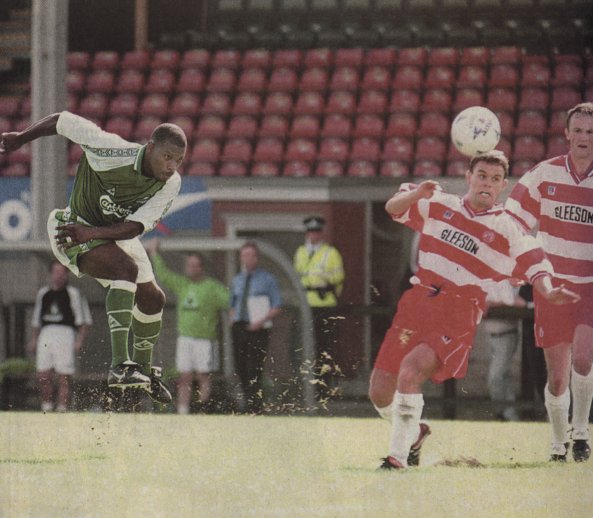 Rougier lets fly a header during this weekend's game.

Anthony Rougier began showing off his talent again this weekend. Rougier's pace and skill powered Hibernian to a 2-0 win over Hamilton in Scottish League cup action. Rougier had some good attempts to score but was either saved by desperate defending or balls that passed just inches wide of the mark.

Rougier's attempt was cleared off the line by a defender but the rebound was pounded in by an unmarked Hibs midfielder to open the scoring. A Rougier header was just wide of a open goal and one of his crosses was met by a header from McGinlay but came off the cross bar. However all Hibernian had to do was put it into cruise control to preserve the win.

John scores double in rout.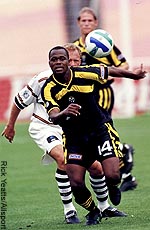 John...keeps scoring and scoring and scoring....

He may have a new car and US$1,000 in cash but his eyes are on a bigger prize. Stern John added two more to his goal scoring total in his way to a 6-1 rout over his national team captain David Nahkid and New England. John scored on a header in the 33rd minute and then in the 84th minute. His last goal was John's 12th goal of the season.

In other MLS action Mickey Trotman's goal scoring run came to an end on Friday night when he faced DC United in Dallas. Trotman had scored four goals in his last five games. Dallas lost to DC 1-0.

In the shooting range...

In the USISL it was a weekend of goal scoring for T&T players. The Raleigh Flyers won there third game in a row 2-0 with Marvin Raeburn scoring in the 85th minute.

New Orleans completed a 1-0 win over the US Pro-40 team in the 100th minute on a powerful header by Glenn Benjamin.

Shawn Boney scored twice but was unable to prevent Connecticut from dropping there second game in three days 4-3 to Hampton Roads.
---
Thursday August 6th, 1998
Warner wants to pull the plug.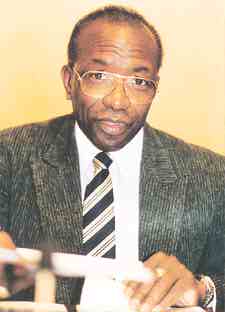 Warner...no support coming

Jack Warner is angry and fustrated at the lack of support given by corporations in T&T. So much so that he is willing to pull the plug on the hosting of the World Youth Under 17 tournament scheduled for 2001.

Warner speaking to the Trinidad Express, stated: "This was not what I expected when we accepted the responsibility for such a major project. So when I go to Fifa at the end of this month I'm prepared to pull the plug on 2001 because somebody seems out to embarrass my country."

Warner went on to say that he was angry with the lack of support directed towards the national team and the recent Shell tournament. "Sponsors in Trinidad and Tobago and the Caribbean have been conspicuous by their absence," he said.

"Let corporate T&T and the Caribbean continue to make their millions and pack it away. One day
they will realize their folly and rue what they have missed out on."

Warner went on to say that he had to shell out US$ 55,000 to charter a plane to bring the national team of Jamaica to T&T for the Shell tournament. He also paid out TT$500,000 for the national under 20 team to have a tour of England.

St. Clair to Manchester United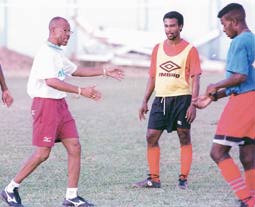 St. Clair...to work with Alex Fergusion.

National team head coach Bertile St. Clair is headed to Manchester United on a two month apprentice coaching scheme. Bertile is scheduled to leave in two months time to work under United boss Alex Fergusion.

The coaching program is designed to develop St. Clair's coaching skills. It was arranged by Fifa vice-president Jack Warner.

Speaking in the Trinidad Express, national team manager Richard Braithwaite stated that the recently concluded Shell tournament was not a lost for T&T. Ha said that it fit into St. Clair's plan of exposing young talent to international experience. He pointed out that Stern John, Irasto Knights, Kerwyn Jemmott and Keyeno Thomas were all under 22 years old.

He also said that once the CAC under 21 tournament and Concacaf Under 20 qualifiers is concluded a pool of top 40 players will be selected. The pool will comprise of the top 20 local and top 20 overseas players.

In the shooting range...

In Europe Jerren Nixon and FC Zurich will be looking to get back on track this weekend. He will face FC St. Gallen on Friday.

In Scotland, Tony Rougier and Hibernain enter into league cup action when they face Hamilton. Marvin Andrews will be looking for his first taste of action this season when Raith Rovers face Clydebank.

Across the Atlantic, Evans Wise and Tampa Bay face Miami on Thursday. Brian Haynes and Mickey Trotman face DC United on Friday night. Stern John, Ansil Elcock and Columbus face David Nahkid and New England on Sunday.
---
Monday August 2nd, 1998

Jamaica take Shell/Umbro

Jamaica are the 1998 Shell/Umbro cup champions. They clinched there second ever championship with a 2-1 win over Trinidad and Tobago in Port of Spain on Friday night. Read about the game.

John named MVP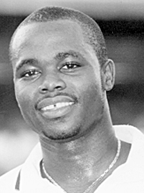 Stern...there was no doubt.

Despite loosing in the finals T&T walked away with some silverware on Saturday night. Stern John walked away with the tournament MVP trophy and drove away in a brand new car. Clayton Ince won best goalkeeper of the tournament. The T&T team also won the Fair play award.

Trinidad and Tobago will be well represented in a Caribbean All-Star team that will tour Korea, Japan and Hong Kong later this year.

The All Star Squad:
Goalkeepers - Clayton Ince(TT) Aaron Lawrence(Jam) Elvis Anthony(Ant/Bar)

Defenders - Ian Goodison, Onandi Lowe (Jam) Ansil Elcock (TT) Judes Vaton (Mart) Garfield Gonsalves (Ant/Bar)

Midfielders - Anthony Rougier, David Nakhid, Sherwyn Julian, Clint Marcelle (TT) Theodore Whitmore, Ricardo Gardner, Dean Sewell(Jam) John Tittle(Ant/Bar)

Strikers - Irasto Knights, Stern John (TT) Derrick Edwards(Ant/Bar) Robert Menelas(Haiti)

Nixon scores in Zurich tie.
Nixon...back in action.

After a difficult season last year Jerren Nixon is back and stronger than ever. Nixon scored in the 62nd minute to salvage a tie for FC Zurich in there encounter with Xamax on Saturday. FC Zurich is struggling early this season. The tie gives them there first point of the season after dropping the previous three games to FC Bassel (2-1), Servette FC (1-0) and the opening game of the season to FC Luzern (3-2).

FC Zurich had a god push near the end of last season which made them qualify for the opening rounds of the UEFA cup. They are scheduled to meet Schachtor Donets'k of the Ukraine on August 13th at home and then travel to Kiev two weeks later for the return leg. It is funny that it seems that all T&T players in Europe have to travel through the Ukraine to get to European cup glory.

And then there were three....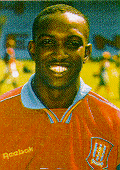 Yorke...more in the chase.

Dwight Yorke is the most wanted man in England. You wont find his picture on the "U.K's most wanted," if there is such a television show. He is being hotly pursued by Alex Fergusion and Manchester United. However, things have cooled in the last 48 hours for Yorke's transfer to Man U.

First United cannot use Yorke in the opening rounds of the European Champion's League since he was not transferred to the club by the August 1st deadline. Secondly, John Gregory Aston Villa's manager has asked for £8 million and Andy Cole to replace Yorke in order for the deal to go through. Alex Fergusion is said to have offered Andy Cole and £3 million. Says Gregory: "If Dwight was to go to Manchester United we would need to have an immediate replacement. It is going to be extremely difficult to try and replace someone like Dwight anyway.'' On Sunday, Fergusion has reportedly slapped a £16 million on Cole effectively killing any deal with Villa.

Now comes news from the tabloid News of the World, stating that Tottenham Hotspurs and Blackburn Rovers have both come up with £16million bids for the Tobago born player. The newspaper also claims that Aston Villa have lined up Brazilian and former Middlesbourough star Juninho as a replacement for Yorke. Juninho currently in Spain with Athletico Madrid has expressed a desire to go back to England.