Game Report: Trinidad and Tobago vs Saudi Arabia
Saudi Arabia 2 vs T&T 1
---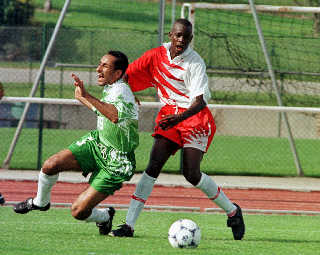 Saturday May 9th, 1998
In a continued rebuilding effort Trinidad and Tobago played World Cup Qualifiers Saudi Arabia in Cannes, France. The Saudi's were using the same squad that tied Jamaica 0-0 earlier in the week.
The Saudi's went ahead after just 16 minutes on a strike by Sami Al-Jaber. However the never say die attitude by the rebuilding T&T team prevailed. They tied the score on a fine strike by Knight just three minutes later. Both sides constructed good build ups.
In the second half, T&T put the Saudi defense under constant pressure. However, the T&T forweards were caught up in the Saudia Arabia's offside traps.
They game winning goal was scored in the 79th minute by Saeed Al-Owairan after a fine through pass.
Trinidad Tobago - 1-Clayton Ince (30-Michael McCommie 84); 6-Shurland Davis, 4-Marvin Andrews, 13-Ansil Elcock, 5-Anthony Rougier (7-Marium Gordon 74), 14-Kerwyn Jemmott (17-Dale Saunders 78), 3-Shewyn Julien, 8-Stockley Mason, 10-Lyndon Andrews (2-Keyno Thomas 83), 12-Mrasto Knight (9-Rodney Dennis 82), 11-Jerren Nixon.