Game Report
Mexico vs Trinidad and Tobago
---
4th February, 1998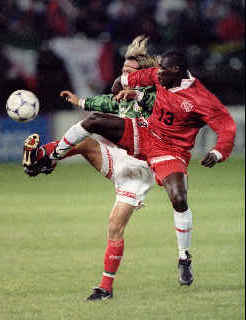 Trinidad and Tobago finished the first round of the Gold Cup with a 2-4 lost in Oakland, California. The young inexperienced squad battled back from 0-1 and 1-3 deficits to keep the Concacaf's top team on there toes.

Mexico tried to impose there style of play on Trinidad and Tobago but the breakdowns in the midfield and their lapses allowed the Calypso Boys a chance.

The first goal was scored by Ramon Ramirez who shot into the net from a sharp angle. That goal came in the 37th minute.

In the second half, Trinidad and Tobago put together a series of plays that put pressure on the Mexicans. After a series of rebounds in front of the Mexican net Clint Marcelle banged home the equalizer in the 58th minute.

Two goals, one by Hernandez and another from Palencia made the score line 3-1. However the never say die attitude by Trinidad and Tobago started to make in rows into the Mexican defense. They were rewarded in the 74th minute when Jerren Nixon scored his second goal of the tournament. However, a second goal by Hernandez put the game out of reach of T&T.

What this lost showed is that T&T is slowly on it's way back from the humiliation of World Cup Qualifying.