Local League
---
Click on the above image to go one of our partners.
Howdy folks,
This is in keeping of a promise that I made to some of you to have local news and standings from the Semi Pro league in T&T. First off the bat. I really hate that "Semi- Pro" attachment to the premeir football league in Trinidad. So I am taking the iniative and changing it to the Trinidad and Tobago Football League. If you don't like it sue me. Every week I will try to keep you up to date on the latest news on the T&T domestic league. Special thanks to Brian Springer in T&T for keeping me up to date on the league. It will be part of the Wednesday update.
Here is this weeks news and standings.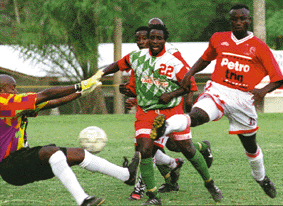 United Perotrin versus San Juan...Clash of the giants on Sunday.
United Petrotrin became the winners of the first round of the Carib TTFL with one game to spare after the beat San Juan Jabloteh 2-0. With the win they move into the Caribbean Proffesional Football League in which the winner then completes in the Concacaf Club Championship. The Caribbean Proffesional Football League is made up of the top Caribbean teams in the region with top clubs coming from Antigua, Jamaica, Barbados, Grenada and Martinique. The Concacaf Club Competetion can be described as the equilivant to the European Champions League. I don't know when it is slated to begin.
San Juan was biten by some of the worse luck as they gave up two own goals and the top position at the top of the table. San Juan which had been leading for most of the season failed to hold on to the top spot of the table. My father was at the game and said he had never seen anyone give up two goals like that in his life. The main villian of the game was defender Phillip Copeland who left his keeper for dead twice. In other action:
Joe Public 2 vs Queens Park 0
Caledonia AIA 11 vs Airports Authority 0
Trnity Falcons 3 vs Royal Castle United 2
Superstar Rangers 1 vs National Flour Mills 0
Action on Monday night:
Defence Force 3 vs Police 0

Here is the lastest table:
| | | | | | | | |
| --- | --- | --- | --- | --- | --- | --- | --- |
| Team | Played | Wins | Lost | Draw | Goals For | Goals Against | Points |
| United Petrotrin | 10 | 9 | 1 | 0 | 22 | 8 | 26 |
| Defence Force | 10 | 7 | 3 | 0 | 23 | 4 | 21 |
| San Juan Jabloteh | 10 | 8 | 2 | 0 | 29 | 11 | 21 |
| Joe Public | 10 | 7 | 3 | 0 | 17 | 13 | 21 |
| Trinity Falcons | 10 | 6 | 4 | 0 | 20 | 12 | 18 |
| Queens Park | 10 | 6 | 4 | 0 | 19 | 16 | 18 |
| Caledonia AIA | 10 | 6 | 4 | 0 | 30 | 18 | 17 |
| Superstar Rangers | 10 | 5 | 5 | 0 | 21 | 13 | 15 |
| Royal Castle United (Tobago) | 10 | 3 | 7 | 0 | 12 | 22 | 09 |
| National Flour Mills | 10 | 1 | 09 | 0 | 10 | 33 | 03 |
| Police | 10 | 1 | 09 | 0 | 05 | 27 | 02 |
| Airports Authority | 10 | 1 | 09 | 0 | 07 | 38 | 01 |
Take care,
Marc'97